Tonight: OceanGate's CEO approaches deep-sea exploration like a religion, and has expressed little regard for regulations designed to keep people safe. Plus: Some good and bad news about 401(k) plans. Let's get into it.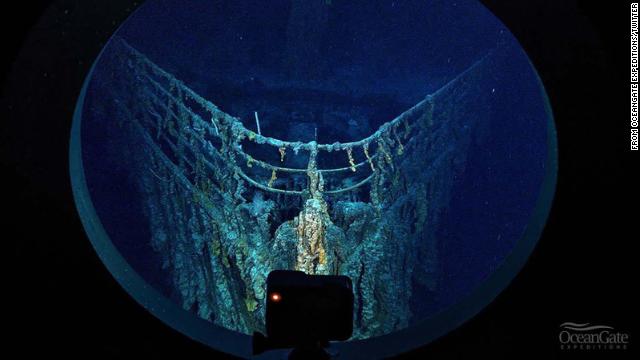 This week, search crews have been scouring an area of the ocean roughly twice the size of Connecticut in a frantic effort to locate a submersible that disappeared on Sunday while carrying five men to the ruins of the Titanic. 
As of this writing, the Coast Guard estimates that the vessel — if it's still intact — may have less than a day's worth of oxygen left. (For the latest on the search, click here.) 
On board are five people: a British adventurer, a French diver, a Pakistani father and son, and a pilot — the man primarily responsible for the vessel that is now lost in the North Atlantic. 
Zoom in: The pilot, Stockton Rush, is also the founder and CEO of OceanGate, which operates the Titanic tour. Rush, who is 61, has approached his dream of deep-sea exploration with child-like zeal, while making no secret of his antipathy toward regulations.
His past comments on the subject have begun to seem tragically misguided.
Last year, Rush declared the commercial sub industry "obscenely safe," while complaining that regulations have stifled innovation.
He also told a reporter that "at some point, safety just is pure waste... If you just want to be safe, don't get out of bed."
"I think it was General MacArthur who said you're remembered for the rules you break," Rush told Mexican YouTuber Alan Estrada last year. "And I've broken some rules to make this. I think I've broken them with logic and good engineering behind me." 
Rush founded OceanGate in 2009, with a stated mission of "increasing access to the deep ocean through innovation." 

He believes deeply that the sea, rather than the sky, offers humanity the best shot at survival when the Earth's surface becomes uninhabitable. 

"The future of mankind is underwater, it's not on Mars," he told Estrada. "We will have a base underwater ... If we trash this planet, the best life boat for mankind is underwater."

But even within OceanGate, warnings from employees about safety appear to have been ignored or disregarded, as my colleague Celina Tebor reported. 
It's not just Rush's disdain for regulations that has raised eyebrows. Several aspects of the vessel's design and on-board technology — such as a videogame controller that the pilot uses to steer it — have come under renewed scrutiny.
When David Pogue, a CBS correspondent, took a trip on the Titan last year, he reported that communications broke down and the sub was lost at sea for more than two hours. He later asked Rush about the vessel's "MacGyvery" components — like the plastic PlayStation controller and LED lights that Rush bought from an RV retailer. 

Rush pushed back against Pogue's description in that interview, arguing that some elements could be less sophisticated as long as the key parts, like the pressure vessel, is sound. Rush said the pressure vessel had been built in coordination with Boeing, NASA and the University of Washington. Once you're certain that the pressure vessel is not going to collapse on everybody, he said, "everything else can fail." 

'The deep sick'

Extreme tourism is a lucrative, high-risk industry, my colleague Sam Delouya writes.
With enough money, tourists can summit Everest, take a rocket into space, run multi-day ultramarathons catered by Michelin-rated chefs, or plumb the oceans depths that have largely been off-limits for humankind. 

"What I've seen with the ultra-rich — money is no object when it comes to experiences," said Nick D'Annunzio, the owner of public relations firm TARA, Ink. "They want something they they'll never forget." 

In that respect, Rush shares something in common with his clients. In his interview with Smithsonian in 2019, he relayed his almost-spiritual attraction to the deep sea. He called it "the deep disease."

"I went to 75 feet. I saw cool stuff. I went 100 feet and saw more cool stuff. And I was like, 'Wow, what's it gonna be like at the end of this thing?'" 
A new report from the World Economic Forum estimates that women won't attain parity with men for another 131 years. That'll be ... *bangs on calculator*...  the year 2154. 
The overall gender gap — a measurement of equality across the realms of the economy, politics, health and education — narrowed by a mere 0.3% as compared with last year, according to the forum's Global Gender Gap Report.
While the report shows progress in some areas — education, health and survival — the economic participation category showed some regression, sounding alarm bells of a "post-pandemic crisis," according to the report.
More Americans than ever are saving for retirement (yay!). But that's giving a small group of power players on Wall Street an unprecedented amount of power, and that could be bad news for the economy, my colleague Nicole Goodkind writes.
Here's the deal: American workers' embrace of their 401(k)s has helped concentrate share ownership among the four largest managers of such plans — BlackRock, Vanguard Group, Fidelity Investments and State Street Global Advisors. 
That concentration "poses the greatest anticompetitive threat of our time," wrote Einer Elhauge of Harvard Law School. 
Why?
It's hard to overstate the mind-boggling value of the assets under management by these four firms. Blackrock has about $9 trillion under management. Vanguard has $7.2 trillion. Fidelity has $4.2 trillion and State Street has $3.5 trillion. Together, these four companies manage assets worth 65% of the combined value of the shares in the S&P 500.
And remember: When you own stock in a company, you become a shareholder or part-owner, giving you certain rights and privileges such as voting on the company's operations. But through a process called proxy voting, large asset managers are able to vote on shareholder resolutions on behalf of their clients. That means that as firms like BlackRock and Vanguard gain more clients, they also gain more control over their votes.
Asset managers have "significant influence over company practices," wrote shareholder advocacy group ShareAction in a recent report. "How asset managers vote on company resolutions each year therefore determines the future of our planet."
Stay tuned: Americans' 401(k) fervor is just starting to heat up. Employers are increasingly adopting automatic enrollment, and that's expected to escalate as the SECURE Act 2.0 goes into effect. The bill, signed into law late last year, requires employers to automatically enroll all eligible workers into their retirement plans at a savings rate of 3% of salary.
Last updated June 21 at 4:00 PM ET