Tonight: Air travel has become a huge hassle, and it's not going to get better soon. Plus: The truth about pickleball and pizza. Let's get into it.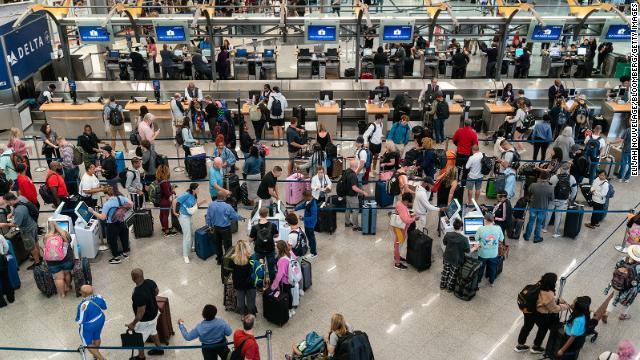 It was another day of chaos and cancellations for travelers in the US. 
See here: Problems have been mounting since Saturday. In total, airlines have canceled more than 5,000 flights around the country over the past four days, with nearly 30,000 delays.
The usual suspects are to blame: Severe thunderstorms kicked things off, and then layer upon layer of mismanagement came into play. Stranded passengers blamed airlines; airlines blamed the Federal Aviation Administration, which oversees air-traffic control centers; and the FAA pointed to lingering staffing shortages that have burdened the agency since the beginning of the Covid-19 pandemic. 
It's not unusual for the FAA and airlines to point fingers at one another when meltdowns like this happen. But late Monday, United's CEO was unusually blunt in blaming the agency.
"The FAA frankly failed us this weekend," said Scott Kirby in a memo to staff, noting that more than 150,000 passengers' flights have been disrupted on United alone. 
On Saturday, Kirby says, the FAA reduced arrival rates at Newark Liberty International Airport by 40% and departure rates by 75% — "almost certainly a reflection of understaffing/lower experience at the FAA."
The FAA responded that "we will always collaborate with anyone seriously willing to join us to solve a problem."
So just to be clear: We've got one of the nation's largest airlines openly feuding with the agency tasked with keeping planes from crashing into one another ... all before one of the busiest travel holidays of the year. 
Oh yeah, let's not forget: The Fourth of July is one week away, and the TSA expects airports to be even busier than they were at the same time in 2019.  
Everything's fine. *Inhale.* Everything's fine. *Exhale.* 
Kirby has a point, certainly. Last week, a Department of Transportation watchdog released an audit laying out critical staff shortages that "pose a potential risk to air traffic operations." 
That said, United isn't off the hook here.
On Tuesday, the union representing United's flight attendants said the cancellations and delays are being compounded by "unacceptable" internal issues such as wait times exceeding three hours for crews to receive their schedules. 
"The levels of frustration are high and it feels as if there is no solution in sight," the Association of Flight Attendants said in a memo.
(Which is a good reminder for everyone: The next time your flight delay sends you into a rage, know that your flight crew is just as furious. Go and get another $20 margarita at the Terminal B Chili's and try to calm down. )
Kirby says he will be meeting with the FAA and Department of Transportation "to discuss what steps FAA can take in the immediate term to prevent this from happening again this summer."
BIG PICTURE
If you feel like air travel has sucked more than usual in the past two years, you're right. Traveling during a major holiday is more of a gamble now (see also: the Southwest holiday debacle of 2022) thanks to a collision of factors:
Staffing. The pandemic's initial shock halted travel and prompted airlines to encourage retirement and buyouts, especially among older pilots and crew members. Hiring has resumed, but some experts say there's a lack of experience underpinning some of the chaos.
More demand, fewer flights. Travelers are still making up for lost time after three years of Covid. That pent-up demand is meeting seriously constrained supply, as airlines have reduced the number of flights they're running to avoid, well, the exact chaos we're seeing play out right now. 
Climate change. Droughts, storms, wildfires and heat waves are becoming more intense and more frequent, and there's little the airlines or the FAA can do when the skies are simply too dangerous to fly in. 
Pickleball, America's fastest-growing sport, is taking a toll on players' wrists, legs, shoulders — and pocketbooks. 
Pickleball injuries may cost Americans $377 million in health care costs this year, accounting for 5% to 10% of total unexpected medical costs, UBS analysts estimated in a report this week. That's especially risky for seniors, who tend to be more injury-prone and who, apparently, really really love pickleball.
"While we generally think of exercise as positively impacting health outcomes, the 'can-do' attitude of today's seniors can pose greater risk in other areas such as sports injuries, leading to a greater number of orthopedic procedures," UBS analysts said.
What's this? A second installment of Food News in a single week? I don't know what to tell you, dear reader. Maybe I'm just hungry for a slice of lab-grown pepperoni. Anyway, let's dig in:
If you're an internet-prone person like myself, you may have seen some uproar on social media about the New York Nanny State Police coming in to ruin the city's most beloved food. 
Sen. Marsha Blackburn of Tennessee, for one, tweeted that "New York City wants to ban wood-fired pizzerias," adding that "in the name of their climate agenda, the Left wants to destroy small businesses." 
As usual, when it comes to food news, I turn to my colleague Danielle Wiener-Bronner for all the piping-hot goss. And of course, Danielle delivered. 
Nightcap: Is the government going to take away my pizza?
DWB: No. Come on.
NC: Great. What's all this noise about, then?DWB: So, on Friday, the city announced a "notice of public hearing and opportunity to comment on proposed rules."
The rule in question would require restaurants with wood- or coal-fired ovens installed prior to May 2016 to seriously consider adding devices that would reduce particulate emissions.
Despite the uproar, it's a fairly lenient proposal. The city estimates that well under 100 restaurants would be affected by the change, if it goes through. 
NC: Why the focus on pizza ovens? DWB: Pollution from coal- and wood-fired ovens is bad for both the environment and for your health. 
Ted Timbers, a spokesperson for the city's Department of Environmental Protection, said "coal-fired stoves are among the largest contributors of harmful pollutants in neighborhoods with poor air quality." 
There are also nasty health implications for anyone spending a lot of time around coal- or wood-fired stoves. 
A typical New Yorker isn't breathing that stuff in every day, but people working in pizzerias — which are legion — may be at a higher risk of developing breathing problems. 
NC: Is it feasible to ask restaurants to change?
DWB: The handful of restaurants that the rule would apply to, according to the city, would have to hire an engineer or architect "to assess the feasibility of installing emission controls on the cook stove to achieve a 75% reduction in particulate emissions."
Basically, the restaurant just has to show the city that it has done its due diligence, and make a change if possible. 
NC: Did I hear something about a guy throwing a pizza at City Hall in protest? DWB: Uh, yeah ... A man tweeted a video of himself reading a list of seemingly unrelated grievances and hurling multiple pies, slice by slice, over the gate while yelling "give us pizza or give us death."
NC: Amen, brother.
🍸 Spirits maker Diageo cut ties with Sean "Diddy" Combs, ending a lucrative 15-year partnership that recently culminated in a racial discrimination lawsuit.
🔌 Lordstown Motors filed for bankruptcy, put itself up for sale, and announced a lawsuit against Foxconn, accusing its biggest shareholder and former partner of setting out to "destroy" its business.
🏡 Sales of newly constructed homes rose 20% in May from a year ago, as homebuyers turned to new construction in the face of historically low inventory.
💸 A federal judge denied efforts by Sam Bankman-Fried to have some of his criminal charges thrown out, setting the stage for the onetime crypto mogul to stand trial in October.
Last updated June 27 at 7:00 PM ET