Tonight: The Fed finally takes a breather — but the inflation fight isn't over. Plus: Fox News puts its foot in its mouth over an outrageous chyron. Let's get into it.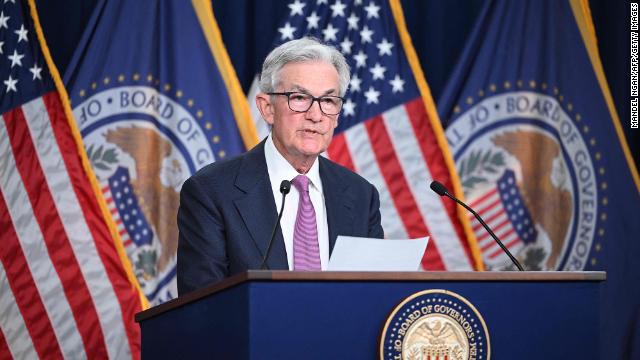 Fifteen long months after the Federal Reserve began hiking interest rates, it's hitting pause. But we aren't cracking open the champagne and dancing on inflation's grave just yet. 
Here's the deal: Since March of last year, Fed officials have raised the central bank's benchmark interest rate 10 times in a row — its most aggressive monetary tightening campaign in modern history — to try to take the heat off rising prices. 
And while not everyone credits the Fed for it, inflation has in fact slowed way down. Last month, consumer prices rose 4% year-over-year, as measured by the Consumer Price Index — well below its peak of more than 9% in June.  (To be clear: the Fed prefers the Personal Consumption Expenditures index, or PCE, over the CPI, but either way, the downward trend is the same.)
That's good news! But 4% is still too high for the Fed, which is committed to bringing inflation down to around 2%. In other words: More rate hikes are coming. 
Here's how the Silver Fox of the Fed, Jay Powell, summed it up at a news briefing today: 
"It seems ... to make obvious sense to moderate our rate hikes as we got closer to our destination. The decision to consider not hiking at every meeting and to hold rates steady at this meeting is a continuation of that process."
Translation: The Fed may be back on the rate-hike game at its next meeting in July. 
Why the pause?
Interest rates are a blunt tool to slow the economy down (by making borrowing more expensive) or speeding it up (by making borrowing cheaper). They also take a loooong time to take effect. 
To borrow a metaphor from Peter Boockvar, the chief investment officer of Bleakley Financial Group: The Fed has gobbled up a bunch of edibles — the sort that a college freshman might sample at a party and (predictably, foolishly) over-consume because they believe the desired effect hasn't kicked in. It's only after the lag ends that you realize your mistake, and by then it's too late to undo it. 
Wall Street's reaction was mixed. Investors had broadly anticipated the Fed's decision, but they sold off equities after J-Pow's Q and A with reporters. The news that not one Fed policymaker forecast a rate cut this year got stuck in their craw. 
"Inflation has not really moved down. It has not reacted much to our existing rate hikes. We're going to have to keep at it," Powell said. 
The S&P 500 and Nasdaq, which were positive before these comments, plunged into the red following the gloomy outlook. The Dow ended the session down 231 points, or 0.7%, while the S&P 500 slipped 0.08%.
RELATED: Why the Fed's rate-hike breather won't feel like much of a relief to consumers. 
A jury on Monday found in favor of a former Starbucks regional director who sued the company, claiming she was fired for being white.
Shannon Phillips, who was fired in 2018 after refusing to place an employee on administrative leave, was awarded $25.6 million in damages by a New Jersey jury at the end of a six-day trial, her lawyer said.
Before she was fired, Phillips oversaw several Starbucks stores in Philadelphia, including the one where two Black men were arrested while waiting for a colleague — an incident that was caught on video and sparked nationwide outrage. Starbucks' CEO apologized and the company took the extraordinary move of briefly closing 8,000 stores to run racial-bias training for employees.
Starbucks argued in court filings that in the middle of the crisis, Philips "appeared overwhelmed and lacked awareness of how critical the situation had become." 
Fox News on Wednesday acknowledged that it made a mistake — and that is, frankly, newsworthy.
ICYMI: Fox briefly ran an onscreen headline known as a chyron that referred to President Joe Biden a "wannabe dictator." 
It read: "WANNABE DICTATOR SPEAKS AT THE WHITE HOUSE AFTER HAVING HIS POLITICAL RIVAL ARRESTED."
The chyron (pronounced KAI-ron), which aired during the 8 p.m. hour hosted by Brian Kilmeade, was shockingly dishonest, even by the standard set by Tucker Carlson, who occupied the prime-time slot before his abrupt firing in April. 
"The chyron was taken down immediately and was addressed," a Fox News spokesperson told CNN in a statement Wednesday. Fox declined to elaborate on how the issue was being addressed.
The chyron is so absurd it doesn't really deserve a fact check, but since we're here: Biden won a democratic election, and has repeatedly stressed that he isn't involved in Justice Department investigations.

But the chyron was hardly the only thing that set Fox apart from cable news outlets on Tuesday night. The network also took Trump's post-arraignment speech live — something CNN and MSNBC avoided because of the former president's propensity to lie.

Fox has consistently sought to downplay the severity of the charges against Trump while redirecting focus to an eight-year-old controversy about Hillary Clinton's private email server. Or, in another of Fox's favorite whataboutisms, hosts and commentators often attempt to equate the Trump probe with the revelation that classified documents were found in Biden's DC office and  Delaware home. (The White House was the one that volunteered to the National Archives that the documents had been found at the DC office; subsequent searches of Biden's home found additional documents, and Biden has pledged to cooperate with investigators.)  

BOTTOM LINE: Fox has sought to placate its overwhelmingly pro-Trump audience as it faces serious threats to its business on multiple fronts.

The network had already lost advertisers, particularly in prime time, over racist and antisemitic rants from Carlson before his firing. It narrowly avoided one defamation trial this spring by agreeing to a $787 million payout to Dominion Voting Systems. It is still fighting another defamation case from Smartmatic, which is seeking a staggering $2.7 billion in damages. 

And for the first time in Fox News' history, it has real competition from its right flank. Pro-Trump outlets OAN and Newsmax have emerged in the last few years, stirring fear among Fox executives and hosts that disappointing its audience could push them to change the channel.
⚠️ Amazon Web Services was briefly hit by a wide-ranging outage on Tuesday afternoon that impacted a large number of major websites, including the Boston Globe and New York City's Metropolitan Transit Authority.
❄️ Negotiators for UPS and the Teamsters union reached a tentative agreement on a crucial issue in their contract talks: The shipping giant has finally agreed to install air conditioning – gradually – in its entire fleet of 95,000 delivery vans.
🤖 Forty-two percent of CEOs surveyed say A.I. has the potential to destroy humanity in the next five to 10 years.  
Last updated June 14 at 4:00 PM ET