Tonight: What Dollar General's earnings tell us about the state of the American economy. Plus: The far-right's anti-trans campaign is depriving the internet of the cringe-y Rainbow Capitalism we've come to expect during Pride. Let's get into it.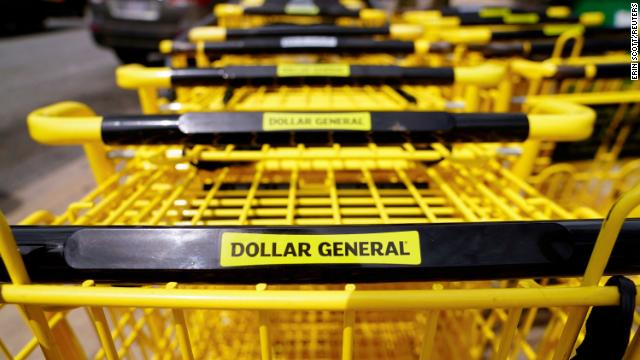 Dollar General's stock just had one of its worst days ever on Wall Street. And that spells trouble for Main Street. 

The discount retailer's shares fell 20% Thursday after the company slashed its earnings forecast for the year. Dollar General now expects sales to rise between 1% and 2% (down from an earlier forecast of about 3%) and expects earnings to fall 8% year over year. 

That news is a giant red flag for the broader US economy. 

Put simply: We already knew that American consumers were hurting because other retailers' results — including Macy's, Costco and Target — showed consumers pulling back on discretionary items. But Dollar General's worse-than-expected results point to a more-troubling reality for the nation's consumer-dependent economy. When high- and middle-income shoppers feel strained, they tend to shift their spending — buying chicken instead of beef, say, or getting their home goods from Walmart instead of West Elm. 
When Dollar General's core customers feel strained, they pull back completely. 

"Unfortunately, our customers are saying they're having to rely more on food banks, savings, credit cards," CEO Jeff Owen said on a call with analysts Thursday. 

The company says its "core customer" makes less than $40,000 a year. Owen also said he believes customers were caught off-guard by reduced tax refunds and reduced SNAP benefits, "which exacerbated the inflationary pressures they were already experiencing." 

Dollar General's results echo those of rival Dollar Tree, which also came in below investors' expectations last week and cut its profit outlook for the year. 

BIG PICTURE
Economists haven't yet declared a US recession — that designation has to come from a panel of eight bureaucrats you've never heard of at the National Bureau of Economic Research, and they'll only weigh in after the downturn has already begun. That's left economists and commentators to play a recession guessing game for the past year and a half, parsing every earnings report and unemployment data point to try to anticipate when the downturn will hit, how long it will last, and how badly it will hurt. 

Throughout it all, two powerful forces have defied predictions that the economy was about to stumble: Consumer spending (by far the biggest engine of the US economy) and the strongest labor market in half a century. 
Consumers powered the economy through the worst of the pandemic and through a painful recovery year marked by a double whammy of high inflation and high interest rates. 

They can only do so much. 

People are now packing on credit card debt and refocusing their attention on necessities. 

"The carefree shopping trip has been replaced by more focused missions where people set budgets and are less willing to deviate from them," said Neil Saunders, a retail analyst at GlobalData, in a note to clients last month.
 
Dollar General's downbeat earnings also underscore the extreme disparity in how inflation is felt among high-income versus low-income shoppers.
In April, US retail sales rose year-over-year, but the gains were driven largely by spending on cars, restaurants, concert tickets and travel. While that's all good for the economy, it tends to mask the struggle of poorer people who are just trying to make ends meet. 

The labor market, meanwhile, remains hardy even after 10 consecutive interest rate hikes. Even as monthly job gains slow and layoffs rise, it's not clear whether they're returning to a pre-pandemic normal or whether they'll keep slipping and usher in a recession. (Economists will get an update on the labor front Friday, when the US publishes its closely watched monthly jobs report for the month of May.)
Weddings are back, and more expensive than ever. 
Thanks to inflation and a boatload of resurgent demand (read: couples who had to reschedule or delay their nuptials because of Covid), the average cost of a wedding in the United States this year is $29,000 — up $1,000 from 2022, according to wedding planning site Zola.
The Zola report was based on a survey of 4,000 engaged couples who are getting married in 2023. 

Of course, prices go up or down depending on location. No big surprise: New York tops the list, with a typical wedding expected to cost about $43,500, followed by the Bay Area ($37,300) and Boston ($36,000). 
When I wake up on the first day of June and remember that it's the first day of Pride, I am compelled to do three things immediately:
1. Sing [to the tune of the song from Camelot]: "Tra-la! It's here! That lusty time of year!..." (The Pride festivities of King Arthur's court were held in May, as all historians know, hence the song's title.) 
2. Then I promptly make a reservation for a bottomless-mimosa Saturday brunch, because if you haven't witnessed brunch on a steamy Saturday in New York in June, then my God you haven't lived. "It's mad! It's gay!" 
3. Then I get online and brace myself for the onslaught Rainbow Capitalist Cringe that's about to hit my social media feeds. Traditionally, this is the month when companies slap a rainbow filter onto their profile pics and come up with some performative campaign about how eating Whoppers supports queer communities, or whatever. (The responses making fun of those campaigns have become their own sub-genre of internet commentary, and it's all very fun.) 
But this Pride month may bring fewer instances of corporations putting on progressive drag. 
As my colleague Danielle Wiener-Bronner writes, companies including Target and Bud Light have been targeted by right-wing media for relatively quiet LGBTQ+ initiatives: Bud Light's Instagram partnership with a trans influencer, and a subset of Target's line of goods marketed to trans customers and allies.
In both cases, the companies seemed cowed: The CEO of Bud Light owner Anheuser-Busch released a vague statement calling for unity and Target pulled some items from its shelves. Both brands say they continue to support the LGBTQ+ community. But the backtracking shows how threats from the far-right could create a chilling effect, and leave brands without a clear path forward.
Executives "are becoming much more skittish about taking these stands and making strong statements," said Daniel Korschun, associate professor of marketing at Drexel University. "The pendulum is swinging a bit back … toward a more conservative approach, where they'll be less vocal."
See Danielle's full story here.
TONIGHT: The New York Times' Lauren Hirsch tells Nightcap host Jon Sarlin why Americans leave so much paid time off on the table. (Seriously, America, we gotta stop doing that.) Plus, Puck's Matthew Belloni predicts how the bidding for the next decade's NBA media rights will play out. And Yale Professor Scott Shapiro shares some tips for protecting yourself from cybercriminals. Catch the whole show here.
Last updated June 1 at 4:00 PM ET