Tonight: The walls are closing in on Binance. Plus: Apple finally reveals its highly anticipated headset — with a mind-blowing price tag. Let's get into it.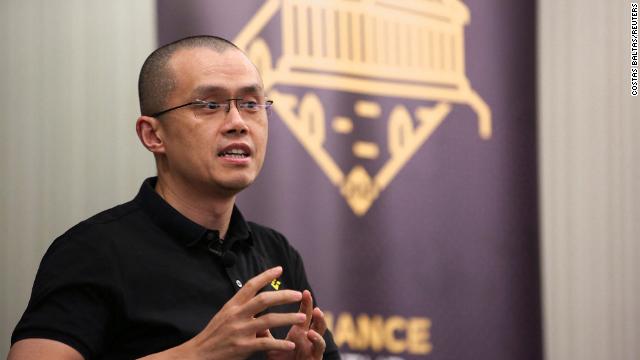 Legal headaches are piling up for the world's largest crypto exchange. 
See here: Federal regulators sued Binance on Monday, accusing the company of running an illegal exchange in the United States and mishandling billions of dollars' worth of customer funds. 

The Securities and Exchange Commission, Wall Street's primary regulator, alleges the company acted in "blatant disregard" of US securities laws. It also named Binance's CEO Changpeng Zhao, picture above, as a defendant.

"Through 13 charges, we allege that Zhao and Binance entities engaged in an extensive web of deception, conflicts of interest, lack of disclosure, and calculated evasion of the law," said SEC Chair Gary Gensler.

The SEC also alleges that Zhao and Binance commingled customer assets and even diverted some to an entity controlled by Zhao.
(And, um, if any of that sounds vaguely familiar, you may be thinking of FTX, which was also a massive crypto platform accused of commingling funds and diverting them to a sister hedge fund as part of an elaborate scheme to defraud customers before it collapsed into bankruptcy ... Which is not to say that the two are the same, but if you're a big crypto firm you sure don't want the words "commingling funds" appearing in headlines next to your name right now.)
Just to pile on: The SEC also claims that Binance knew very well what it was doing. The complaint highlights an absolutely devastating remark from Binance's chief compliance officer, who bluntly admitted to a colleague in 2018: "We are operating as a fking unlicensed securities exchange in the USA bro." 

A spokesperson for Binance said the company takes the SEC's allegations seriously, but it believes the agency's accusations are "unjustified."

"We respectfully disagree with the SEC's allegations that Binance operated as an unregistered securities exchange or illegally offered and sold securities," the company said in a statement. "Because of our size and global name recognition, Binance has found itself an easy target caught in the middle of a US regulatory tug-of-war."  

Bitcoin, the world's most popular crypto asset and a bellwether for the broader digital asset industry, fell 6% Monday to $25,600.

Binance has long argued that it isn't subject to US laws because it doesn't have a physical headquarters in America. Zhao claims that the company's headquarters are wherever he is at any point in time, "reflecting a deliberate approach to attempt to avoid regulation," according to a separate complaint from the Commodity Futures Trading Commission. 
Big picture
If you live in the United States, you're not allowed to trade crypto derivatives. Period. And if you're a non-US-based crypto firm, you can't let Americans trade those products without getting a license from the feds. Those are the rules. 
But, like, it's pretty much an open secret that US investors are getting their hands on these things through back doors. American customers are estimated to make up 16% of the revenue for Binance's derivatives product, according to the CFTC's complaint. 
All anyone needs is a VPN and an iron stomach, because crypto derivatives are leveraged bets on wildly unstable assets. (And like everything in this newsletter, that shouldn't be taken as any kind of advice.)
Still, none of this regulatory scrutiny is great news for Binance, or for crypto broadly. The industry is just over a decade old and has so far failed to make its case for widespread adoption while building a reputation as volatile, bro-y, and at times fraudulent. 
2023 was supposed to be the year the US economy hits the skids and goes into a recession. Conventional wisdom has held that the Fed's relentless interest rate hikes would hit their target (rampant inflation) but not without collateral damage (mass layoffs, unemployment, apocalyptic consumer sentiment). 
But the case for a 2023 US recession is crumbling, my colleague Matt Egan writes. The reason: America's labor market is way too strong. 
See here: Hiring unexpectedly accelerated again last month, with employers adding 339,000 jobs in May (expectations before the report came out Friday were for 190,000 jobs.) That's more jobs than the US economy added in any single month in 2019.
"We're running out of time for a 2023 recession," Justin Wolfers, an economics professor at the University of Michigan, told CNN. "We've never had a recession when the labor market was running this hot. In fact, it would be absurd to use r-word at a time when we're creating jobs at this rate."
And now for some wildly speculative technology that might be a huge waste of money that isn't crypto...
Apple just unveiled a $3,500 headset called the Apple Vision Pro.
This is by far Apple's riskiest new hardware product in years.
At a highly anticipated event on Monday, CEO Tim Cook touted the Vision Pro, an "augmented reality" headset, as a "revolutionary product." 
Here's the deal: The device looks like a pair of ski goggles and lets people overlay virtual images on live videos of the real world.
Cook described the AR headset as "the first product you look through, not at." 
The idea, according to Apple, is to seamlessly transition between everyday life and virtual reality. 
But the product faces a number of challenges. Not least:
Even die-hard Apple heads are likely to bristle at the idea of shelling out $3,500 for a device whose use case is, well, mushy. 

Meta already beat it to the market with its moderately successful Quest headset (which retails for $300).

Silicon Valley history is littered with failed headset contraptions. See also: Google Glass, Snapchat Spectacles, Microsoft's HoloLens, et al.
Of course, Apple has been known to prove skeptics like me wrong. Its vast, influential fan base could be just the group to bring headsets into the mainstream, my colleague Samantha Murphy Kelly writes. 
"Just like its other devices – Macs, iPads, iPhones, and Watches – this represents a new way to interact digitally with others and with applications," said Ramon Llamas, a director at market research firm IDC, ahead of the Vision Pro's launch. "And because [the market] is – for all intents and purposes – still in its initial stages, Apple can help shape the narrative of what AR/VR can be like and make money off of it with devices and services."
Apple also teased a long list of new features and updates to some of its most widely used products. My CNN Business colleagues have the highlights here.
Last updated June 5 at 7:00 PM ET