Tonight: PacWest is here to remind us the banking crisis isn't over. Plus: In for a penne, in for a pound? Let's get into it.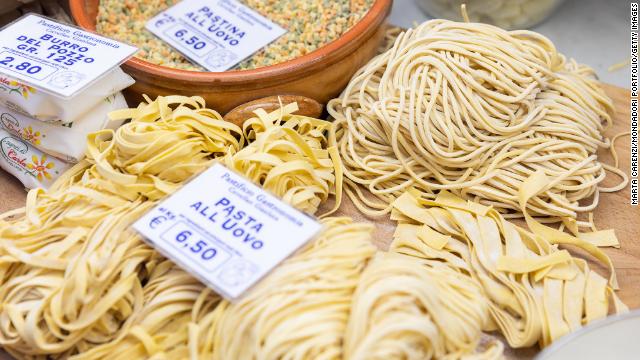 The pandemic may be officially over, but the crises it spawned, directly or indirectly, remain extremely with us.
On Wall Street, we've got the banking crisis.
In Washington, the debt ceiling crisis. 
Around the world, there's an inflation crisis. 
And in Italy, there is a very real, somewhat mysterious, pasta crisis. 
Here's the deal: The Italian government, consumer advocates and pasta makers convened emergency talks Thursday to noodle on the reason behind pasta's nearly 18% price surge over the past year. 
The price jump is more than double Italy's broader measure of consumer price inflation, which stood at 8.1%. Meanwhile, the price of wheat — pasta's main ingredient — has fallen.
A spokesperson for Adolfo Urso, the minister who convened the pasta panel, said many producers had already provided assurances that price increases were only temporary, and attributed the high prices to "the disposal of inventories made when the cost of raw materials was higher."
"In a few weeks, prices will be lowered, as production costs have considerably reduced," the spokesperson added.
Italy's farmers association said there was little justification for the higher costs, which haven't translated to higher revenues for wheat farmers. It added that, despite the price of durum wheat being fairly uniform across Italy, the retail price of pasta varied widely across the country. 
Unsurprisingly, some are suggesting prices have been artificially propped up to boost profits. Sound familiar? (Back in March, we wrote about US food producers doing more or less the same thing because, well, they can.) 
My CNN colleagues in Rome and London have more on the pasta problem here. 
RELATED: US inflation is cooling, but a handful of goods and services — day care, margarine and car repairs — are getting more expensive.
Peloton, the company behind the $2,000 clothes-drying rack in your guest bedroom, is recalling 2 million bikes because of a safety hazard.
The company identified 35 reports of "seat posts breaking" out of the 2.2 million bikes sold in the US as of April 30. The US Consumer Product Safety Commission issued the recall Thursday, telling owners of Peloton bikes with model number PL-01 to stop using the bike immediately and contact the company for a free repair kit. 
Stop me if you've heard this one: A midsize California bank saw its shares tumble after it revealed a sudden, massive surge of deposit outflows...
Here's the deal: PacWest, the LA-based lender that's been ensnared in the banking turmoil over the past two months, is the latest bank to have a target on its back, raising speculation about its potential collapse or sale.
The catalyst was a regulatory filing that revealed PacWest customers drew down 9.5% of its total deposits, forcing the bank to pledge more of its assets as collateral to shore up its cash position. That's a pretty stark shift from last week, when PacWest said it hadn't experienced "out-of-the-ordinary deposit flows" after First Republic's hastily arranged sale to JPMorgan Chase.

PacWest shares have lost nearly 80% of their value since January, and the stock briefly fell 30% before being halted for volatility Thursday morning. It ended the day down 23%. 
I know what you're thinking: Really? This again? 
And I hear you. After two months of regional banking turmoil that's already brought down three major lenders (SVB, Signature and First Republic), no one is quite sure where the bottom is or how many other banks might stumble along the way. 

To be clear: It's hardly a done deal for PacWest. Although the deposit news is troubling, analysts tell me that the bank, at least on paper, is in a good spot to ride out the storm as long as deposits stabilize and the falling share price doesn't catch the attention of short-sellers. 
The bank has about $15 billion in readily available cash, and just $5.2 billion in uninsured deposits, according to the regulatory filing. 

PacWest didn't immediately respond to a request for comment. 
RELATED: America's biggest banks are now on the hook to replenish the FDIC's Depositor Insurance Fund after the banking crisis took a $15.8 billion bite out of it.
On the latest Nightcap show, I caught up with host Jon Sarlin about all the crummy things that'll happen if Congress doesn't get its act together and raise the debt ceiling. Plus, killer robots, AI weapons and Ozempic. Oh my! Watch it all here. 
Look, I know what you're all thinking and I'm flattered, truly, but no — it's not me.
Last updated May 11 at 7:00 PM ET