Tonight: Home Depot's pandemic-era wins are coming back to haunt it. Plus: Eggs are finally getting cheaper, and bank executives are finding blame everywhere but in the mirror. Let's get into it.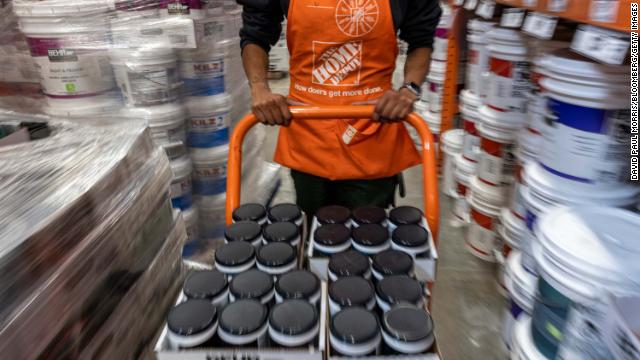 Home Depot was, without a doubt, one of the biggest beneficiaries of our pandemic-era languishing. As we lingered within the confines of our own home, unused travel cash burning a hole in our bank accounts, we the people took up tools and started on some honest-to-God ~hobbies.~
We bought yoga mats. We learned about "starters." We crocheted so many scarves. And, of course, we decided this was the time, finally, to build that bookshelf/wood shed/mudroom/closet organizer. 
We YouTubed, made lists, and and marched straight to Home Depot, which soaked up our collective angst and hammered it into profits.
But after three years, the home DIY boom is beginning to go bust. 
Here's the deal: Home Depot reported a dismal quarter for sales and lowered its outlook for the year, my colleagues Nathaniel Meyersohn and Parija Kavilanz report. 

Total revenue for the quarter slipped 4.2% from a year ago, to $37.3 billion.
Shares fell 2.2% Tuesday, dragging the broader market down as investors worried the news would be a sign of more bad news to come from retailers, including Target, which reports earnings Wednesday. 
BIG PICTURE
Look, a slowdown isn't the end of the world. Home Depot's CEO Ted Decker (yes, that is his real name) said the company had expected "a year of moderation" following a "three-year period of unprecedented growth."
The company expects sales to decline between 2% and 5% in 2023 from a year ago. 
It could be worse. Some of the other pandemic "winners" (hey Peloton, howdy, Zoom) are having a much harder time as the world returns to a semblance of normalcy. 
As we reported yesterday, Americans are still spending — they're just redirecting it from home goods and projects to experiences, like going to restaurants, the Eras Tour, the Renaissance Tour, and taking trips to faraway beaches.  
Decker told analysts Tuesday that business from both its DIY customers and professional contractors in the quarter was less than expected.

"What was newer in our observations this quarter is that while projects are still strong and Pro project backlog is still elevated, the size of the projects are getting a bit smaller," Decker said. 
Adding to Home Depot's pain: People aren't buying as many big-ticket items like dishwashers or grills or furniture, and lumber costs (which skyrocketed early in the pandemic) have come back down.  
Look ahead: Target, Walmart and TJ Maxx also report earnings this week, giving investors and economists more data about consumer sentiment.
Egg prices are finally falling. 
As of last week, Midwest large eggs — the benchmark for eggs sold in their shells — cost just $0.94 per dozen in the wholesale market,. That's a sharp fall from $5.46 per carton just six months ago, a nearly 83% decline. (In the store, they're obviously still more than $1, but even retail prices are coming down.)
Why the decline? For one, prices were so, um, egg-sorbitant for so long that customers started buying less. And the avian flu that crimped supplies last year got under control. Read more. 
More than two months after the collapse of Silicon Valley Bank and Signature Bank triggered a financial earthquake, three former executives spoke publicly for the first time in testimony before a Senate committee Tuesday. 

Their takeaway from the experience of watching their companies crumble under their feet: Everyone screwed up but us. 

Here's the deal: Lawmakers on the Senate Banking Committee were unusually united in their contempt for the way the three men — Greg Becker of SVB, as well as Scott Shay and Eric Howell of Signature — failed to mitigate risks and raked in millions in compensation while their banks imploded. 

The grilling from senators lasted just over two hours. The Fed's top banking watchdog was also on the Hill, along with other regulators, testifying in the House as part of his semiannual obligation. Unsurprisingly, the banking crisis came up.

Key takeaways from the Senate hearing: 

📉 Everyone else messed up
The executives conducted a masterclass in deflecting blame for their banks' failures. 

To hear Becker tell it, Silicon Valley Bank was the victim of a collision of unprecedented rate hikes from the Federal Reserve, a bit of bad press and a social media panic. 

In his testimony, Becker said he was "truly sorry" for the bank's collapse, blaming a "series of unprecedented events."

He noted that SVB had been compared to Silvergate — a crypto-focused Southern California lender that announced its liquidation days before SVB collapsed — and that news reports and investors wrongly lumped the two banks together. "Rumors and misconceptions spread quickly online," sparking the bank run, Becker told lawmakers. 

And of course, Becker says, the Fed raised interest higher and faster than expected, even though inflation was supposed to be "transitory." 

But did the CEO of the bank do anything wrong that might have contributed to its instability? Becker said he couldn't think of anything.  

Lawmakers were incredulous.
"It sounds a lot like my dog ate my homework," said Democratic Sen. Sherrod Brown. 

ICYMI: Last month, the Federal Reserve's autopsy report called SVB's failure a "textbook case of mismanagement," while also owning its own supervisory shortcomings. 

🇺🇸 Across party lines, the outrage was palpable. 

Hearings like this are known for their grandstanding, but lawmakers really made a meal of it on Tuesday. 

From the right: 
"This was bone-deep, down-to-the-marrow stupid," said Republican Sen. John Kennedy. "You put all your eggs in one basket and unless you were living on the International Space Station you could see interest rates were rising..."

"I'm shocked at the complete negligence and disregard for the economic realities that this country was facing under your leadership," Republican Sen. Tim Scott said. 
And from the left:
"Mr. Becker, you've blamed pretty much everyone else for SVB's failures," Brown, the banking committee chair, said. "It's hard to believe a 30-year bank executive, and CEO for 12 years, should have needed a roadmap from the regulators to find the obvious problems that needed to be fixed and weren't."

To Shay, the former Signature chairman, Sen. Elizabeth Warren quipped: "Your opinion on what is a responsibly managed bank is...laughable."


💰 And of course, the bosses got paid. 

At the time of its collapse, SVB had 31 unresolved supervisory warnings. And still, Becker still received a $1.5 million bonus as part of his 2022 compensation package. On March 10, just hours before SVB collapsed, several executives received planned bonus payouts. 

Sen. Warren homed in on the pay issue, grilling Becker and Shay about whether they intended to return any of the billions of dollars that their banks' failures cost the Deposit Insurance Fund.
Spoiler alert: Becker didn't commit to returning any money, and Shay said he had no intention to do so. 

"Right now, the law says that people like Mr. Becker and Mr. Shay can come to Washington, they can lobby for weaker bank regulations, they can load up their banks with risk, they can pay themselves tens of millions of dollars...and when the banks blow up, Mr. Becker and Mr. Shay get to keep all the money. And that is just plain wrong."
⌛ With time running out to reach a deal on the debt ceiling, Treasury Secretary Janet Yellen plans to meet with bank CEOs on Thursday afternoon in Washington.
🐦 Elon Musk launched a Twitter attack on financier George Soros, a frequent target for far-right and antisemitic conspiracy theories.
💸 Warren Buffett's Berkshire Hathaway sold its remaining shares in the world's largest chipmaker, TSMC, after Buffett sounded alarms about the company's home base of Taiwan. 
🔎 Use it or lose it: Google said it would start deleting accounts that have been inactive for at least two years, a move that the company says is intended to prevent security risks.
Last updated May 16 at 6:30 PM ET