Tonight: The debt ceiling is dumb but I guess we have to do this whole political standoff thing. Again. Let's get into it.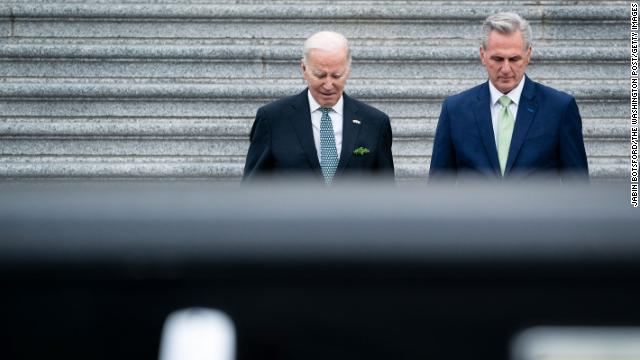 We don't have a lot of time left to resolve the dispute over the debt ceiling. The Treasury's best guess for the so-called X-date is on or around June 1, which is, somehow, just two and a half weeks away.
The fact that we're even at this stage is, to paraphrase economists, extremely stupid.
Here's the deal: On Tuesday, President Biden will welcome House Speaker Kevin McCarthy and other congressional leaders to discuss the issue at the White House. But no one's holding their breath for any resolution to come out of those talks. Rep. Patrick McHenry, the House Financial Services Chairman, already expressed "modest pessimism" at the prospect of a deal. Translation: We're not budging. 
Lawmakers know as well as anyone what could happen if they fail to raise the debt ceiling — they were there, doing this same maneuver, in 2011 when the US came so close to a default that S&P knocked the US from its top-level credit rating, which, which raised borrowing costs for years afterward.
Congressional Republicans want to tie any debt ceiling hike to spending and budget cuts. The administration has said the two issues are separate.
ICYMI: The consequences of a US default are a little tricky to spell out because it has never happened. Like, ever.
But we do know there's nothing good that will happen, and we're pretty sure it'll be, as Treasury Secretary Janet Yellen said Sunday, "chaos." Here's a short list of the bad news we can expect if this game of chicken carries on:
When the cash runs out, Yellen and the Treasury would find themselves doing an ugly triage to decide which parts of the economy — Social Security? Medicare? National defense? — keep running and which ones get an IOU.

Goldman economists estimate one-tenth of all economic activity would stop.

At least 3 million jobs would be lost, according to the center-left think tank Third Way.

Interest rates would skyrocket. Third Way estimates that it would add an extra $130,000 on a typical home loan.

Financial markets, which run in part on confidence, would fall into disarray, ushering in a recession.

The US dollar, the world's global reserve currency, would lose value as investors lose confidence in Treasuries.

Key quote: "This is the United States of America," economist Ken Rogoff recently told CNN. "It affects everyone getting Social Security checks, debt holders. I don't even know where to stop. You can get hyperbolic about how bad it will be. I would just say I don't want to find out."
Wall Street is already nervous.
Stocks wavered Monday ahead of the Biden-McCarthy summit. Investors are also digesting news from a Fed survey that showed America's banks are already stiffening lending standards in the fallout of the banking crisis.
And the coming week will be a doozy, with more corporate earnings and Wednesday's closely watched inflation reading that will give traders a better sense of how the economy is responding to the Fed's rate hikes.
Bottom line: The debt ceiling has to be raised, one way or another. We could do it now and save the American people a lot of stress and real financial pain — pain that will, it should be noted, disproportionately hit people who can least afford it — or do it after the X-day, when our credibility as a global leader will be legitimately in doubt.  
RELATED: The US labor market is still chugging right along. Here are five key takeaways from Friday's jobs report. 
[Elizabeth Holmes] thinks if she'd spent more time quietly working on her inventions and less time on a stage promoting the company, she would have revolutionized health care by now ... She repeatedly says that Theranos wasn't a get-rich-quick scheme for her.
Elizabeth Holmes, the founder of failed blood-testing startup Theranos, spoke to the New York Times for her first interview in seven years, and the internet won't shut up about it. 
The lengthy profile on Holmes, who was sentenced to 11 years in prison for defrauding investors, is a compelling read on a subject who managed to swindle some of the smartest guys in the room (it was mostly guys) while building a multi-billion-dollar company on a theoretical, ultimately fictional technology. 
Elon Musk is finding out what happens when you take down the guardrails of content moderation on Twitter. 
See here: Within hours of the mass shooting on Saturday at a Texas outlet mall, some Twitter users shared gruesome pictures of bloodied bodies, purportedly from the crime scene. At least one image appeared to be of a child, my colleague Catherine Thorbecke reports. 
It's not the first time graphic images have made their way onto Twitter. But the new way that content is ranked in the algorithm elevated accounts that paid to be verified. 
"Graphic material often found its way onto Twitter in the past but it was more likely to be downranked and hard to find," Emily Bell, director of the Tow Center for Digital Journalism at Columbia University, said in a tweet. "The new screwed up system seems to prioritize these vile accounts and presents material at the top of the feed. Awful."
Twitter, which fired much of its public relations team, did not respond to a request for comment.
This is, unfortunately, not the first time we're having a conversation as a nation about how to handle the images from mass shootings on social media, where they tend to spread quickly.
Twitter, Facebook, Instagram and other platforms have policies that restrict sharing graphic content, with certain exceptions. 
But media companies and activists are also grappling with the ethics of not sharing the reality of photos that can have the power to shape public discourse.
There have been 202 mass shootings in the US within the first five months of this year, according to the Gun Violence Archive. The nonprofit and CNN define mass shootings as those in which four or more people are shot, excluding the shooter.
On Saturday, eight people were killed and at least seven others wounded when a gunman opened fire at the outlet mall in Allen, Texas.
In an interview with CNN affiliate KTVT on Sunday, Steven Spainhouer, an Army veteran and former police officer who helped administer first aid at the scene, described the horror he encountered.
Later, in a tweet, he criticized people who shared a photo from the scene: "I do not want to see the photo floating around on social media, taken while I was calling 911 and trying to render aid at the Allen Outlets," he wrote. "The least you could have done is help, not take photos of people at death's doorstep."
Others have cited the example of Emmett Till, whose mutilated body on the cover of Jet Magazine (at the urging of Till's mother), giving Americans who had been protected from the racist violence of the era an unflinching look at its reality. 
"It's time, with the permission of a surviving parent, to show what a slaughtered 7-year-old looks like," David Boardman, the dean of the Klein College of Media and Communication at Temple University, tweeted in the aftermath of the shooting at Robb Elementary School in Uvalde that left 19 children and two adults dead.
Boardmen added in his tweet at the time that he "couldn't have imagined saying this years ago," but argued that by showing the public these images, "Maybe only then will we find the courage for more than thoughts and prayers."