An exclusive inside look with your free CNN account
🎤 Meet the award-winning correspondent who is breaking down barriers
Omar Jimenez, CNN correspondent 
"Don't be afraid to get outside your comfort zone sometimes. I've found that some of the most rewarding experiences have come from pushing through to the other side of fear." 
That advice comes from CNN correspondent Omar Jimenez, who helped the network win an Emmy for its coverage of the death of George Floyd in 2020. While in Minneapolis covering the protests, Jimenez and his team were handcuffed and detained live on air by Minnesota State Patrol. They were held for a little over an hour before they were released and could return back to coverage.
The Afro-Latino journalist said that experience is one of many reasons why it's become so important for him to show fellow minorities that there are people who look like them in the spaces they want to be in.
"I've learned one of the biggest things I can do is just be visible and lead by example," Jimenez said.
We recently chatted with Jimenez about his career and learned some surprising details about his life outside of work. Here's what he told us: 
What led you to pursue a career in TV news?
It all started with sports. I loved watching the anchors break down the latest highlights and interview some of the greatest athletes on the planet. That's what began my love with the medium of video and television. However, once I started actually covering sports in college, I realized I hated essentially having to do homework just to watch a football game. So I expanded my horizons and started covering more general news, and fell in love with building relationships with people I wouldn't ordinarily meet, along with ending up in places I had never been. There's such a powerful element of storytelling you get from TV that you can't get from words on a page.
You won your first News & Documentary Emmy Award in 2021 for your work covering the death of George Floyd. Describe what that meant to you.
It's a conflicting celebration for me, because while it truly is an honor to be recognized for our work, we were covering a story that was centered on a man who was murdered by a police officer in the street. The name of the story imprinted on the Emmy includes his name, George Floyd. So now whenever I look at it, the shine of the heavy trophy catches my initial attention but the words on it are a humbling reminder of the weight of the stories our reporting often touches — one that should never be taken for granted. 
During your live shot on the continued protests in Minneapolis, you and CNN's crew were arrested by the Minnesota State Patrol. What were you thinking as that moment unfolded?
I was so shocked that I had to ask them to repeat "you're under arrest," and sure enough, they followed through with the action — despite never saying why or asking for a clear identification of who we were. As I was led away, I still had my earpiece in so I could hear our anchors reacting on air in real time. Throughout the entire interaction, this was one of the only times a little fear set in; I was being led away from the camera and my crew, who were essentially my witnesses. I truly wasn't sure what was going to happen next.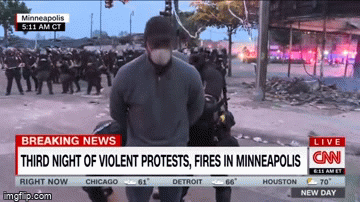 The Minnesota State Patrol detains Jimenez on live television.
Three years have now passed since covering this important story. How do you think it's prepared you to becoming the correspondent you are today?
That story came at a time where we were dealing with an intersection of Covid-19, George Floyd and an election year. More than anything, while covering this story three years ago, I saw how angry and hurt people were on such a deeper level than what I could see on the surface. There was one night that week in 2020 where it seemed like every city had people on the street — either clashing with police or marching for causes they believed in. It's informed my understanding of people, that even to this day people are still hurting from the pandemic and it's not always my job to fully understand but to listen. The intersection of those stories also put a real pressure on the job to a level I had never seen. From a practical standpoint, it showed me what it meant to operate at a high-stakes, high-output level, and it's a gear I now know I have. 
Jimenez talks about the safety precautions he takes as a Black journalist.
As a reporter, you often have to knock on the doors of strangers. What are some safety precautions you take as a Black journalist, especially after seeing an uptick in wrong-place wrong-time shootings? 
Door knocking is a necessary part of the job, so it's going to happen. At the national reporting level, I'm often parachuting into places I've never been, sometimes in neighborhoods where I very much stick out or could be viewed as a threat. Because of that — whenever I ring a doorbell — I try to be as non-threatening as I possibly can be. I step nearly off the porch with feet on the stairs and the ability to jump left or right if someone comes to the door angry. It's all about starting from a de-escalating position because people aren't usually happy to see me as a reporter. From there, either the door gets shut on me, we build up trust through conversation, or I get pleasantly surprised the person appears to trust me or our institution enough to answer a few questions.
How do you manage stress and decompress?
I do anything that has nothing to do with news. My absolute favorite is walking into an empty basketball gym early in the morning and just getting up shots. No phone in hand — just headphones and vibes. It could also be video games, hopping into an Xbox party with friends and running a few matches of whatever game is top of mind. Writing music is also a great decompressor. I pride myself on having an ecosystem of restorative tactics, because it's incredibly important. I see them as my defenses in a way from the absolute madness that can be this job, and I don't ever want those defenses to get too low. 
Jimenez also makes music, and his newest EP, "Push Alert," is now available on streaming platforms. 
What is something people might be surprised to learn about you?
Most people are surprised to learn that I make music under the name OJ Trop, which you can find on all streaming platforms. It's a great way to release and keep my creative brain going. I also help host the annual world championship for the arcade game "Big Buck Hunter." I've been doing that since college and it's become a yearly weekend of fun, weird, and gaming with a community that is second to none. The more you know! 
💳  CNN insider rec of the week
Brought to you by CNN Underscored
The best smart glasses perform a variety of tasks like answer calls, control smart devices, play different media, record videos, snap photos and integrate with your social media accounts. We put together this collection of the best smart glasses, based on price, performance, testing and critical response.
🎧  Listen: On April 13, 16-year-old Ralph Yarl was shot when he went to the wrong address to pick up his siblings. Days later, 20-year-old Kaylin Gillis was shot and killed after she and a group of friends turned into the wrong driveway. On CNN's "One Thing" podcast, we explore what these types of incidents say about gun culture in America.
👑  Explore: The coronation of King Charles III was a historic day, jam-packed with events — some planned, others not. CNN takes a look at some of the most memorable moments.
🐴  Read: The 149th Kentucky Derby experienced tragedy in the weeklong lead-up to the race. Officials from the Churchill Downs racetrack are calling attention to several recent horse deaths within a 10-day stretch.
💡 Learn: This Mental Health Awareness Month seems to coincide with a flurry of violent headlines. Here's what people who help others want you to know.
- Edited by Kyle Almond, Tricia Escobedo and Jessica Sooknanan
INSIDE CNN
An exclusive inside look with your free CNN account