Tonight: The banking crisis may not be, like, over-over. Plus: A pioneer of artificial intelligence is speaking out about the dangers of artificial intelligence. Let's get into it.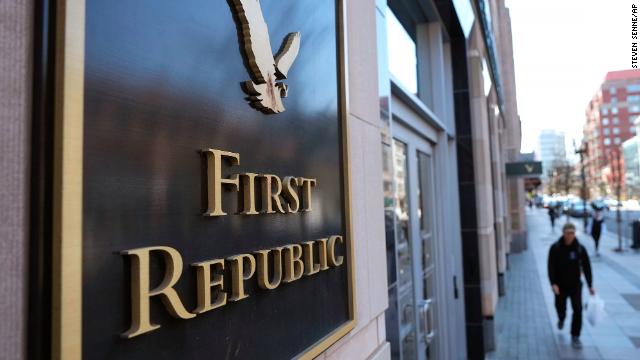 After a six-week spiral, First Republic bank finally collapsed in the wee hours of Monday morning.
Federal regulators seized the bank and immediately sold most of its assets to JPMorgan Chase, making fast work of what is now the second-largest bank failure in US history after Washington Mutual in 2008 (which was then acquired by — you guessed it — JPMorgan Chase).
For those keeping track at home: That's three US bank failures in less than two months.
What's going on?
Here's a quick refresher on how we got here:
The Fed began raising interest rates over a year ago, using its bluntest tool to combat inflation.

Rising rates eroded the value of bonds that made up a big chunk of the banks' investment portfolio.

That left them vulnerable to a liquidity problem if customers started drawing down their accounts.

The three banks — Silicon Valley Bank, Signature, and First Republic — all had particularly jittery customers with high levels of uninsured funds (read: balances above the $250,000 limit set by the Federal Deposit Insurance Corporation).

Banks don't keep all their customers' money in cash, so when everyone demands their funds at the same time, it's bad news.

In early March, SVB depositors, sensing trouble at the lender, yanked their money at once, forcing SVB to sell bonds at a loss to pay out its customers.

When it couldn't keep up, regulators swooped in to clean up the mess.

Signature and First Republic suffered from their similarities to SVB, catering to high-end coastal clientele in areas such as tech and private equity.
The markets seemed, if not pleased, at least not totally freaked out by the First Republic resolution. Stocks ended the day down, but only slightly. The First Republic news was just one of many closely watched events that Wall Street gets to chew on this week. (Get excited: we've got JOLTS, the Fed policy meeting and the April jobs report to look forward to.)
Everyone on Wall Street appears to be drinking from the same punch bowl as Jamie Dimon, who framed the sale as a bookend to the crisis.
"No crystal ball is perfect, but yes, I think the banking system is very stable," Dimon said on an investor call Monday. "This part of the crisis is over."
Not everyone shares that optimism, of course.
I spoke to Robert Hockett, a law professor and expert on public finance at Cornell University, for the decidedly less sunny take.
"Contrary to cheery Wall Street and Washington predictions made over the weekend, this is not the end of the March banking crisis — it is still the beginning," Hockett told me.
To his mind, the sale just makes JPMorgan, already the nation's largest bank, even bigger, and the power of the biggest Wall Street banks more concentrated. The effect of that is the hollowing out of the regional banking industry.
Hockett and others argue that it's time to scrap, or at least lift, the $250,000 limit on deposit insurance, and thereby stop the panic that causes depositors to flee.
That idea got an extra boost on Monday, when the FDIC itself released a report advocating for an increase in the deposit insurance limit for business payment accounts. Lawmakers in DC have reportedly been in talks to expand the upper limit of the FDIC cap.
Keep in mind: While $250K is a lot for a regular person, the accounts that have bankers on edge are those belonging to businesses, which have, like, payroll and other operating expenses that easily top that amount. 
"There's no need for there to be those caps," Hockett said. "My fear is if we don't do this really fast, what we're going to see is the Jamie Dimon banks gobbling up the remainder of the regional banking industry, and that is ultimately going to bring about some kind of nationalization of the banking system."
He added: "There's no way that we'll be able to finance production and startups and small businesses in every region of the country if the only banks we have are a few gigantic banks located either in Wall Street or San Francisco."
Eliminating caps would require banks to pay more into the deposit insurance fund, though he envisions a tiered system in which large banks that take on more risk pay a higher premium.
"You can think of federal deposit insurance as being a bit like nuclear weapons," he said. "You only have them so that you don't have to use them."
The next five years will bring huge disruptions to the global job market as companies embrace new technology (especially artificial intelligence) and the economy weakens. The result, according to a report from the World Economic Forum, will be a net loss of 14 million jobs, or roughly 2% of current employment. Fie on you, robots! 
In case the 14 million jobs stat above wasn't worrying enough, the guy who more or less invented artificial intelligence is speaking out about the dangers of the technology. 
Geoffrey Hinton, who has been called the "Godfather of AI," left his role at Google last week to speak out freely about his concerns.
"I console myself with the normal excuse: If I hadn't done it, somebody else would have," Hinton told the New York Times.
Hinton's concerns boil down to the idea that AI could create a world where many people will "not be able to know what is true anymore."
*Rodney Dangerfield voice* What, are the bots only allowed to watch Fox News or something? Ehhhh. 
Sorry. Back the scientist: 
"The idea that this stuff could actually get smarter than people — a few people believed that," Hinton said in the interview with the Times. "But most people thought it was way off. And I thought it was way off. I thought it was 30 to 50 years or even longer away. Obviously, I no longer think that."
Even before stepping aside from Google, Hinton had spoken publicly about AI's potential to do harm as well as good.
"I believe that the rapid progress of AI is going to transform society in ways we do not fully understand and not all of the effects are going to be good," Hinton said in a 2021 commencement address at the Indian Institute of Technology Bombay. He noted that AI will improve health care while also creating opportunities for lethal autonomous weapons.
"I find this prospect much more immediate and much more terrifying than the prospect of robots taking over, which I think is a very long way off."
In a tweet Monday, Hinton said he left Google so he could speak freely about the risks of AI, rather than because of a desire to criticize Google specifically.
"I left so that I could talk about the dangers of AI without considering how this impacts Google," Hinton said. "Google has acted very responsibly."
Jeff Dean, chief scientist at Google, said Hinton "has made foundational breakthroughs in AI" and expressed appreciation for Hinton's "decade of contributions at Google."
My colleague Samantha Murphy Kelly has more.
Last updated May 1 at 4:00 PM ET