Tonight: Disney's pulling the plug on a $1 billion Florida complex. Plus: New York rent hits another record high. Let's get into it.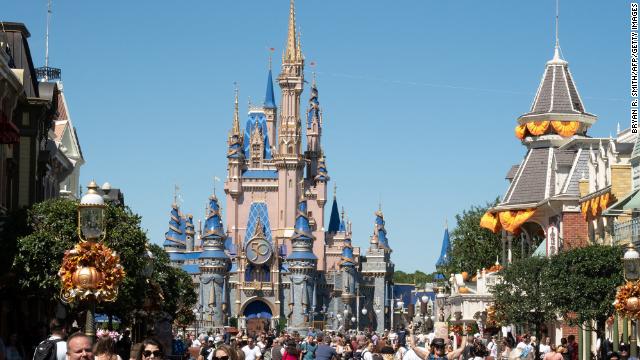 Today, the top Ron DeSantis headline might have been that he is expected to officially enter the race for the GOP presidential nomination next week. 
But Bob Iger, who has weighed his own presidential run in the past, had other plans.
Here's the deal: Disney on Thursday said it is scrapping plans to build a $1 billion campus in Florida that would have brought the state 2,000 white-collar jobs, most of which were being relocated from California. 
A memo from a Disney spokesperson to staffers cited "changing business conditions" among the reasons for pulling the plug on the development, known as Lake Nona. 
According to the New York Times, the California staffers were really not jazzed about moving to Florida, and some even quit. But Disney had held firm partly because of a favorable tax credit offered by the state. 
This part of the memo, in particular, likely came as quite a relief: 
"We will no longer be asking our employees to relocate. For those who have already moved, we will talk to you individually about your situation, including the possibility of moving you back."
(Some had already moved! 😭😭😭) 
What's going on?
The decision to scrap the project comes in the middle of a bizarre, yearlong saga that has landed both Disney and DeSantis' backers in a fierce legal battle over control of the "happiest place on Earth." 
Disney and DeSantis have been sparring for over a year about controversial legislation the governor signed that restricts the teaching of sexual orientation and gender identity in schools.
The short version:
Disney spoke out against the law.

DeSantis didn't like that.

GOP lawmakers began trying to wrest control of Disney's special district that houses its flagship park and resorts.

Disney didn't like that, and its lawyers have been busy in recent weeks mercilessly dunking on every play Team DeSantis tried to execute.  
Last week, as if foreshadowing, Iger rhetorically speculated on an investor call about what DeSantis and Florida's legislature were after with their continued fight against the company: "Does the state want us to invest more, employ more people and pay more taxes or not?" 
At the same time, Disney is in a financial pickle of its own, along with just about every other media company right now. Advertising revenue is shrinking and studios are bracing for production slowdowns as a result of the writers strike. 
Earlier this year, Disney announced it would be cutting 7,000 jobs as part of a cost-cutting effort.
Separately, Disney said it would shut down its Star Wars: Galactic Starcruiser resort at Disney World just over a year after it opened. 
Still, Disney is one of the biggest employers in all of Florida, with some 75,000 employees, and adds billions of dollars in tax revenue for the state each year. 
Following news of Disney's decision, a representative for DeSantis said it was "unsurprising" that Disney would cancel the Lake Nona project "given the company's financial straits, falling market cap and declining stock price."
My colleague Natasha Chen and I have more on all things Disney vs DeSantis.
It's springtime, which means at least two things are going berserk here in NYC: The pollen (shout out to all my Claritin queens and Zyrtec zaddies) and the rent.
For the month of April, we hit yet another record high for residential rentals in Manhattan. You ready? Here it is: The median cost of renting an apartment in the city was ... drum roll, please ... $4,241 a month!  That's up 8% from a year ago and up 1.6% from March. 
We're back with another moving-pictures edition of Nightcap!
Tonight: CNN's Clare Duffy tells host Jon Sarlin all about Twitter's new CEO and why the company still has a huge problem on its hand (hint: it rhymes with Feelon Fusk.)
Plus, an artificial intelligence expert says that the technology could turn out to be as revolutionary as the printing press...or the atomic bomb.  Cool. Cool cool cool. Check out all of that and more here.
📱 A group of TikTok users sued to overturn Montana's new statewide ban blocking the app, alleging that the law signed this week by Gov. Greg Gianforte violates the First Amendment.
💸 Treasury Secretary Janet Yellen warned bank CEOs of severe economic consequences if debt ceiling isn't addressed.
🤖 OpenAI is launching a free ChatGPT app for iOS users in the United States, with plans to roll out to other countries soon.
◼️ Sam Zell, the Chicago real-estate magnate whose knack for buying up distressed assets turned him into a billionaire and earned him the nickname "grave dancer," died on Thursday, his company said. He was 81.
Last updated May 18 at 4:00 PM ET