Good morning. Here's what's in today's newsletter: OPEC took the west by surprise this week, and their announced cuts to oil production could have potential implications for Russia. Plus, JPMorgan CEO Jamie Dimon releases his annual letter to shareholders.  
US stock futures were higher ahead of a job openings report. European markets rose. Asian indexes closed mostly higher, too.
▸ Forwarded this newsletter? Want global markets news and analysis from CNN Business reporters every morning? You can sign up here.
What the OPEC cuts mean for Putin and Russia 
Some of the world's largest oil exporters shocked markets over the weekend by announcing that they would cut oil production by more than 1.6 million barrels a day. 

OPEC+, an alliance between the Organization of the Petroleum Exporting Countries (OPEC) and a group of non-OPEC oil-producing countries, including Russia, Mexico, and Kazakhstan, said on Sunday that the cuts would start in May, running through the end of the year.
The news sent both Brent crude futures — the global oil benchmark — and WTI — the US benchmark — up about 6% in trading Monday. 

OPEC+ was formed in 2016 to coordinate and regulate oil production and stabilize global oil prices. Its members produce about 40% of the world's crude oil and have a significant impact on the global economy. 

What it means for Putin: OPEC+'s decision to cut oil production could have big implications for Russia.
After Russia invaded Ukraine last year, the United States and United Kingdom immediately stopped purchasing oil from the country. The European Union also stopped importing Russian oil that was delivered by sea. 

Members of the G7 — an organization of leaders from some of the world's largest economies: Canada, France, Germany, Italy, Japan, the United Kingdom and the United States — have also imposed a price cap of $60 per barrel on oil exported by Russia, keeping the country's revenues artificially low.
If oil prices continue to rise, some analysts have speculated that the US and other western nations may have to loosen that price cap.

US Treasury Secretary Janet Yellen said Monday that the changes could lead to reassessing the price cap — though not yet.
"Of course, that's something that, if we've decided that it's appropriate to revisit, could be changed, but I don't see that that's appropriate at this time," she told reporters. 

"I don't know that this is significant enough to have any impact on the appropriate level of the price cap," she added. 

Russia also recently announced that it would lower its oil production by 500,000 barrels per day until the end of this year. 
Just last week Putin admitted that western sanctions could deal a blow to Russia's economy. 

"The illegitimate restrictions imposed on the Russian economy may indeed have a negative impact on it in the medium term," Putin said in televised remarks Wednesday reported by state news agency TASS. 

Putin said Russia's economy had been growing since July, thanks in part to stronger ties with "countries of the East and South," likely referring to China and some African countries.

Russia, China and Saudi Arabia: The OPEC+ announcement came as a surprise this week. The group had already announced it would cut two million barrels a day in October of 2022 and Saudi Arabia previously said its production quotas would stay the same through the end of the year. 

"The move to reduce supply is fairly odd," wrote Warren Patterson, head of commodities strategy at ING in a note Monday. 

"Oil prices have partly recovered from the turmoil seen in financial markets following developments in the banking sector," he wrote. "Meanwhile, oil fundamentals are expected to tighten as we move through the year. Prior to these cuts, we were already expecting the oil market to see a fairly sizable deficit over the second half or 2023. Clearly, this will be even larger now."

Saudi Arabia stated that the cut is a "precautionary measure aimed at supporting the stability of the oil market," but Patterson says it will likely "lead to further volatility in the market," later this year as less available oil will add to inflationary feats.  

Still, the changes signal shifting global alliances with Russia, China and Saudi Arabia around oil prices, said analysts at ClearView Energy Partners. Higher-priced oil could help Russia pay for its war on Ukraine and also boosts revenue in Saudi Arabia. 

The White House, meanwhile, has spoken out against OPEC's decision. "We don't think cuts are advisable at this moment given market uncertainty - and we've made that clear," National Security Council spokesman John Kirby said Monday.

- CNN's Paul LeBlanc and Hanna Ziady contributed to this report
50 years ago, he made the first cell phone call
"People forget that, and I have to keep reminding them. We are trying to improve the human experience. That's what technology is all about."
MARTIN COOPER, ENGINEER AND FATHER OF THE CELL PHONE
Read more from CNN.
Jamie Dimon says banking crisis to be felt for 'years to come'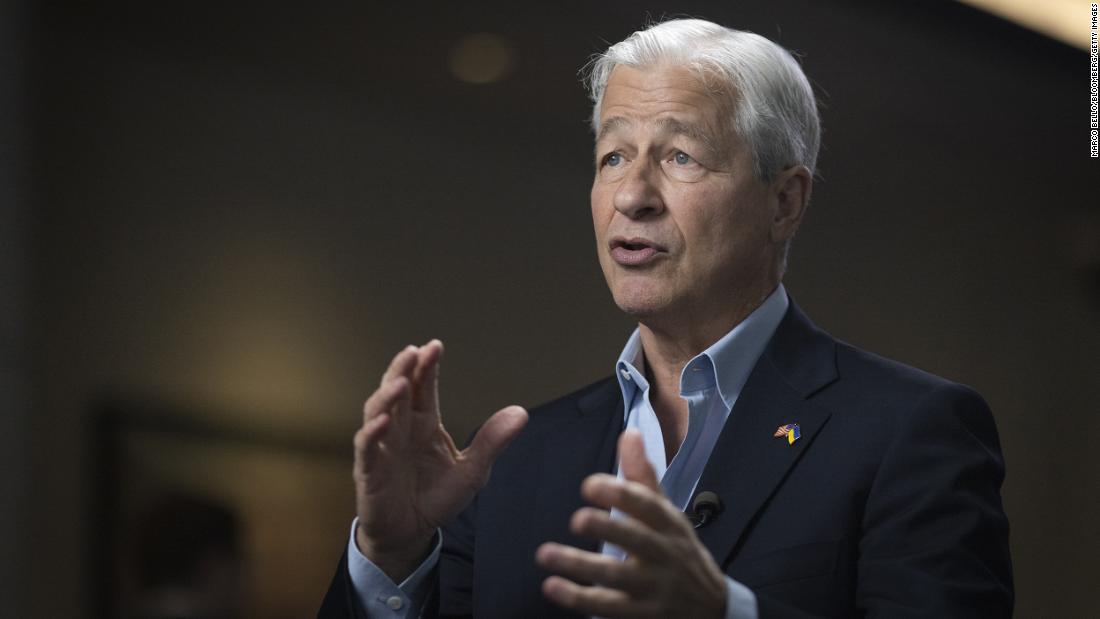 The crisis triggered by the recent collapses of Silicon Valley Bank and Signature Bank is not over yet and will ripple through the economy for years to come, said JPMorgan Chase CEO Jamie Dimon on Tuesday. 

In his closely watched annual letter to shareholders, the chief executive of the largest bank in the United States outlined the extensive damage the financial system meltdown had on all banks and urged lawmakers to think carefully before responding with regulatory policy. 

"These failures were not good for banks of any size," wrote Dimon, responding to reports that large financial institution benefited greatly from the collapse of SVB and Signature Bank as wary customers sought safety by moving billions of dollars worth of money to big banks. 

In a note last month, Wells Fargo banking analyst Mike Mayo wrote "Goliath is winning." JPMorgan in particular, he said, was benefiting from more deposits "in these less certain times."

"Any crisis that damages Americans' trust in their banks damages all banks -- a fact that was known even before this crisis," said Dimon. "While it is true that this bank crisis 'benefited' larger banks due to the inflow of deposits they received from smaller institutions, the notion that this meltdown was good for them in any way is absurd." 

The failures of SVB and Signature Bank, he argued, had little to do with banks bypassing regulations and that SVB's high Interest rate exposure and large amount of uninsured deposits were already well-known to both regulators and to the marketplace at large. 

Current regulations, Dimon argued, could actually lull banks into complacency without actually addressing real system-wide banking issues. Abiding by these regulations, he wrote, has just "become an enormous, mind-numbingly complex task about crossing t's and dotting i's." 

And while regulatory change will be a likely outcome of the recent banking crisis, Dimon argued that, "it is extremely important that we avoid knee-jerk, whack-a-mole or politically motivated responses that often result in achieving the opposite of what people intended."
Regulations, he said, are often put in place in one part of the framework but have adverse effects on other areas and just make things more complicated.

The Federal Deposit Insurance Corporation has said it will propose new rule changes in May, while the Federal Reserve is currently conducting an internal review to assess what changes should be made. Lawmakers in Congress, like Democratic Sen. Sherrod Brown of Ohio, have suggested that new legislation meant to regulate banks is in the works. 

But, wrote Dimon, "the debate should not always be about more or less regulation but about what mix of regulations will keep America's banking system the best in the world."
US JOLTS job openings for February are expected at 10 a.m. ET. 
WHAT WE'RE READING AND WATCHING
Eminent domain to fight climate change?
Dimon's letter to shareholders touched on a number of pressing issues, including climate change.
"The window for action to avert the costliest impacts of global climate change is closing," he wrote, expressing his frustration with slow growth in clean energy technology investments. 

"Permitting reforms are desperately needed to allow investment to be done in any kind of timely way," he wrote. 

One way to do that? "We may even need to evoke eminent domain," he suggested. "We simply are not getting the adequate investments fast enough for grid, solar, wind and pipeline initiatives."

Eminent domain is the government's power to take private property for public use, so long as fair compensation is provided to the property owner.