Tonight: The bad blood between Disney and DeSantis is undoing a half-century of chummy ties. Plus: The $12 billion mistake that did Bed Bath & Beyond in. Let's get into it.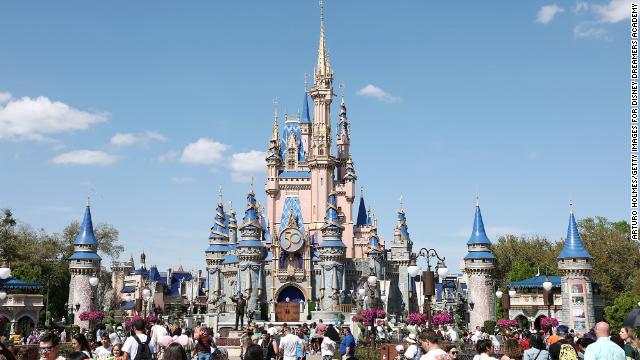 Florida's Republican governor, Ron DeSantis, has made it his mission to punish Disney, one of the state's largest employers, in retaliation for what he labels "woke" corporate culture. 

But at just about every turn, Disney's lawyers have outmaneuvered him, making his mission look increasingly quixotic.
Here's the deal: On Wednesday, Disney sued DeSantis after his hand-picked board that oversees the company's sprawling parks district voided development contracts that Disney struck earlier this year. 
Disney's complaint — filed moments after the board voted — accuses the governor of weaponizing his political power to punish the company for exercising its free speech rights in opposing legislation DeSantis championed.
Why it matters
The case marks a dramatic reversal for the Florida government, which had been chummy with Disney for a half-century, giving the company more or less unfettered control over what has historically been called the Reedy Creek Improvement District. (Fun fact: DeSantis himself exchanged his wedding vows at Disney World back in 2009.) 

That relationship is now openly hostile. 

"It's not uncommon for big employers to sue their governments, and frankly, sometimes it happens and there's not a lot of hard feelings," said Jacob Schumer, a lawyer at Shepard, Smith, Kohlmyer & Hand in Orlando. "But this case is defined by hard feelings."

The company said in the complaint that it "finds itself in this regrettable position" and "wishes that things could have been resolved a different way." 

In case you missed it:
The feud between DeSantis and Disney is now a year old, and stems from legislation he signed that prohibits teachers from discussing sexual orientation and gender identity in class, known by opponents as "Don't Say Gay."

After Disney spoke out about the bill, DeSantis and his GOP allies in the state legislature moved to punish the company by clawing back control of the land that Disney has overseen as a sort of state-within-a-state for decades.

Much of the governor's recent posturing appears to be rhetorical, and legal and political experts have cast doubt on whether he's serious about his threats. 
Ultimately, DeSantis and his allies are trying to show that they won't be pushed around by anyone, even Disney, which employs 75,000 Floridians and is the state's largest single taxpayer. 

"There's a million things they could do to make Disney's life miserable," Schumer told me. "The question is, how much are you willing to hurt everybody else?" 
Legally, he says, DeSantis can't single out Disney explicitly because retaliation against a single company is unconstitutional.  

"The truth is that governments everywhere have a lot of power to make people's lives miserable, with the only limit being that people hate it at some point," Schumer said. "And courts will start finding reasons to invalidate it."

BOTTOM LINE
Even though DeSantis invited Disney to "take a hike" if it didn't like how the state was being run, it's not clear what authority he has to actually force the company — and the 75,000 Floridians it employs — to change anything about its business.

To be sure, Disney's parks division is a huge part of its business. In 2022, its "parks, experiences and products" segment — which includes 12 theme parks across six resorts world-wide — was its second-most important revenue driver, bringing in nearly $29 billion. Its US parks brought in more than $20 billion last year. While significant, US parks sales represented a less than half of what Disney's media and entertainment branch, which includes Marvel and the Star Wars franchise, brings in. 

Higher taxes on its Orlando park hotels, or even a state prison abutting the Magic Kingdom would certainly be a nuisance. But one that Disney could weather. 

Florida, on the other hand, counts on Disney to bring in some 58 million tourists and tens of billions of dollars each year. The company is a massive taxpayer and the largest single-site employer in the state. 

In other words: Florida needs Disney more than Disney needs Florida.

The UK antitrust regulator blocked Microsoft's purchase of Activision Blizzard, threatening to thwart one of the tech industry's biggest deals over concerns it will stifle competition.
The Competition and Markets Authority said it was worried the deal would lead to "reduced innovation and less choice for UK gamers over the years to come." The $69 billion acquisition would make Microsoft even stronger in cloud gaming, a market in which it already holds a 60%-70% share globally, the regulator added.
Both companies plan to appeal the decision, which "appears to reflect a flawed understanding of the market and the way the relevant cloud technology actually works," Microsoft President Brad Smith said.
The autopsy report on Bed, Bath & Beyond will likely show a number of self-inflicted wounds that led to its bankruptcy filing this week. 
But among the most consequential may be the nearly $12 billion the company spent buying back its own shares over the past two decades. 
Here's the deal: Stock buybacks are a commonly used tactic across Corporate America to repay shareholders and bolster your stock price. In that sense, Bed Bath & Beyond's maneuvering wasn't unique. 

But the $11.8 billion it spent on its own stock since 2004 is roughly twice the amount of debt it had on its books in its most recent SEC filing, my colleague Chris Isidore reports.
That debt hamstrung the company, leaving it unable to buy the inventory it needed to reverse losses.
Pressure from shareholders started coming in strong around 2014 to juice the stock price. BB-n-B had relatively light debt loads up until then, but it decided to take on $2 billion in debt to finance buybacks. 
Even as its business struggled, BB-n-B carried on with its repurchase plan. But rather than buoying its stock price, shares tumbled. 
Its stock plunged 83% last year, and another 88% this year before it closed at 29 cents a share on the Friday before filing for Chapter 11.
Chris has the full story on Bed Bath & Beyond's $12 billion error.
🏦 First Republic is flailing, and some analysts say the bank's collapse is imminent. 
📈 Shares of Meta, Facebook's parent company, surged more than 9% in after-hours trading Wednesday after the company reported its first quarterly sales increase in nearly a year.
🕐 Theranos founder Elizabeth Holmes delayed the start of her 11-year prison sentence with last-minute appeal.
🚂 Norfolk Southern said the East Palestine derailment, which released massive amounts of toxic chemicals, cost the railroad $387 million, dragging its profit down by a third.
🦊 Fox News agreed to provide Smartmatic with additional documents related to Rupert Murdoch and others as part of the voting tech company's $2.7 billion lawsuit against the network. 
Last updated April 26 at 7:00 PM ET