An exclusive inside look with your free CNN account
👋 Meet CNN senior writer Faith Karimi
By Tricia Escobedo 
Faith Karimi is a writer with CNN Digital's culture and enterprise team. (Photo credit: Mary Ruskell)
Reading romance novels as a kid might not sound like the typical start to a journalism career. But CNN senior writer Faith Karimi says exploring books of all kinds is what led her to where she is today.
"My dad used to drop us off in the library in the morning when he was going to work during school breaks and pick us up on his way home. When you are stuck in the library and you have no choice, you just read all day," Karimi said. 
"I fell in love with reading and writing and realized it can transport you to another world without getting on a flight."
Her vast book selection included Harlequin romances, which helped her last year when reporting on Elon Musk's sister, Tosca Musk, who turns Harlequin novels and other romance books into movies and streams them to a devoted niche audience.
"I never thought that information would ever help me, but it came in handy because I knew what the books entail and what they're about," Karimi said. "Reading is still serving me to this day."
Karimi has worked for CNN since 2009, first as a copy editor — checking and approving other people's news stories — and now as a senior writer with CNN Digital's enterprise team.
"If there's a breaking news story, I write the story behind the story," she explained. "I look for the story behind the headline. Sometimes, it's an interesting person who's making news. Other times, I look for a way to give readers a break from the news with a fascinating explainer or a story on people you've never heard of."
Karimi's stories are captivating and extremely popular with CNN's digital audiences. Here are a few of her most widely-read stories:
Karimi recently published her first personal essay about the conflict that she experiences between her race, her Kenyan nationality and being the mother of a young Black son born in America.
"It was the hardest story I've ever had to write," she said. "It's much easier writing about other people!"
We recently talked to Karimi about her career and how she finds the people featured in her stories. Here's what she told us:
Finding unique angles on news stories: "When I'm first assigned a story, I search social media to see what people are saying about the topic or if there's one particular concern that people are focused on. Based on what people are saying, I decide which direction to take the story. I try to set a trend, not to just follow one. I try to write my story in a way that, if I were reading that story, how would I want it to be broken down? Especially if it's a complicated topic. How would I want to read it in a way that I understand?"
Cultural differences between Kenya and the United States: "The biggest one for me, especially as a journalist, was the conversion from British English to American English. I went to school in Kenya, which was a British colony, so when I was a college student in the US, I used to write stories and then my editor would mark up the entire story because everything was spelled the British way. We also have different terms for things. In Kenya, we say the 'boot' of a car, instead of the 'trunk,' which is the British way. Like French fries — in Kenya, we call them 'chips.' Also, American journalism is very informal and you are encouraged to write in a way that anybody can understand. In Kenya, journalism was more formal, so I used to have a lot of my stories rewritten because of that."
Her favorite topics to write about: "I love writing about people doing extraordinary things, because I love to get inspired. Anyone who is barely covered in mainstream media, such as minorities and immigrants.
For example, we did a story on a former gang leader in California who befriended a woman in Seattle. They'd been exchanging letters while he's in prison for life, and they became best friends.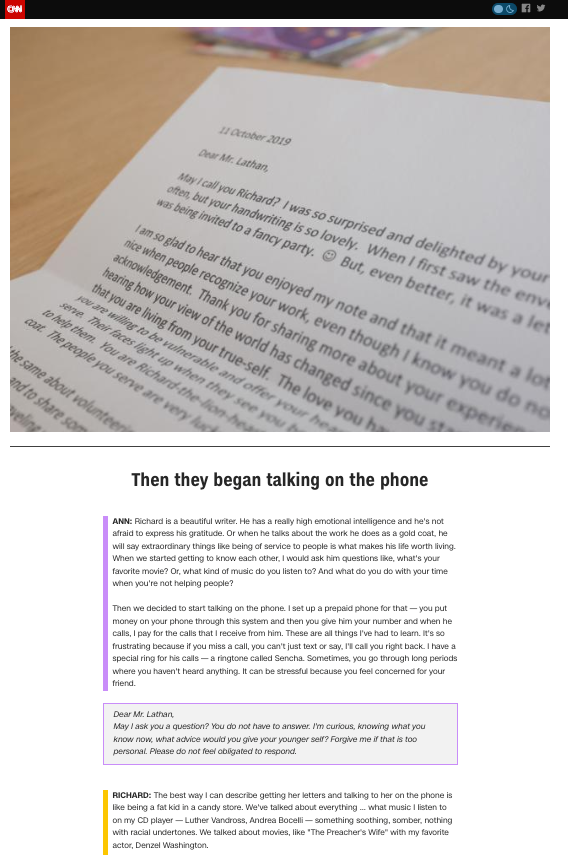 An excerpt from Karimi's prisoner letter story.
The woman is White and the man is African-American, and in their letters they talk about everything, including his crimes, past treatment of women and race issues. Before their friendship, he was angry at the world and had never interacted with anyone outside his race. But this woman changed his perspective. We used their letters to let their words speak for themselves.
We got a lot of positive messages about this story from our readers. This is a type of story that would normally not be told to a global audience. A gang leader serving a life sentence for murder would only make the news for the crime he had committed. We told a story that didn't overlook his past, but gave our audience a window into a rarely told story of transformation and connection."
How she sees her role as a journalist: "I feel like journalism is a two-way street. I learn about things that, if I wasn't a journalist, I would know nothing about, and I get to share that information with other people as well. I'm learning, they're learning — everybody wins. So I think good journalism involves educating people about something they really don't know. And the people you talk to teach you new things as well. Every day comes with a different lesson. That's why this never gets old."
💳  CNN insider rec of the week
Brought to you by CNN Underscored
If you're struggling to concentrate while working, our editor spent weeks testing out noise-canceling headphones to find the best pair. Increasing work efficiency when sharing office space with your spouse and children or even roommates can be hard, but here are the headphones we're obsessed with that will keep you focused and productive.
🚢  Explore: Would you sign up for a three-year cruise? Sharon Lane has, and she doesn't really care where it's going. Here's why. 
✍️  Learn: These women ran an underground abortion network in the 1960s. Now they have a warning as more reproductive freedoms are being rolled back.
🌎  Imagine: Glaciers. Coral. Your cup of coffee. See what's at risk of vanishing as the climate crisis rapidly alters our world.
💻  Read: A Latino man and a Black man went missing in separate incidents in Florida. Both vanished after crossing paths with the same White deputy sheriff. CNN investigates the deputy and the disappeared. 
- Edited and produced by Kyle Almond, Tricia Escobedo, Kimberly Richardson and Jessica Sooknanan
INSIDE CNN
An exclusive inside look with your free CNN account