Tonight: UFC's parent company makes a massive bet on the future of live sports. Plus: Right now is a terrible moment to buy a car in America. Let's get into it.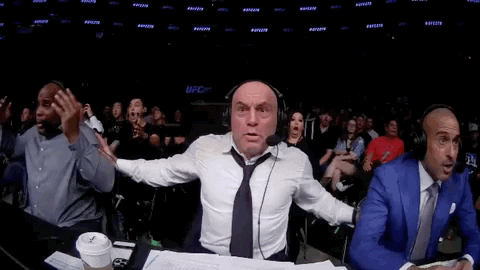 The worlds of professional wrestling and mixed martial arts are officially becoming one big, violent, Spandex-clad family. 
Here's the deal: World Wrestling Entertainment is merging with Endeavor Group, the parent company of Ultimate Fighting Championship, in a $21 billion deal, my colleague Jordan Valinsky reports.
Endeavor shareholders will own 51% of the newly combined company, which will trade under the ticker symbol "TKO" (Solid choice, no notes).
WHY IT MATTERS
The deal is a coup for Hollywood powerhouse Ari Emmanuel, the CEO of Endeavor, who will oversee the as-yet-unnamed merged entity. It is also a massive bet that streaming platforms will continue to pay top dollar for live-event programming that WWE and UFC are known for. 
That's going to be crucial as streaming evolves, creating a virtually bottomless buffet of content for audiences who still have only two eyeballs and so many hours in the day to devote to consuming entertainment. 
As Mark Shapiro, Endeavor's president, told the New York Times: "Must-watch TV is a rarity these days. And unicorns like the UFC and WWE will be heavily in demand."
Monday's deal also marks the end of WWE as a family-owned business. Vince McMahon bought the company from his father in the early 1980s and transformed it into an entertainment empire. But McMahon briefly resigned last year in the midst of a hush-money and sexual harassment scandal.
The Wall Street Journal reported in July that McMahon paid more than $12 million to four women to cover up "allegations of sexual misconduct and infidelity." He returned in January as a board member and said he was exploring "strategic alternatives" for its shareholders, including a sale.
OPEC and its oil-producing allies surprised markets on Sunday when they announced they were cutting production next month — a move that sent crude prices up about 6% Monday.
The collective output cut by the nine members of OPEC+ totals 1.66 million barrels per day. The move was unexpected but "consistent with the new OPEC+ doctrine to act pre-emptively because they can, without significant losses in market share," Goldman Sachs analysts wrote. 
Naturally, oil prices going up is bad news for a global economy fighting inflation.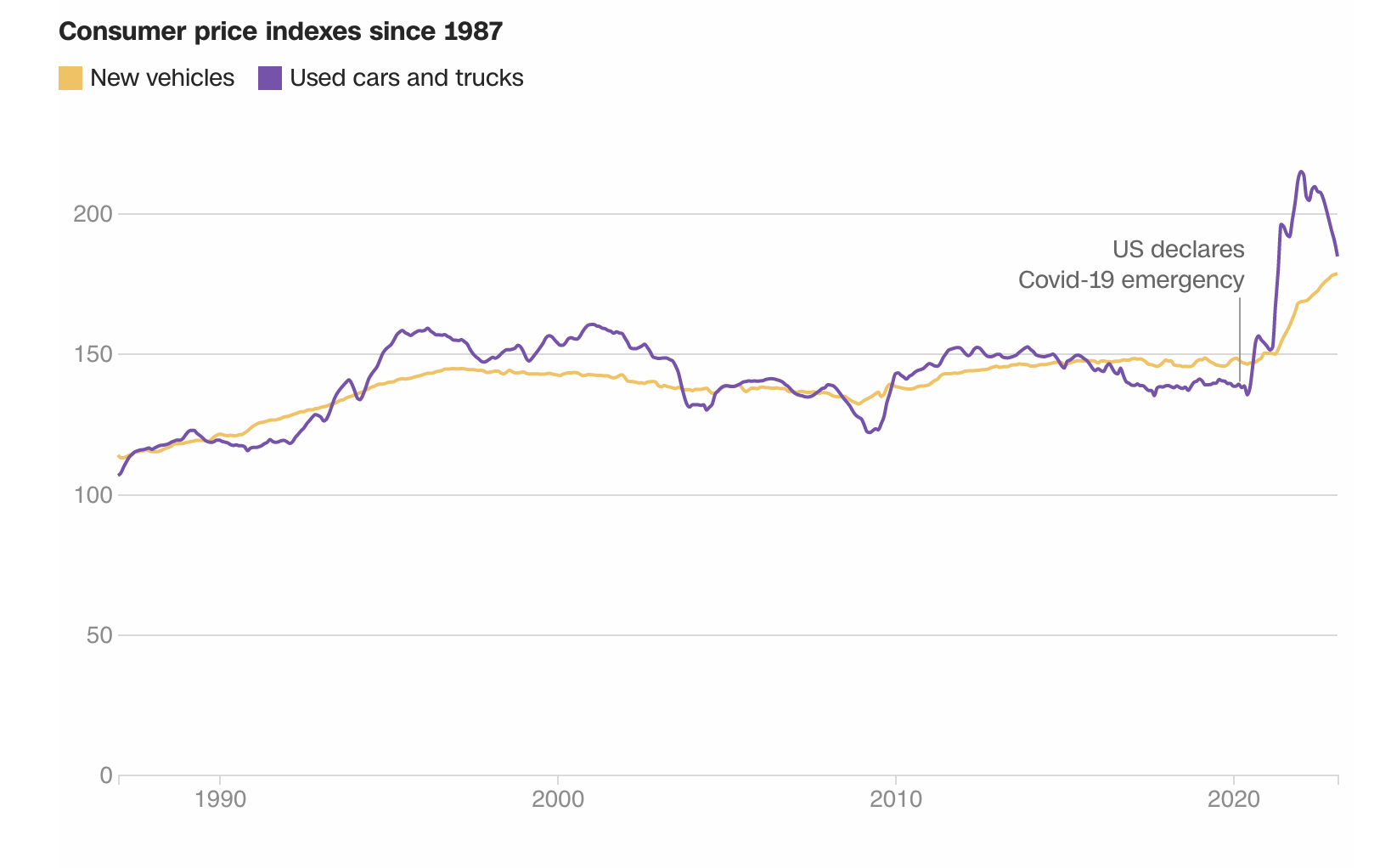 The car market has been an illustrative, if somewhat extreme, window into the fast-changing 2020s economy. When the pandemic hit, cars were one of the clearest examples of just how decentralized the modern supply chain had become, and how a few snags could upend production lines, ding inventories, and send consumer prices through the roof. 
Although prices for cars have come off their highs, the pandemic's impact has left customers with a hangover. 
Here's the deal: It has almost never been as hard to buy a car in the United States as it is today, my colleagues Christopher Hickey and Alex Leeds Matthews write.

Vehicle transaction prices — the price you actually pay after any dealer discounts or markups — have been climbing higher and faster since 2020 than any other point in more than 35 years, according to recent data from the Bureau of Labor Statistics. 
Both new and used cars are, on average, much more expensive than they were in 2019. See here:

The average transaction price of a new car has jumped nearly $12,000 in the past five years, according to data from auto website Edmunds.com.

For used cars, the average transaction price is nearly $9,000 higher than it was in February 2018.

"[Prices are] coming down a bit, but not coming down nearly as fast as one would hope," said Ivan Drury, the director of insights at Edmunds.com. "If you look back, or if you've ever done a transaction before in your life, all of these numbers are bad."

Complicating matters: Consumer tastes have shifted toward larger and more expensive pickup trucks and SUVs. And new car buyers are loading up on options more than they were a few years ago. Both trends drive prices up, and push automakers to create more expensive cars.
Where is everybody else? Where is all of civil society? CEOs are just one group of people and it's like we're turning to them to be our saviors on every topic.
Corporate America's silence on the mass shooting at a Nashville school last week has been particularly jarring as the US public has come to rely on the power of large corporations to effect social and political change.
But Yale professor Jeffrey Sonnenfeld, an advocate for corporate social responsibility, said that top executives are forlorn. Their previous efforts haven't done much to push the needle on gun control legislation and without more backing, they don't know what else they can do. Read more. 
☀️ Disney CEO Bob Iger pushed back against Florida Governor Ron DeSantis, telling shareholders that the state's efforts to remove some of Disney's control over its property amount to "anti-business" retaliation.
🐦 Some Twitter users woke up Saturday expecting to have lost their coveted blue verification check marks in a previously announced purge by Elon Musk. Instead, most found their blue checks were in place, with a rather cryptic label reading: "This account is verified because it's subscribed to Twitter Blue or is a legacy verified account." 
...And Twitter's traditional bird icon was booted on Monday, replaced with an image of a Shiba Inu, an apparent nod to dogecoin, the joke cryptocurrency that CEO Elon Musk is being sued over.
...A jury ordered Tesla to pay over $3 million in a racial discrimination case brought by a former employee of its assembly plant in Fremont, California.
🍔 McDonald's instructed corporate employees to work from home this week in anticipation of layoffs, according to a report from the Wall Street Journal.
📲 A CNN investigation found that Pinduoduo, one of China's most popular shopping apps, can bypass users' cellphone security to monitor activities on other apps, check notifications, read private messages and change settings.
Last updated April 3 at 4:00 PM ET