Tonight: We're moving on to the next crisis, and it's a familiar face. Plus: Fed nerds, get your popcorn — the Goolsbee may be breaking rank already. Let's get into it.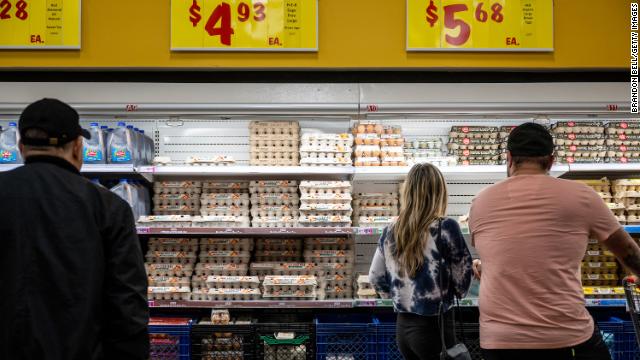 After a fun few weeks of training our anxieties on the wobbly financial system, it's time to zoom out and collectively wrestle with that other demon hovering over the global economy.
Hello, inflation, my old friend…
Here's the deal: Inflation may not have dominated the headlines the past few weeks, but that's because we headline writers were (a) busy chronicling a financial panic, and (b) waiting for CPI Day, as we refer to the Wednesday when the government releases its data on consumer prices for the previous month. 
Here's what to expect tomorrow:
The March figures are expected to show inflation fell to around 5.2% from an annual rate of 6%. 

Core CPI, which strips out volatile fuel and food costs — and is pretty much the only number the Fed cares about right now — is expected to come in 0.4% higher from the previous month.
Why it matters:
While the headline figure may look like good news for consumers, it's unlikely to persuade the Fed to cut or even pause interest rate hikes.
"To feel good about where inflation is headed, we need to see more than just moderation in the rate of both headline and core inflation," wrote Greg McBride, chief financial analyst at Bankrate. "We also need to see moderation in price pressures across a wide range of categories that are staples of the household budget: shelter, food, electricity, motor vehicle insurance, apparel, and household furnishings and operations."
BIG PICTURE
After some encouraging disinflationary news earlier this year, economists and officials seem to be coming back around to the "when, not if" recession guessing game. Inflation is proving stickier than many of them expected. And then the financial chaos of the past month raised the prospect of a credit crunch, which would slow the economy even more. 
All of that led the International Monetary Fund to lower its forecast for global economic growth to 2.8% this year, from 3.4% in 2022.
"Uncertainty is high, and the balance of risks has shifted firmly to the downside so long as the financial sector remains unsettled," the organization said in its latest report.
Of course, not everyone is quite so gloomy. The Biden administration is projecting cautious optimism, with Treasury Secretary Janet Yellen underscoring that the economy — especially the job market — remains strong despite all the turmoil of the past four weeks.
"I'm not anticipating a downturn in the economy," Yellen said. "Although, of course, that remains a risk."
Bitcoin, the notoriously volatile king of the cryptocurrencies, has become this year's breakout star. 
The world's leading cryptocurrency rose above $30,000 for the first time in 10 months on Tuesday. That puts bitcoin up more than 80% since the start of the year — outperforming every other asset class by a comfortable margin. The S&P 500, for comparison, is up nearly 7.5%.  (Though to be clear, bitcoin is still less than half of what is worth at its November 2021 peak.)
The reason? The yearlong "crypto winter" appears to be thawing as investors anticipate the end of the Fed's rate hike regime, which crushed digital assets last year, will wrap up soon. 
At moments of financial stress like this, the right monetary policy is really caution and watchfulness and prudence.
Austan Goolsbee, the newest Fed policymaker, is giving analysts something to talk about as they await the central bank's next meeting in early May. 
In a speech Tuesday, Goolsbee became the first official to suggest he may support holding interest rates steady at the next meeting. Naturally, he stopped short of explicitly saying it, citing the need to be "on watch" for tighter credit conditions.
"As they 'watch for tighter credit conditions'... I believe they will see plenty of it, wrote Peter Boockvar, chief investment officer at Bleakley Financial Group, in response to Goolsbee's comments. "Before this speech, I made clear why I don't think they should hike at the next meeting...I now believe they won't raise rates next month."
Of course, that's a minority opinion for now. Nearly 70% of traders are betting that the Fed will once again raise rates by a quarter-percentage point. 
🥑 Whole Foods closed a massive San Francisco location just one year after opening it, citing worker safety.
📉 Shares of Cineworld, owner of Regal Cinemas, fell to an all-time low after the company said it had filed a plan to reorganize its business and shareholders would not recover any of their funds.
🐦 Former Twitter executives sued the company to recover more than $1 million in legal expenses.
👀 A judge denied Elizabeth Holmes' request to remain free while she appeals her conviction, setting the stage for the Theranos founder to report to prison later this month.
Last updated April 11 at 7:00 PM ET