Tonight: Musk picks a fight with NPR, because, well, that's what he does. Plus: Old Navy understands what's been missing from womenswear. Let's get into it.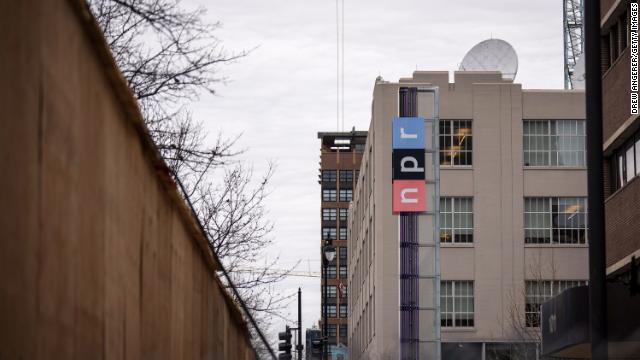 Elon Musk's head-scratching hostility toward the press escalated Wednesday after Twitter slapped a "US state-affiliated media" label on the account belonging to National Public Radio — a designation typically reserved for outlets such as Russia's RT and China's Xinhua. 
NPR's CEO, John Lansing, slammed the decision as "unacceptable." 
To be clear: While the broadcaster receives some funding from public institutions, the vast majority of its revenue comes from sources such as corporate sponsorships and NPR membership fees. Less than 1% of its budget comes from federal grants. 
Twitter defines state-affiliated media as "outlets where the state exercises control over editorial content through financial resources, direct or indirect political pressures, and/or control over production and distribution."
When Twitter laid that policy out in 2020, it specifically named NPR and the UK's BBC as examples of a publicly funded broadcasters with editorial independence.
But on Wednesday, as a backlash unfolded to Twitter's decision, users noticed that Twitter had deleted NPR from the policy language. 
Twitter, which under Musk has laid off most of its communications team, didn't respond to a request for comment. But Musk tweeted this afternoon, apparently standing by the decision.
But the 'why' of the NPR decision remains unclear. Some speculated that the label was retaliation for NPR opting not to take former President Trump's post-arraignment speech live on Tuesday, which caught the ire of the far-right. 
Several media outlets reported that emails to Twitter's communications team returned with an auto-reply containing a poop emoji. 
BIG PICTURE
Musk is using his $44 billion social media toy to troll news organizations and journalists he doesn't like. Last week, he singled out the New York Times by removing its "verified" blue check from its account after the newspaper refused to pay for the service (which, historically, has been free and reserved for accounts whose credentials had been vetted).  Earlier this year, he temporarily banned a handful journalists from the platform. 
All of this underscores the chaotic scene Twitter has become since Musk's takeover last fall. Did I forget to mention that earlier this week he replaced the Twitter bird icon with a Shiba Inu to pump his favorite cryptocurrency? Because he did do that. 
In addition to gutting the site's staff, Musk appears to be making policy decisions on a whim, treating the company, which — I can't stress this enough — he paid forty-four billion dollars to acquire, like a personal blog for his own lame memes and bad jokes. He wants so desperately to be funny and popular that he'll settle for mercurial and notorious.
Stellantis expects that its fully electric Ram 1500 REV pickup will be able to drive 500 miles on a single charge, much farther than its rivals and on par with Tesla's planned Cybertruck.
👗 'THANKS, IT HAS POCKETS' 
Old Navy has historically been the star of the Gap Empire, bringing in the majority of revenue among its sister brands, which include Gap, Banana Republic and Athleta. 
But with sales flagging, the brand needs a win with its spring and summer lineup. Its big bet: Give people who wear dresses the thing they've been demanding for millennia. 
Yes, pockets. And not those dumb little decorative ones that can't fit so much as a stick of lip gloss. Real pockets. The kind that are standard in traditional menswear but has been cruelly absent from garments marketed toward women and girls. 

Old Navy said it is doubling the number of dresses with pockets this spring, responding to demand from a survey of 500 women, my colleague Parija Kavilanz reports.

"Dresses without pockets have long been an issue for consumers and it is something many women find frustrating," said Neil Saunders, retail industry analyst and managing director of GlobalData."
You can say that again, Neil! 
"That said, a lot of other things — such as the range, styles and price points — need to be right to get the consumer to buy. This is where Old Navy is currently struggling," Saunders said. "Adding pockets to dresses doesn't solve any of those longstanding issues."
By the numbers:
Old Navy's fourth-quarter sales fell 6% over the previous year, while sales at its stores open at least a year fell 7%.

The sales slump came amid declining sales in the same period for all of Gap Inc. divisions.

Overall sales during the quarter for Gap Inc. tumbled 6% from a year ago.

Old Navy saw weaker demand from lower-income consumers for kids and baby items but noted that women's clothing was performing well.

Why has taken so long for brands to get on board with the dress-with-pockets revolution?
Costs, mostly.
Pockets cost about $2 per garment, according to Marshal Cohen, chief industry adviser for market research firm NPD. "That $2 multiplies up to about $8 at retail, and is one reason why value-centric retailers kept pockets out of the equation."
But at a time when inflation is making more customers look to budget-friendly brands like Old Navy, that bit of extra cost may help drive sales.  
Bottom line
Pockets may not fix all of Old Navy's woes. But it's a long overdue acknowledgment from a major retailer that everyday dresses require everyday pockets, even if they're only there for us to say "thanks, it has pockets" when someone says "hey, I like your dress."
📺 Dominion Voting Systems can force Fox executives Rupert and Lachlan Murdoch to testify at a defamation trial this month.
🛁 Cash-starved Bed Bath & Beyond, which is scrambling to avoid bankruptcy, announced a $120 million lifeline to help it stock near-empty shelves.
🥗 Chipotle sued rival Sweetgreen over the salad chain's 'chipotle chicken' bowl, claiming trademark infringement.
◾ Bob Lee, the former chief technology officer of Square who helped launch Cash App, was killed in a stabbing attack in San Francisco. He was 43. 
Last updated April 5 at 6:30 PM ET