An exclusive inside look with your free CNN account
📈 He is CNN's king of numbers: Meet Harry Enten 
Harry Enten, CNN senior data reporter and the host of CNN's "Margins of Error" podcast
Data is all around us. But when you push past the numbers, what are they really saying about who we are and what we believe? 
Whether it's how much money it takes to be happy, or maybe whether the United States should switch to the metric system, CNN's Harry Enten is on a mission to find out.
Growing up, the senior data reporter thought he might become a sports announcer, or perhaps a meteorologist. Journalism wasn't really on his radar — but data and statistics certainly were. 
"I can still list every single Super Bowl winner and loser," Enten said. The statistics guru can also recite the outcome of almost every World Series from 1947 to date.
Now, it's Enten's job to tell stories through numbers — and we recently asked him what that's like. 
You've had quite the career in journalism. How did you get your start? 
The first-in-the-nation primary happens in New Hampshire, which is part of the reason I chose to attend Dartmouth College. I had this whole idea I was going to cover the campaign, as it was the beginning of the presidential cycle. I remember saying to a professor of mine: "Let me do an independent study. I'm going to start a blog, and you won't regret it." That's essentially how I started writing about politics and elections — aside from my experience at my high school newspaper. 
Are you able to choose which stories you're going to do? 
If someone on the team needs a data-driven report, I'm there — morning, day or night. One of the great things about my beat is that you can tell a story through numbers for just about anything. It's a tangible way for people to understand the stories we cover. For example, I was on "AC360" with Anderson Cooper recently discussing how there have been a lot of close calls lately with airplanes. We know there have been some injuries because of turbulence. We know there have been some unruly passengers. But is all this coverage just hype or is there something to this? It turns out there is data to support the topic — at least on a few of those scores. Being able to prove that through numbers is something I'm uniquely positioned to do and am passionate about.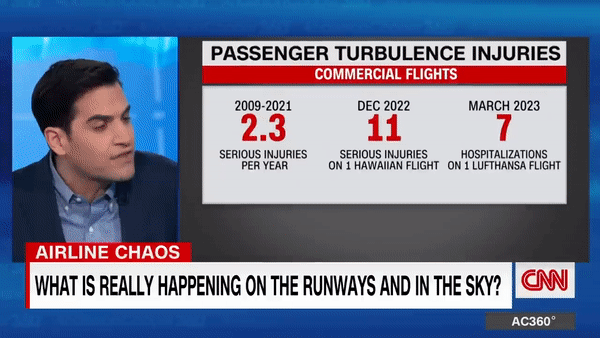 You recently talked about how Trump could fare over DeSantis in 2024. What do you see to indicate that — and does that still stand with the recent indictment news?
As I look back through history, I'm looking for analogs. What can the past tell us about the future? In the particular case we're talking about, Donald Trump is polling in the low to mid 40s in terms of his support in the national polls to be the Republican nominee in 2024. So the question is, what percentage of the time did people that polled in that position end up winning a nomination? Turns out, it's the majority of the time. It's not necessarily the largest sample size, but it's about eight times they've polled in that position, and about six of those times they've gone on and won the nomination. Compare that to someone in Ron DeSantis' position. How many times has someone been polling in his position and gone on to win the nomination? It's about 40% of the time. DeSantis has a real shot of winning the nomination. What I would say is that anyone who is not DeSantis or Trump, their chances of winning the nomination are quite small. Is it conceivable? Absolutely. Is it something I'd bet on? Absolutely not. 
As it relates to the indictment, I'm not sure it changes much. Most Republicans have said in polls that they believe the investigations against the former president are a witch hunt and do not believe the allegations in the alleged hush money scheme in New York are all that serious. Moreover, the poll data we do have suggests that Trump's lead over DeSantis has only grown over the last month.
What is something you wish more people understood about polling? 
Polling is great for politics and for elections, but it can be useful for a heck of a lot more. It's imperative that people understand how the American public feels on any number of issues, well outside of the topics mentioned above.
How do you make data accessible and compelling for audiences? 
My strategy is to tell them what they need to hear, and nothing more. It's not just the methodology that you use that is key in my mind. It's really the questions that you ask and try to answer. I'd much rather have an interesting question that is not that statistical than a question that's not that interesting and then have 10,000 different models and make it really complex. If you can't show it in a correlation plot, chances are it's not something that should be appearing on air or on digital. 
What are your favorite kinds of stories to work on? 
I love stories that really make people think, learn something and smile. If I can make people feel like what they read or saw on TV was worth their time, then I've done my job. A few favorites would be my piece on the partisan breakdown of vaccine coverage during the Covid pandemic and fun stories such as football (Go Bills!) and anything related to Daylight Saving Time. At the end of the day, I just want to add value to the lives of our viewers. 
📊 Explore the stories behind the numbers with Harry Enten on his "Margins of Error" podcast. Listen right here. 
💳  CNN insider rec of the week
Brought to you by CNN Underscored
If you want to see Harry Enten's numbers in action, Amazon has expanded its in-house TV roster with more size options for the premium Fire TV Omni QLED as well as a new 2-Series lineup that are designed to make Alexa TVs more affordable than ever. Check out our full buying guide right here.
✈️  Explore: Loni James has gone on 34 first dates in 19 countries over the past year. The American has enjoyed a 13-hour date in Egypt during Ramadan, gone fishing in the Arctic Circle and suffered through a dinner with a man in South Africa who did card tricks at the table. Here's what she's learned.  
🏥  Read: Millions of Americans are at risk of soon losing their Medicaid coverage, but residents in five states will be the first to bear the brunt. 
📸  Imagine: Vogue Philippines has revealed 106-year-old tattoo artist Apo Whang-Od as the cover star of its April issue, making her the oldest person ever to appear on the front of Vogue. She has been perfecting the art of hand-tapping tattoos since she was a teen, learning under her father's instruction.
🚗  Learn: It's one of the worst times to buy a car in decades, and the road to reasonable prices looks bumpy. These charts explain why. 
- Written and edited by Leighton Rowell, Kyle Almond, Tricia Escobedo, Kimberly Richardson and Jessica Sooknanan
INSIDE CNN
An exclusive inside look with your free CNN account