Good morning. Here's what's in today's newsletter: Microsoft and Google are taking different approaches to AI. Time will tell which company is right. Plus, First Republic Bank is in trouble, again.
Just in: UK antitrust authorities have blocked Microsoft's $69 billion purchase of Activision Blizzard on competition grounds. 
US stock futures are mixed. European markets are lower. Major Asian markets ended mostly weaker too, with the exception of Hong Kong.
▸ Forwarded this newsletter? Want global markets news and analysis from CNN Business reporters every morning? You can sign up here.
Google and Microsoft fight over the future of AI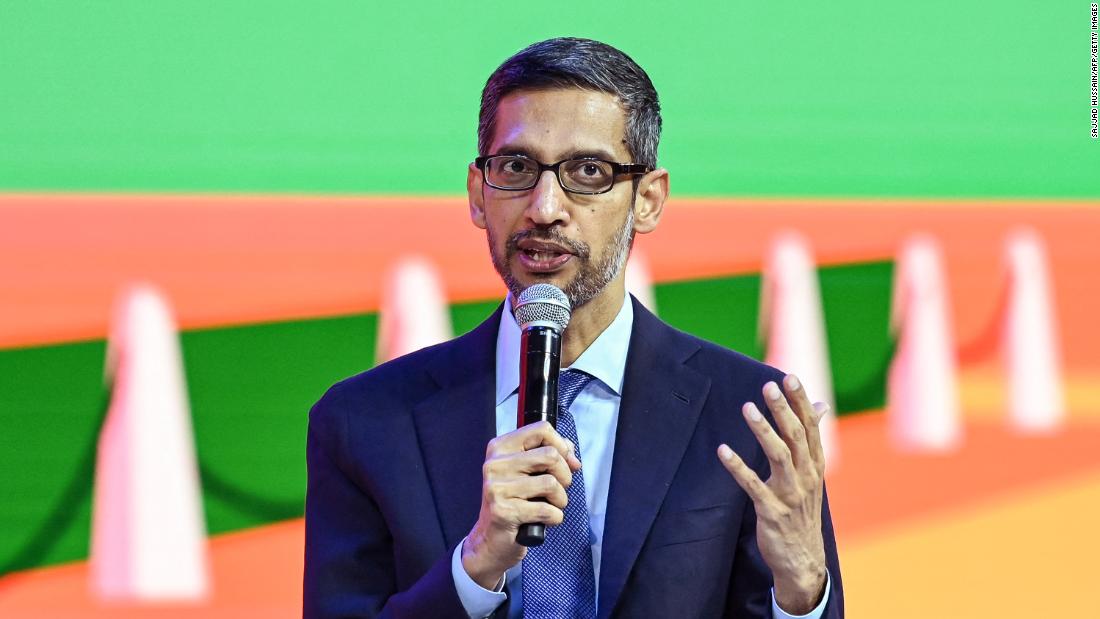 Wall Street was able to breathe a sigh of relief on Tuesday as Google-parent company Alphabet and Microsoft beat the market's relatively modest earnings expectations. The companies saw big boosts from their search and cloud computing businesses. 
After a disastrous year for both stocks, the shares rebounded strongly in the first quarter. 
And so, with immediate concerns out of the way, executives at Microsoft and Alphabet focused their remarks during earnings calls on what excites them most: Artificial intelligence. 
Microsoft, Google and a number of smaller rivals are in a race to integrate generative artificial intelligence technology (similar to ChatGPT)  into their search functions and other applications. 
Both companies see it as an integral part of their future, but it was apparent on Tuesday that Microsoft and Google aren't in agreement about what that future will look like. 
Analysts have expressed worry that Google is falling behind the competition when it comes to AI innovation. In March, Google introduced an AI chatbot named Bard, which met mixed reviews. 
Google's search engine has dominated the market for two decades, with Microsoft's Bing struggling to gain market share. But the viral success of ChatGPT, which can generate compelling written responses to user prompts, appeared to put Google on defense for the first time in years.

Microsoft has invested in and partnered with OpenAI, the company behind ChatGPT, to deploy similar technology in Bing and other productivity tools. 
Google CEO Sundar Pichai told analysts on his earnings call Tuesday that artificial intelligence marks a massive potential opportunity for the company, comparing it to the "successful transformation we made from desktop to mobile computing a decade ago." 
He said the company plans to integrate comparable generative AI tools into its search and cloud operations, but struck a balanced tone. 
"Throughout the years, we have gone through many, many shifts in search," he said.
Pichai also hinted at concerns about the potential for generative AI tools to spread false information.
"We know that billions of people trust Google to provide the right information," he said.
Microsoft CEO Satya Nadella, meanwhile, was more effusive about the future of AI in an earnings call Tuesday, telling analysts that he sees AI as a tool that will revolutionize the way people search online. 
Nadella said that app installations for Bing have gone up four-fold since it became AI-powered this February. "We look forward to continuing this journey in what is a generational shift in the largest software category – search," he said. 
Shares of Microsoft were up about 8.5% in after hours trading on Tuesday. Shares of Alphabet were up 1.7%. 
The numbers: Microsoft posted quarterly net income of $18.3 billion, up 9% year-over-year, and far exceeding expectations. The company also posted sales of $52.9 billion, up 7%.
Alphabet on Tuesday reported that profits fell slightly from the year-ago quarter to nearly $15.1 billion, or $1.17 per share, but still beat expectations. It was also much improved from the December quarter when profits fell by a third. The company posted $69.8 billion in revenue, up 3% from the same period in the prior year and also slightly ahead of expectations.
What's next: Facebook-parent company Meta reports first quarter earnings on Wednesday afternoon and Amazon reports Thursday. Apple is expected to report earnings next Thursday. 
Kim Kardashian reveals the 'magic' of her success
"If you're at a place and you take your time, you realize you absolutely do not want to be in business with people that you don't want to spend holidays with and that you don't like."
KIM KARDASHIAN TO CNN'S POPPY HARLOW
Read more from CNN.
First Republic shares plunge 50%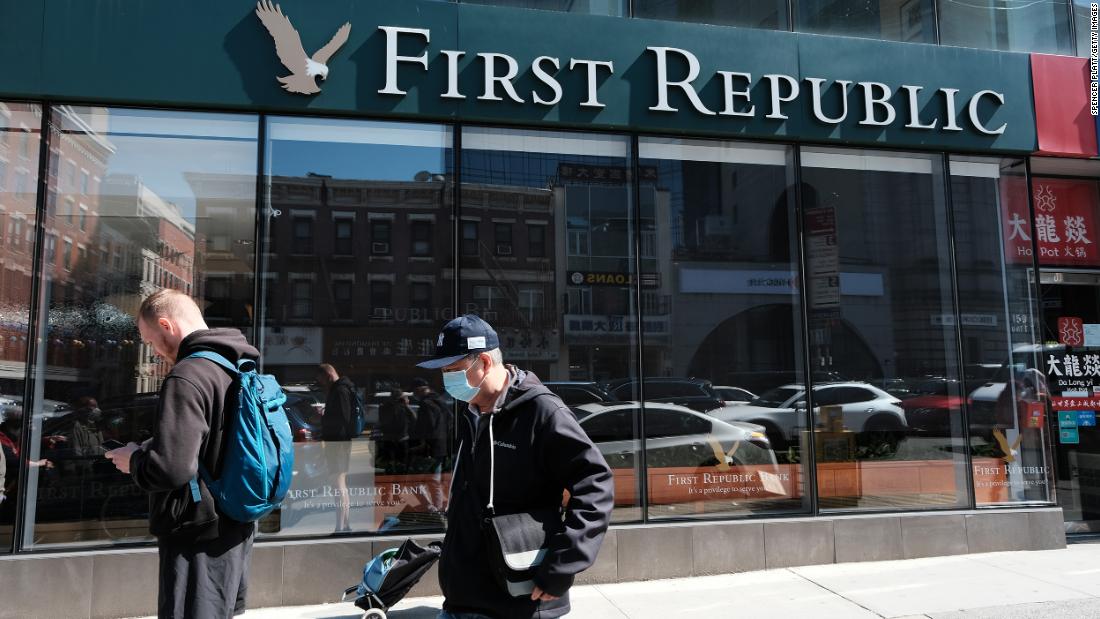 The past few weeks have been brutal for First Republic Bank. The company saw shares plunge by nearly 50% on Tuesday, hitting a new record low after the embattled lender reported that its total deposits fell 41% in the first quarter.

Trading of the stock was halted numerous times on Tuesday as its rapid decline let to volatility-triggered stops by the New York Stock Exchange.

First Republic Bank also said Monday it expects to cut its workforce by 20-25% this quarter.

The bank said it saw a sharp drop in deposits after the collapse of Silicon Valley Bank and Signature Bank last month, but that outflows began to stabilize at the end of March.

First Republic also said in its earnings release on Monday that it was "taking actions to strengthen its business and restructure its balance sheet."

One of those options could be selling off assets. Bloomberg reported Tuesday that the lender is looking to sell as much as $100 billion of its loans and securities in a bid to balance its books. First Republic declined to comment to CNN on the story.

The stock closed at just $8.10 a share, and is now down more than 90% for the year.   

First Republic sits at the center of the ongoing banking chaos, and investors are worried that its woes could indicate more trouble to come in the sector.

The SPDR S&P Regional Banking ETF (KRE) which tracks the broader regional bank sector dropped 4.2% on Tuesday. Western Alliance Bancorp fell by 5.6% and PacWest was down 8.9%, though it later rebounded.
▸ Boeing, Norfolk Southern and Hess report first quarter earnings before the bell. 
▸ Meta Platforms, Waste Management, Aflac and eBay report after market close. 
Plus: US durable goods orders for March are expected at 8:30 a.m. ET.
WHAT WE'RE READING AND WATCHING
▸ Tucker Carlson's departure won't change Fox News (CNN)
▸ IKEA redesigns its bestsellers, starting with the Billy Bookcase (WSJ)
▸ Engagement ring sales are down sharply (CNN)
▸ The future of AI relies on a high school teacher's free database (Bloomberg)
▸ Ed Sheeran's big day in court  (CNN)
▸ Judicial record undermines Thomas defence in gifts scandal (The Guardian)
Yellen warns of debt ceiling 'economic catastrophe'
US Treasury Secretary Janet Yellen said on Tuesday that if Congress doesn't vote to raise the debt limit, the resulting government default would cause an "economic catastrophe," leading to elevated interest rates for years. 
Speaking to Sacramento Metropolitan Chamber of Commerce members in Washington DC, Yellen said that if Congress failed to act, that would lead to job losses and wide-spread economic strife. 
"A default on our debt would produce an economic and financial catastrophe," she said. "A default would raise the cost of borrowing into perpetuity. Future investments would become substantially more costly."