Tonight: An abrupt settlement is depriving the nation of a fun trial to distract us from everything else bad in the world. Let's get into it.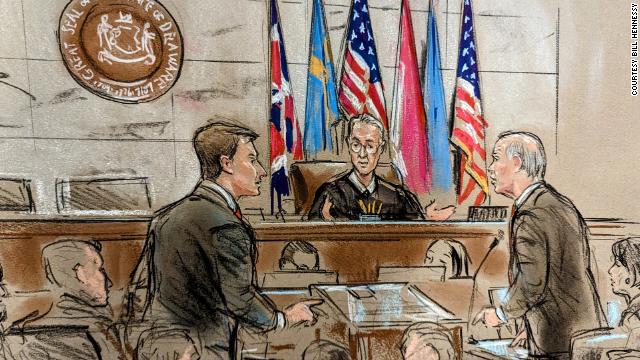 Well, folks: The scintillating, scandalous legal drama we were promised is officially over on Day One. (What am I supposed to do with all these boxes of popcorn and Diet Coke that were to sustain me for the next six weeks?) 
Here's the deal: Just as the media circus was getting into full swing at the Delaware courthouse where Fox News was set to be tried for defamation, the network reached a settlement with the plaintiff, Dominion Voting Systems.
Here's what we know:
Fox will pay out $787.5 million to settle the case, which has been building for two years as Dominion accused the network of spreading false claims of election fraud. 

Although the amount is about half of the $1.6 billion Dominion was seeking in damages, it's still what legal experts refer to as a boatload of cash. Especially for a company that's valued somewhere between $30 million and $80 million. 
"This settlement is 10 times the value of Dominion as an entire company," Elie Honig, a former assistant US attorney for the Southern District of New York, told CNN's Jake Tapper. 
Honig called the settlement a rebuke of Fox: "Translated, it means 'we got caught lying by the judge' ... that's exactly why we are seeing this absolutely jaw-dropping number." 
Fox said it was pleased to have reached a settlement, framing it as a win: "We acknowledge the Court's rulings finding certain claims about Dominion to be false ... We are hopeful that our decision to resolve this dispute with Dominion amicably, instead of the acrimony of a divisive trial, allows the country to move forward from these issues."
Bottom line: It seemed like Fox was eager to avoid putting its on-air talent and powerful executives on the stand, and there were several reports in the run-up to the trial that indicated the network was trying to broker a settlement. 
Critically for Fox, the settlement does not require the network or any of its anchors to acknowledge on-air that it told election lies about Dominion. Even though they, like, obviously did do that. 
And although Dominion had a strong case, it may not have been the kind of slam dunk it was hoping for. Defamation is extremely difficult to prove in the United States. It may have had a chance at winning, but likely would have had a harder time convincing a jury to award it all the damages it was seeking. 
What now?
The Dominion case is effectively over. But Fox's lawyers won't be getting a day off anytime soon. 
The network is facing another defamation lawsuit from another voting technology company, Smartmatic, which also claims Fox smeared it after the 2020 election. That case is still in the discovery process, and a trial isn't expected anytime soon. (Alas, popcorn and Diet Coke will keep.)
My CNN colleagues have all the latest on The Trial That Wasn't here. 
Chinese consumers went on a spending spree in the first quarter of this year, helping boost the country's economic growth as it emerged from Covid lockdowns. 
Gross domestic product grew 4.5% in the quarter from a year ago, the government said Tuesday, beating expectations of around 4%. Surprisingly, much of that can be chalked up to retail sales, which jumped 10.6% in March from a year earlier, the highest level of growth in nearly two years.
"The combination of a steady uptick in consumer confidence as well as the still-incomplete release of pent-up demand suggest to us that the consumer-led recovery still has room to run," said Louise Loo, China lead economist for Oxford Economics.
One boss is learning the hard way how a pep talk can quickly go off the rails.
Andi Owen, CEO of office furniture company MillerKnoll, was asked in a recent video town hall about how workers should stay motivated if they don't get a bonus. A clip of the video began circulating this week, sparking a backlash on social media.

Owen's reply began with a calm encouragement to staff to "focus on the things you can control," such as providing excellent customer service.  
"Treat each other well. Be kind. Be respectful," she said. "Lead by example."
But her tone shifted rather suddenly. Owen went on to admonish her staff to "leave Pity City," when it comes to fretting about bonuses. 

"Don't ask about 'what are we going to do if we don't get a bonus?' Get the damn $26 million," she said, apparently citing an internal metric. "Spend your time and your effort thinking about the $26 million we need and not thinking about what you're going to do if we don't get a bonus. All right? Can I get some commitment for that?"

She continued: "I had an old boss who said to me one time, 'you can visit Pity City but you can't live there.' So people: Leave Pity City. Let's get it done," she said, before thanking attendees and telling them to "have a great day." 

The comments came at the end of a 75-minute meeting, and MillerKnoll said it was taken out of context.

"Andi fiercely believes in this team and all we can accomplish together, and will not be dissuaded by a 90-second clip taken out of context and posted on social media," said Kris Marubio, a spokesperson for the company.

MillerKnoll has not yet decided bonus payouts for staff, including Owen, as its fiscal year ends in May. 

Buuuuuut, the internet outrage here isn't entirely misplaced. Owen went from trying to give a pep talk to shaming employees who were, you know, counting on a bonus to make ends meet. Or to take a vacation. Or to do whatever.
And it stings pretty badly when your CEO, who last year took home nearly $5 million in compensation (a $1.1 million salary plus various stock options and bonuses) lectures you about hard work.
The median employee income at MillerKnoll, the company behind sleek office furniture brands such as Herman Miller and Design Within Reach, was $44,810, according to its filings with the Securities and Exchange Commission. 
💸 WSJ: Credit Suisse failed to fully investigate recent allegations that it held nearly 100 accounts linked to Nazis before and after World War II, according to a Senate investigation.
📺 Netflix is officially saying goodbye to its DVD rental service, and all of the red envelopes that made it possible, later this year. The company also said its long-awaited password crackdown is coming. 
🏡 Black homeowners had the smallest wealth gains over the past decade, a new study shows.
It's Tax Day, y'all. If you haven't filed yet, here's what you need to know. 
Last updated April 18 at 4:00 PM ET