Tonight: Shocking media industry shakeups. Plus: RIP, BB-n-B. Let's get into it.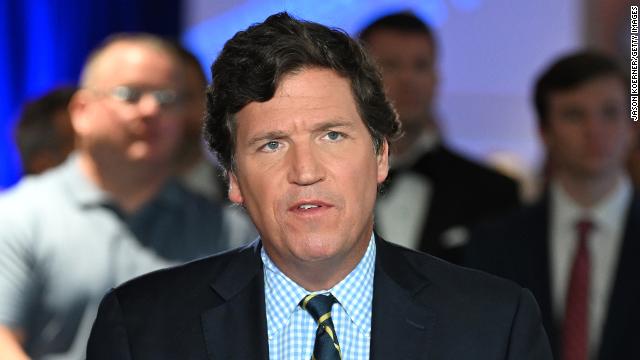 Just one week after Fox News agreed to shell out $787.5 million to settle defamation charges, the network abruptly fired its most popular anchor, Tucker Carlson, whose far-right conspiracy theories were central to the legal battle. 
Here's the deal:
Carlson was one of several Fox figures that would have been called to testify in the network's defense against defamation charges by Dominion Voting Systems. (In fact, as my colleagues reported earlier, Carlson and Fox Chairman Rupert Murdoch were scheduled to be called as the first witnesses in the trial before the stunning 11th-hour settlement was reached.)

Even though just one of the 20 allegedly defamatory Fox broadcasts mentioned in the lawsuit came from Carlson's show, his off-air comments were expected to play a key role in proving Dominion's case. 

Those communications revealed that Carlson told confidants that he "passionately" hated former President Donald Trump and that Trump's tenure in the White House was a "disaster" — a wholly different view from his on-air persona. 

Carlson's conspiracy theories weren't the only reason he'd become a thorn in Fox's side lately. In addition to fighting two defamation cases, Fox attorneys have also been busy with lawsuits from a former producer who accused Carlson and his show of allowing rampant sexism and misogyny. (The network has said the suits are "riddled with false allegations.")

Fox didn't say whether Carlson's departure was connected to any of the lawsuits linked to him. 

Carlson did not immediately respond to a CNN request for comment.

Shares of Fox Corp fell 5% on the news. 
BIG PICTURE
While the news of Carlson's departure shook the media industry Monday, he's just one of the more extreme Fox hosts to get the boot in recent years. Last week, host Dan Bongino left over an apparent contract dispute. Shepard Smith left in 2019. Bill O'Reilly left in 2017 amid sexual harassment allegations. Megyn Kelly also left in 2017. And let's not forget the spirited right-wing host Glenn Beck, who made his name there before leaving in 2011. 
Point is: Fox wouldn't let Carlson go if it weren't confident in its audience's loyalty. Tucker Carlson Tonight is the No.1 prime-time show in all of cable, with 3.7 million viewers tuning in nightly, according to Nielsen. 
RELATED:
In another astonishing moment for the media industry on Monday, CNN said it had parted ways with longtime host Don Lemon.
NBCUniversal CEO Jeff Shell is leaving the company after an outside investigation "into a complaint of inappropriate conduct," its parent company Comcast announced Sunday.
Ship-to-ship transfers of Russian crude oil hit a record high during the first three months of the year, according to data from S&P Global.
Off the coast of Greece, more than 3.5 million barrels of Russian gasoil, a refined product used in heating and transport systems, were transferred between ships last month. That's more than seven times the volume tallied by S&P Global for that month in 2022.
Those transfers, which increase the risk of a devastating spill, have gone up dramatically over the past year as China, India and Turkey buy up Russian oil that was once bound for Europe. Fleets now have to carry the oil farther, making mid-journey handoffs more common.
After a long decline, Bed Bath & Beyond finally filed for bankruptcy on Sunday, and will begin shutting down some stores this week. 
As in most bankruptcy filings, this gives the company a chance to get its financial house in order and potentially find a buyer. But even if it can sell part of its business, analysts tell my colleague Nathaniel Meyersohn, the BB-n-B is never going to rise to its former status as the retail industry category killer that it was in its 90s heyday. 
Back then, in the pre-Amazon Prime era, Bed Bath & Beyond was the highlight of Saturday errands in Suburbia. 
It had everything — blenders, beauty supplies, margarita glasses shaped like cacti, throngs of parents and their 17-year-olds buying those extra-long fitted sheets that were (for some reason) required for dorm life.
Wandering around a cavernous BB-n-B allowed you to fantasize about a home so perfectly appointed and organized that Oprah would want to have you on her show to talk about your menagerie of decorative vases and scented candles. 
Was it chaotic? Yes. But it was also beautiful. 
Of course, like many other "category killer" superstores of the 1990s — think Toys "R" Us, Circuit City, Sports Authority — Bed Bath & Beyond failed to adapt to the internet age. 

"We missed the boat on the internet," co-founder Warren Eisenberg, said in a recent Wall Street Journal interview. 

It wasn't just the internet that sank BB-n-B, Nathaniel explains.
Big-box competition from Walmart, Target and Costco played a role, and sales began stagnating in 2012.
And then, of course, the pandemic came.
Bed Bath & Beyond had to temporarily close all of its stores while many of its rivals stayed open as "essential" retailers. Sales fell 17% in 2020 and 15% in 2021.

Meanwhile, the company itself couldn't seem to stick with any of its turnaround plans as it shuffled through executives in the past several years. Anticipation of its bankruptcy has been looming for months as it tried all manner of financial maneuvering to remain solvent, including the incredi bly uncool move of withholding severance pay to some laid-off workers at closing stores.
None of it was enough to keep the company from joining the growing ranks of this year's retail bankruptcies.
RELATED: For decades, blue and white paper coupons defined Bed Bath & Beyond's brand. But those beloved scraps, which became known as Big Blue, backfired spectacularly as the industry evolved.
🏦 First Republic Bank expects to cut its workforce by as much as 25% this quarter, the embattled lender said late Monday.
🏰 Disney is laying off several thousand workers across the company this week in the second and largest wave of cuts as part of the media giant's previously announced plan to slash its workforce by 7,000 employees.
🍺 Anheuser-Busch placed two executives on leave after they managed Bud Light's sponsorship of Instagram posts from a transgender activist. 
💸 Depositors pulled $75 billion from Credit Suisse as it veered toward collapse
Succession fans: If you know, you know. 
Last updated April 24 at 7:00 PM ET