Tonight: A master class on how not to read the room. Let's get into it.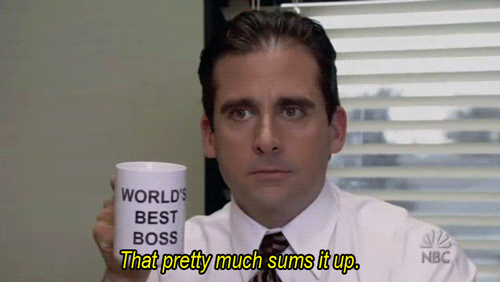 The CEOs are not all right.
Just this week, there have been two high-profile face-plants by company leaders who ostensibly wanted to inspire their staffs and wound up doing...the opposite of that. Both happened on video calls. Both were astonishingly tone-deaf.
First, we had Andi Owen, CEO of furniture company MillerKnoll, admonishing her employees after some dared to inquire about their bonuses and how they should stay motivated if they're not getting incentive pay. Her response was, more or less: Shut up about the dang bonuses and focus on your jobs. (The company said the clip was taken out of context. Still, Owen apologized in an email to staff, saying she was sorry her message "seemed insensitive." (A sentiment that would probably ring truer if she subbed "was" for "seemed," but whatever.) )
Then, in an unhinged rant, the CEO of a Utah-based marketing and tech company praised an employee who had to "sell the family dog" as a result of being forced to return to the office. He commended the unnamed employee's commitment, adding that he found the situation heart-breaking.
Clearlink CEO James Clarke, whose LinkedIn bio reads, "husband, father, friend, faithful," also went off about working moms who are primary caregivers at home. "One could argue," he said, that such a path is "neither fair to your employer nor fair to those children."
He clarified: "Now, I don't necessarily believe that. But I do believe that only the rarest of full-time caregivers can also be productive and full-time employees at the same time."
(Honestly, James, what are you even talking about?)
In a statement to CNN, Clearlink declined to address Clarke's remarks in the video, though the company did not challenge its authenticity. 
These two aren't alone delivering tone-deaf missives over virtual meetings. There was also the CEO who apologized after sending an email announcing layoffs while quoting Martin Luther King, Jr. Salesforce's boss, Marc Benioff, spoke publicly about doing a "digital detox" that was "very freeing" in French Polynesia just before laying off 10% of his staff. There's Elon Musk berating workers on Twitter and encouraging them to sleep in the office. And who could forget Better.com's CEO laying off 900 people over Zoom back in 2021?
Point is: With workers "quiet quitting," unionizing, and just generally, like, advocating for their own well-being and refusing exploitative demands that executives got away with more easily in the past, is it possible we've broken the C-suite's brains? Has their relative wealth and physical isolation during the pandemic sapped them of their normal-person empathy?
MY TWO CENTS
It's clear the pandemic and subsequent labor shortage has transformed workers' mindsets, empowering many to demand better pay or flexibility. In a zero-sum power game, that leaves CEOs with less control.
Perhaps these viral gaffes are a symptom of that power shift. Or perhaps the business elite were always like this and have merely dropped their guises while seated in their smartly furnished home offices, far from the rabble-rousers who work for them for a fraction of their pay.
Of course, being the boss isn't easy — as my editor insisted I say here. But I'd propose a simple mantra for executives when weighing in on unpopular topics like returning to the office or laying people off.
It goes like this: Be a human, or shut your mouth. That's it. If you can't be a human with genuine empathy for other humans, especially those who work for you and may be living paycheck-to-paycheck, then just take a deep breath and stop yourself from talking.
Shares of Tesla tumbled nearly 10% Thursday following its disappointing earnings report the night before.
The electric vehicle maker has slashed prices six times in 2023 alone, helping goose sales but eating into its profit margins. And Wall Street wasn't thrilled with that. Tesla shares had their worst year on record in 2022. The company started this year strong, reversing much of that decline, but the stock has fallen more than 20% in the past three weeks. 
Tonight: Variety's Jem Aswad talks to Nightcap host Jon Sarlin about how the music industry is confronting AI. Plus, the Washington Post's Taylor Lorenz discusses Montana's potential TikTok ban. And personal finance expert Michelle Singletary explains why Apple's new high-yield savings account may not be for everyone. Check it out.
While layoffs are occurring across nearly every division, we've determined that the company can no longer continue to fund BuzzFeed News as a standalone organization.
BuzzFeed News, the Pulitzer-winning outlet that just about every newsroom sought to emulate a decade ago, is shutting down.
BuzzFeed chief executive Jonah Peretti told staff that the company was cutting 15% of its workforce, or roughly 180 employees. Peretti, who addressed the emotional newsroom for nearly an hour Thursday morning, indicated that some staffers might be able to find roles at HuffPost, the digital news website that BuzzFeed acquired in a 2020 deal.
BuzzFeed invested heavily in its news product when it launched, poaching top journalists from legacy newsrooms and opening bureaus across the world. But the company has been slimming the newsroom down in recent years. Read more.
🚀 SpaceX's Starship, the most powerful rocket ever built, exploded in midair after taking off from a launchpad in South Texas. 
🐦 Twitter began purging blue verification check marks from users who have not signed up for its subscription service, with the checks disappearing from the accounts of journalists, academics and celebrities.
👻 Snapchat rolled out a customizable AI chatbot for all users.
🛋 Ikea is investing more than $2 billion to open eight new stores in the US.
Last updated April 20 at 4:00 PM ET