Tonight:  David's Bridal filed for bankruptcy. And lawyers for FTX investors finally managed to serve Shaq in their class-action lawsuit. Let's get into it.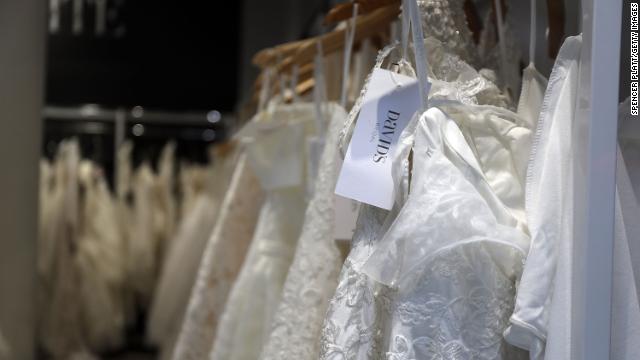 David's Bridal, the largest wedding apparel retailer in the United States, desperately needs a suitor. 
The company filed for bankruptcy Monday — its second Chapter 11 filing in five years — saying it was in the market for a buyer in the hopes of keeping its stores open and avoiding liquidation. It will lay off most of its 10,000 staff, my colleague Nathaniel Meyersohn writes. 
What happened?
Weddings are still a big business, and David's Bridal remains a go-to for brides around the United States — about 25% of brides in America wear a dress from David's, according to the company. 
But the retailer has struggled to adapt to shifting customer tastes. Demand for traditional, bead-and-lace-embellished white gowns has waned. Brides increasingly want Big Day vibes that are a bit less off-the-rack. Their dresses are sometimes jumpsuits. Or knee-length. Or black. Or pink. 
"An increasing number of brides are opting for less traditional wedding attire," David's Bridal said in a bankruptcy filing. "The demand for formal wedding dresses, bridesmaid dresses, and related accessories has decreased substantially." 
And even as weddings have bounced back with a vengeance since the lost year of 2020, it hasn't been enough to save David's. Weddings are still below pre-pandemic levels, according to CDC data. And fewer people have been getting married over the long run: Marriage rates in the United States have been declining since the early 1980s, per the agency.
The store said it will keep its nearly 300 stores and website operating as usual while it searches for a buyer. 
A Bed Bath & Beyond problem?
Bankruptcies are piling up in retail thanks to rising interest rates and inflation eating into customers' discretionary spending. (See: Party City, Tuesday Morning, mattress manufacturer Serta and pet store retailer Independent Pet Partners — all of which have filed for bankruptcy in recent weeks.)
Bed Bath & Beyond is also on bankruptcy watch. And like David's Bridal, the home goods chain appears to be suffering under the weight of its everything-everywhere-all-at-once aesthetic. Part of the appeal of those stores, historically, was their seemingly bottomless inventory and mind-boggling variety. They had everything, so you could find anything. 
But when you walk into a store like that now, you kind of just want to CTRL + F the space with your eyes. It's an 800-page document full of paragraphs you don't want to read, and one paragraph that you've been dreaming about reading since you were a child.
Of course, David's Bridal and Bed Bath & Beyond have had their own unique problems building up over the years. But in both cases, the pandemic appears to have sapped customers' patience with shopping as an in-person process, with an overwhelming variety of goods. 
Alphabet's shares 2.6% Monday after a New York Times report sparked concerns that the tech giant's core search engine could lose market share to AI-powered rivals, including Microsoft's Bing.
According to the report, news that Samsung was considering a proposal to make Bing its default search engine created a panic inside Google. The search giant is said to be developing a new AI-powered search engine called Project "Magi," the Times said. 
After months of attempting to serve Shaquille O'Neal in a lawsuit against celebrities who endorsed the now-bankrupt FTX crypto platform, lawyers for a group of FTX investors said they finally succeeded on Sunday. 

"Plaintiffs in the billion $ FTX class action case just served @SHAQ outside his house," the Moskowitz Law Firm tweeted. "His home video cameras recorded our service and we made it very clear that he is not to destroy or erase any of these security tapes, because they must be preserved for our lawsuit."
Side note: It is pretty funny to imagine Shaq, at 7'1", trying to give the slip to whoever Moskowitz hired to serve him. I mean that's their whole job, and it apparently took five months to get the documents in his hands. Last week, Moskowitz was so desperate to get it done, he asked the judge for permission to serve Shaq via Twitter DM. (The judge said no).
"Mr. O'Neal's conduct over the last 5 months in evading service in this action is unprecedented, and frankly shocking," Moskowitz said in the motion last week.
ICYMI: Shaq was the last of the celebrities in the class-action suit to be served a legal notice, according to court documents. The lawsuit, filed by heavyweight attorney Adam Moskowitz in November, accuses FTX founder Sam Bankman-Fried, along with several public figures who endorsed the platform — including Tom Brady, Gisele Bundchen, and Steph Curry — of defrauding investors. 
Representatives for O'Neal didn't immediately respond to a request for comment. 

In the past, Shaq has sought to distance himself from the company. "A lot of people think I'm involved, but I was just a paid spokesperson for a commercial," he told CNBC in December.

Moskowitz has called FTX "a massive Ponzi scheme," run by "geniuses at public relations and marketing" who enlisted the help of beloved sports and entertainment figures to promote it. 
📺 Writers for television, movies and streaming voted overwhelmingly to go on strike if no labor deal can be reached before a May 1 deadline. If a strike happens, it would be the first in the industry since 2007, and it would bring production on many shows and films to a halt. 
🦊 Fox News' defamation trial was delayed by one day. The judge now says it will begin Tuesday.
🚘 Workers at a Shanghai Tesla plant are lashing out over cuts to their bonus pay, and asking CEO Elon Musk to intervene.
🍔 McDonald's is making a series of small tweaks to improve its burgers: Buns will be softer; cheese, gooier; onions will be added to patties right on the grill. And the Big Mac sauce? There will be more of it.
🎮 Sega, the company behind Sonic the Hedgehog, is buying Rovio Entertainment in a cash deal that values the creator of Angry Birds at $774 million.
🏦 JPMorgan Chase, Citigroup and Wells Fargo, as well as PNC and BlackRock reported first-quarter earnings Friday, revealing that they all emerged largely unscathed from the March banking crisis. 
🔌 The Treasury Department announced a list of 16 cars that will be eligible for a new tax credit of up to $7,500.
Last updated April 17 at 4:00 PM ET