US President Joe Biden has signed legislation ending the national emergency for Covid-19, bringing an end to powers first brought in by former President Donald Trump in March 2020. 


This comes after Congress voted to end the national emergency, which cleared the Senate last month and passed the House earlier this year with 11 Democrats crossing party lines to vote for the joint resolution. 
The national emergency had previously allowed medical providers and patients access to free Covid treatments, and boosted payments for hospitals taking care of Covid patients. 


The White House said it was "strongly opposed" to ending the national emergency. In a statement in January, Biden's Office of Management and Budget claimed an abrupt end to the emergency orders would "create wide-ranging chaos and uncertainty throughout the health-care system."
The Biden administration now says it will "provide as much notice as possible to potentially impacted individuals." 
Sen. Roger Marshall, a Kansas Republican who brought the bill to the Senate, spoke of his "pride" in a statement after his resolution was signed into law. Marshall claims terminating the Covid-19 National Emergency Declaration will end "the White House's authoritarian control and unilateral spending decisions without Congressional consent."
The removal of national emergency status comes after a series of polls indicate that many Americans are unsure about the return to post-Covid normality. 


A recent Monmouth poll found that a minority of Americans reported their lives had completely returned to a pre-pandemic normal, with 34% saying that things were completely the same as they were three years ago. Another 20% said things were partially back to normal, and 11% that they were still not normal at all.


For many Americans, Covid-19 is still impacting their lives but "are willing to chance an infection in order to return to their pre-pandemic routines," said Patrick Murray, director of the Monmouth University Polling Institute.


The same poll also found that few respondents believed that the pandemic had ended, with 24% of Americans personally feeling that the pandemic was over. Of the 805 adults sampled in the survey, only 20% said the pandemic will end eventually and 53% saying that it'll never be over.


These statistics also show the highly politicized nature of the Covid-19 pandemic. Republicans were 17 points more likely than Democrats to say that their own routines were mostly back to normal, the Monmouth poll found, and 28 points more likely to say that the pandemic had completely ended.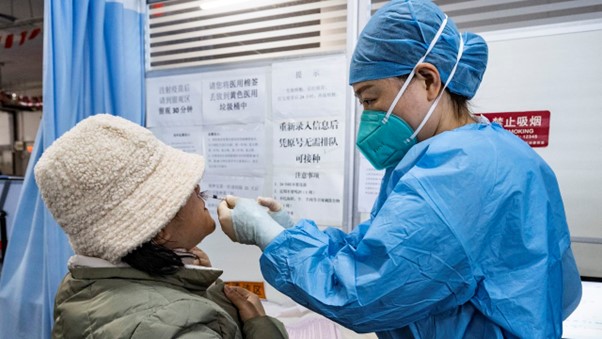 Researchers are working on new alternatives to injected vaccines for Covid-19. 
(Photo: Hou Yu/China News Sevice/VCG/Getty Images)
The polarizing effects of the pandemic are also expressed in the decreasing number of Americans receiving their booster vaccines. In KFF's latest poll, just over half the American public said they'd been boosted against Covid-19, but only 23% reported receiving the latest bivalent version of the booster vaccine.
A KFF polling from earlier this year – found that a minority of Americans have taken some form of Covid-19 precautions – including mask-wearing or avoiding large gatherings, travel or indoor dining. 
The poll from Monmouth found that 48% of respondents continue to mask up in public on at least some occasions, though only about 21% said they do so most or all of the time.
For this minority of Americans this indicates a "new normal," said Gallup's Megan Brenan. "For some (this) means occasional mask use, regular COVID-19 vaccines and avoidance of some situations that may put them at greater risk of infection, particularly at times when COVID-19 infections are spiking," Brenan added.
Overall, the number of Covid-19 cases, hospitalizations and deaths continues to fall in the United States. In a Quinnipiac University survey released last week, fewer than 1% of Americans picked Covid-19 as "the most urgent issue facing the country."
IN OTHER NEWS

The World Health Organization (WHO) is monitoring an Omicron subvariant, which has been identified in about two dozen countries. Most of the samples of XBB.1.16 are from India, where it has become dominant. Weekly Covid-19 cases in the country have more than doubled in the past week but remain far below peak levels, WHO data shows. The subvariant has not been found in the United States, but it is similar to another subvariant that has been dominant in the country since January. "This is one to watch," said Maria Van Kerkhove, WHO's technical lead for Covid-19. "It's been in circulation for a few months. We haven't seen a change in severity in individuals or in populations, but that's why we have these systems in place," Van Kerkhove added. The continuous evolution of the virus remains one of scientists' "big uncertainties" in preventing the spread of the virus, said Van Kerkhove.



Van Kerkhove also criticized China's "inexcusable" lack of transparency, adding that said WHO is still missing key data from the country. "The longer it takes to understand the origins of the pandemic, the harder it becomes to answer the question, and the more unsafe the world becomes," she wrote in an editorial in the journal Science on Thursday. It was only this year, three years after the start of the pandemic, that WHO got access to certain data that Chinese scientists had gathered in early 2020 at the Huanan Seafood Market in Wuhan. It's still unclear whether the Covid-19 pandemic began with a lab leak or with spill-over from animals – creating two competing theories among scientists as to the origin of the virus. In the latest development, a Chinese scientist this week claimed the Covid-19 virus may have originated from humans as the genetic sequences of viral samples taken from the Huanan Seafood Market in Wuhan were "almost identical" to those of patients infected with the coronavirus..
Q
Do Americans believe the decision to end the Public Health Emergency will impact them?
A
Most Americans believe the Biden administration's original plan to end the public health emergency will not impact them, according to  a recent Kaiser Family Foundation survey.

While nearly 60% of Americans say this will have "no impact,"  the remainder are evenly split, with 20% who think it would have a positive effect and 21% who believe the impact would be negative.
Send your questions here. Are you a health care worker fighting Covid-19? Message us on WhatsApp about the challenges you're facing: +1 347-322-0415.

CORONAVIRUS: FACT vs FICTION