Tonight: America's megabanks just swooped in to save First Republic. Plus: The unbelievable audacity of Silicon Valley bros who now say they're standing behind SVB. Let's get into it.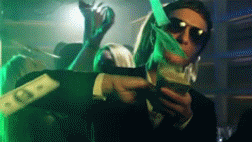 First Republic Bank, after flailing for days, is getting a $30 billion cash injection from 11 of its its much-larger rivals, including such heavyweights as JPMorgan, Bank of America and Citi. 
It's the high-finance equivalent of a GoFundMe.
Here's the deal: The midsize San Francisco-based lender has had a target on its back for a week because of its apparent similarities to Silicon Valley Bank, the tech-industry lender that collapsed a week ago. Specifically, First Republic has a huge amount of uninsured deposits above the $250,000 FDIC limit (sheesh, must be nice).
About 68% of First Republic's deposits were uninsured. Now, that's nowhere near the 94% that SVB had. But when SVB went belly-up and had to be rescued by federal banking regulators, First Republic's customers also started getting their cash out of the bank. That became a very big problem.
When you deposit money in a bank, it is only required to hold a portion of that in reserve — that's called the fractional-reserve system, and most major economies use it. 
But First Republic has an unusually large 111% liability-to-deposit ratio. In other words, it has loaned out more money than it has in deposits, making it a particularly risky bet for investors.
So, great — First Republic is probably going to survive. So, like, crisis over?
Unlikely. (Though one prominent analyst declared to Bloomberg that the banking fiasco is over, so believe whom you will.) 
What comes next?
There are still a lot of unknowns to keep investors up at night. While the cash infusion will almost certainly help stem the bleeding in First Republic's stock, it still has to deal with the longer-term problem of operating in a higher-interest rate environment. Customers might, understandably, be spooked and want to move their money over to one of First Republic's rescuers instead. 
As the Wall Street Journal's Telis Demos wrote: the deal "may bolster the emerging narrative that the post-2008 regulatory regime has resulted in a two-tier system: Megabanks where it is always safe to deposit and do business, and everyone else."
Meanwhile, over in Europe, Credit Suisse is still scrambling to calm panicked investors. 
The bank has lost about a quarter of its stock market value since the start of 2023, and more than 70% in the past 12 months, as a series of scandals, missteps and compliance failures have steadily undermined the confidence of investors and clients, my colleague Mark Thompson writes.
On Thursday, JPMorgan analysts said that allowing Credit Suisse to continue feebly limping along is "no longer an option." 
One way out of this mess, the analysts said, would be for Credit Suisse's larger rival, UBS, to step in and buy it. But that's looking like a tough sell. According to Bloomberg, both UBS and Credit Suisse are balking at the prospect of a forced tie-up.
To be clear: The regional bank turmoil is not the same problem playing out at Credit Suisse. But with global markets on edge, setbacks on either side have the potential to spiral into fresh panic. 
RIP, Google Glass.
Google is officially killing its failed wearable product line from another era that many consumers may have assumed was long gone. First unveiled in 2013, Google Glass was initially marketed for a general audience, with the promise of giving people access to a computer on their face rather than having to pull out a phone. It was terrible flop. The specs were ugly. And they cost $999. 
Tonight, on the Nightcap show: Bloomberg Businessweek's Max Chafkin tells host Jon Sarlin that the run on Silicon Valley Bank suggests venture capitalists are ... not as smart as they think they are. Plus, crypto podcaster Jacob Silverman discusses why the collapse of two crypto banks is a big deal for the industry. And SocialProof Security's Rachel Tobac explains why legacy password rules, like frequent changes and special characters, might not keep you from getting hacked. Watch it all here.
One of my favorite developments this week is the crop of tech people who are now publicly declaring their loyalty to SVB. The same people who, like, freaked all the way out last week and yanked their money from the bank as it was coming unglued. 

Villi Iltchev, a partner at Two Sigma Ventures, tweeted this week that he'd spoken with an executive who planned to move his money back to the bank because "it is now the safest bank in the U.S." Iltchev added: "I am personally sticking with SVB as my primary bank where I receive my direct deposit." 
My colleague Catherine Thorbecke has the full story.
What I find most delightful about this sudden genuflect to the bank is that the venture capital crowd is known is well known for its libertarian leanings. They're out there decrying government intervention and onerous regulations...and then their money's on the line and suddenly it's All Hail the Federal Reserve.
The public displays of affection for SVB, now guaranteed not to fail thanks to the government's intervention, reminds me of the public begging some tech bros engaged in on Twitter when the bank was hemorrhaging. 
"Where is Powell? Where is Yellen? Stop this crisis NOW," wrote David Sacks, a prominent VC known for disparaging government handouts.