Tonight: A look at how Russia keeps oil revenue flowing via a mysterious fleet of under-the-radar ships. Plus: Surprise! There's still a gender pay gap. Let's get into it.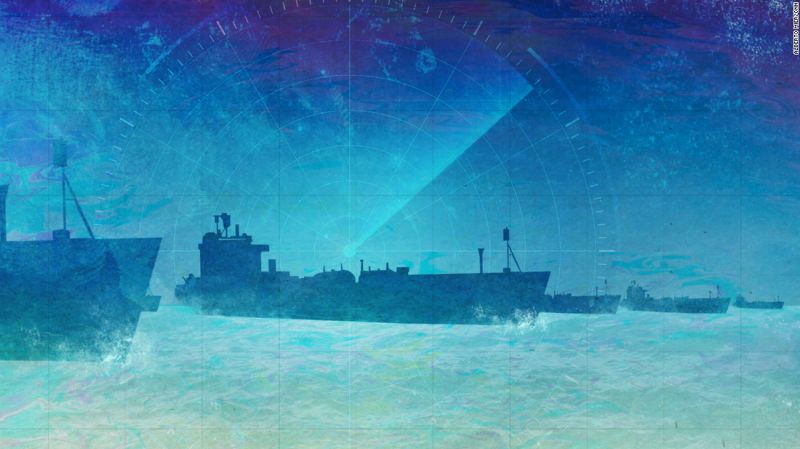 Over the past year, as Russia has gone all in on its war in Ukraine, Western nations have sought to turn the world against President Vladimir Putin and the web of unsavory characters who surround him. Key in that battle has been to wean countries, particularly those in Europe, off of Russian oil, a tactic meant to starve Moscow of revenues that fund the war.
But Russia, the world's second-largest crude exporter, has adapted to keep its oil businesses afloat. And in doing so, it has reshaped decades-old trading patterns and split the world's energy system in two, my colleague Julia Horowitz reports. 
Here's the deal: At any given time, tens of thousands of container ships and oil tankers are traversing the globe, keeping the great big world economy humming. Mixed in among that traffic, right now, are about 600 mysterious oil tankers that make up Russia's so-called shadow fleet.  
"There's the fleet that is not doing any Russian business, and then there's the fleet that's almost exclusively doing Russian business," said Richard Matthews, head of research at EA Gibson, an international shipbroker. 
There's a lot we don't know about the shadow fleet. Like, who owns the ships? (A bunch of murky shell companies have swooped in over the past year, buying up old ships that might have otherwise ended up in the scrapyard.) And where the heck are they? (There's evidence many have turned off their transponders to stay, quite literally, under the radar.) 
What we do know is that the shadow fleet is growing.
As Europe has (mostly) weaned itself off Russian energy, buyers in Asia are cutting deals. China boosted imports of Russian oil to 1.9 million barrels a day on average in 2022, up 19% from 2021, according to the International Energy Agency. India ramped up purchases even more sharply, logging a whopping 800% increase to an average of 900,000 barrels a day.
Russia's oil exports to China and India both hit record highs in January after Europe's ban on seaborne Russian oil took effect, according to Kpler, a data and analytics company. 
Filling these orders requires big ships owned by entities that don't mind the added legal risk posed by sanctions and price caps. (Russia doesn't have enough vessels of its own.)
Cue the shadow fleet.
"The dark fleet that has been around carrying Venezuelan and Iranian oil globally is something we all expected to grow, and it has," said Janiv Shah, senior analyst at Rystad Energy, a consultancy.
An estimated 25 to 35 vessels are being sold each month into the shadow fleet, according to a senior executive at an oil trading firm. And the number of unknown buyers involved in oil tanker sales last year roughly doubled from 2021, according to the nonprofit Global Witness. 
Why it matters
There are any number of reasons why this is a huge problem.
Not least: Russia's appears to be figuring out how to keep the revenue stream flowing, which keeps its brutal assault against Ukraine well funded.
Then there are the ships themselves, a portion of which are believed to be more than 15 years old, the age when mainstream oil companies would typically retire them. 
"You've got all these old vessels that are probably not being maintained to the standard they should be," said Matthews of EA Gibson. "The likelihood of there being a major spill or accident is growing by the day as this fleet grows."
See Julia's full report on the shadow fleet here.
Eli Lilly is slashing prices for its most commonly used insulin products by 70% and will cap out-of-pocket insulin costs at $35 a month for many patients with diabetes. 
It's a long overdue adjustment for a business that for years has jacked up the cost of insulin, a life-saving medication for millions of Americans that is relatively to cheap to manufacture. Lilly and other major pharmaceuticals have faced intense political pressure to rein in prices, which for some patients currently amount to hundreds of dollars a month. 
Speaking of systemic inequality, it's about time we checked in on the whole, "paying people fairly regardless of their expressed gender identity" thing. How's that all going?
Mmmm, not great, my colleague Jeanne Sahadi reports.
In the Year of Our Lord 2022, women in the US on average earned about 82 cents for every dollar a man earned, according to a Pew Research Center analysis of median hourly earnings of full- and part-time workers.
that, patriarchy!)
That's a big leap from the 65 cents on the dollar that women were earning in 1982. (Woohoo! Take
...But it has barely moved from 80 cents in 2002, even as women have become better educated than men. (Ahhhh, right. Right.) 
Here are some distressingly familiar trends:
Women between the ages of 25 and 34 are much closer to achieving pay parity — about 90 cents on the dollar since 2007. But the gap widens as we get older. Why? Babies! 
Mothers ages 25 to 34 earned 85% as much as fathers the same age. And women 35 to 44, with or without children, 

earned about 80% as much as fathers.

The gap gets even worse when you break it down by race...
Black women last year earned just 70% as much as white men. Hispanic women earned 65% as much.
For white women, the gap was narrower, at 83%. Asian women were closest to parity, at 93%.
Why can't we get rid of the gap?
Good old fashioned systemic discrimination, friends. 
LOL, of course they were.) 
When Pew asked Americans in October what factors they believed played a role in the gender wage gap, half indicated a major reason is that employers treat women differently. (Women were much more likely than men — 61% vs 37% — to cite this as a major reason.
🔌 Shares of EV maker Rivian plunged more than 18% after it reported disappointing revenue and gave 2023 delivery guidance that fell short of Wall Street hopes.
📱 TikTok unveiled a new default setting for users under 18 that will limit them to one hour of screen time on the app daily, one of the most aggressive moves yet by a social media company to prevent teens from endlessly scrolling.
👀 KFC is bringing back the "Double Down" — that's two fried chicken filets in place of bread, sandwiching bacon and cheese — after a decade-long hiatus. Be careful out there, America. 
Last updated March 1 at 6:30 PM ET