Good morning. Here's what's in today's newsletter: Jerome Powell sent markets falling on Tuesday. That could be a good thing. Plus, Elizabeth Warren, going green and bank stocks: Takeaways from Powell's Congressional testimony.
US stock futures are ticking higher after Tuesday's slide. European markets are mixed in early trade. Asian indexes closed with losses, although Japan's Nikkei bucked the trend.
▸ Forwarded this newsletter? Want global markets news and analysis from CNN Business reporters every morning? You can sign up here.
Powell's testimony sent markets reeling. That may be good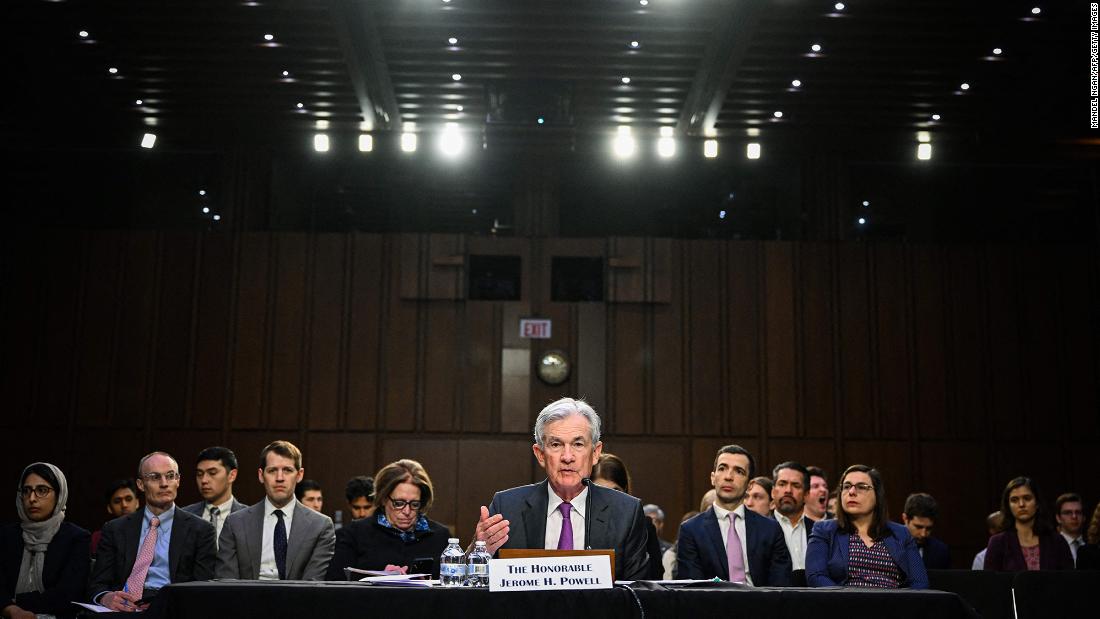 Federal Reserve Chairman Jerome Powell on Tuesday cleared the way for larger interest rate hikes at this month's central bank policy meeting, sending markets into a tailspin.

In his remarks to the Senate Committee on Banking, Powell said that economically painful interest rate hikes are "likely to be higher than previously anticipated," and that as a result, the labor market is also "very likely" to weaken.

Investors didn't take the news well, but some analysts think that's exactly what Powell wanted. 

What's happening: Tuesday was a terrible day for markets. The S&P 500 fell 1.5%, the Dow dropped 575 points, or 1.7%, and the tech-heavy Nasdaq composite ended 1.3% lower. 

Bond yields, meanwhile, surged as stocks fell. The 2-year Treasury yield nearly hit 5%, its highest level since 2007. 

After Powell's testimony, market expectations for a half-percentage point rate hike spiked. At the start of Tuesday, investors were pricing in about a 30% probability for a half-point rate hike later this month. By market close, that probability had grown to 70%, according to the CME FedWatch Tool. 
Keeping expectations in check: Citing a glut of strong economic data and hot inflation reports, Powell said in his testimony to Congress that the promising disinflation seen late last year had ebbed. If inflation fails to continue falling, he said, the Fed will keep trying to cool things down by raising rates. 

Powell simply can't afford to sound dovish on inflation given how strong January's price data was, noted Tom Graff, head of investments at Facet.

Even if Powell was sure that January's economic data was a fluke, he still wants to maintain the Fed's credibility. Appearing dismissive of the recent uptick in inflation could harm the public's trust in the central bank, he added.

Investors aren't celebrating, but Powell is likely satisfied with his work Tuesday, said Jamie Cox, managing partner for Harris Financial Group. That's because market rallies help to expand the economy, which is the opposite of what the Fed is trying to do with its tightening policy. 

"Powell wants to keep forward guidance in check so the market doesn't unwind the Fed's work to keep monetary conditions tight," said Cox.

Interest rates may be sitting at recent highs but stock valuations still remain strong. Policymakers noted that they were particularly worried about that disconnect, according to the most recent Fed minutes.

Fed officials suggested in those meeting notes that investors were too confident that inflation had peaked and that the Fed would soon pivot away from rate hikes. 

What's next: On Wednesday, Powell will continue his two-day trip to Capitol Hill and testify before the House Financial Services Committee. Investors will be watching to see if the Fed chair doubles down on his hawkish comments and if he makes any attempts to directly address Tuesday's market plunge.

The House of Representatives can be a bit more spirited than the Senate in its line of questioning, so there may be some tension between fiery lawmakers and Powell. 

Beyond Wednesday, investors will be evaluating several key pieces of data set to be released ahead of the next Fed policy meeting. Reports on jobs, retail sales and inflation are all due out ahead of the next rate hike decision. 

"The Fed is data dependent, so inflation is still a wild card and the next round of hikes are yet to be determined," said Jeffrey Roach, chief economist for LPL Financial.
DOJ sues to block JetBlue's purchase of Spirit Airlines
"If not blocked, the merger of JetBlue and Spirit would result in higher fares and fewer choices for tens of millions of travelers across the country. The Justice Department is suing to prevent that from happening."
MERRICK GARLAND, ATTORNEY GENERAL, UNITED STATES
Read more from CNN.
Elizabeth Warren, going green and bank stocks: Takeaways from Powell's testimony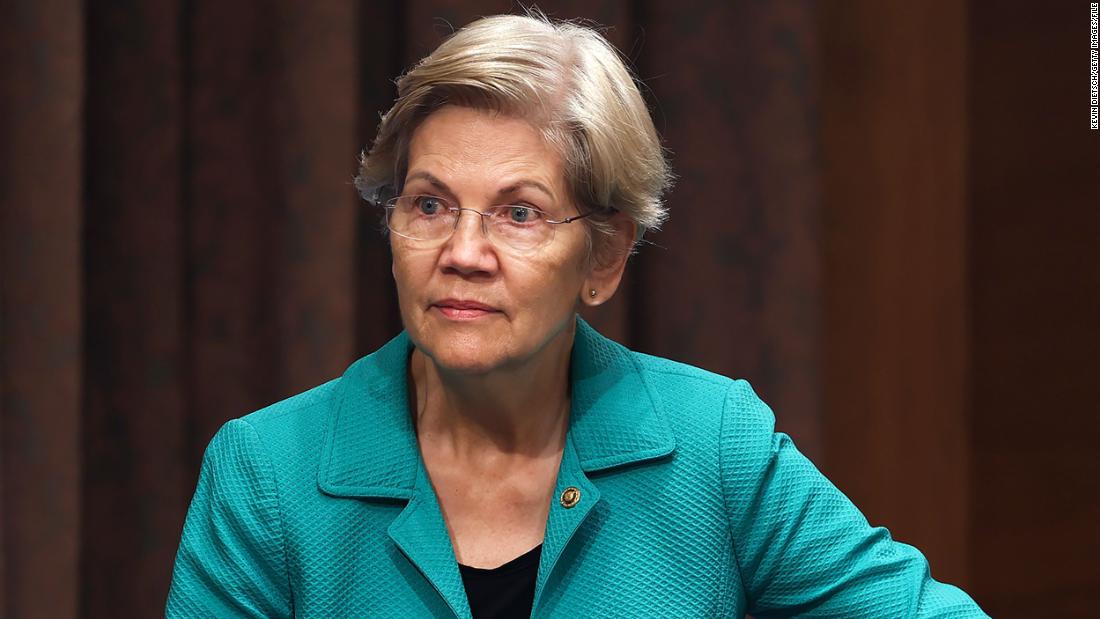 ▸ Elizabeth Warren, a frequent critic of the Fed chair, grilled Powell on Tuesday about the impact interest rate hikes have on the economy and the labor market, arguing higher inflation would be preferable to higher unemployment.

In a heated exchange, Warren asked Powell to address the 2 million people who the Fed predicts would lose their jobs if unemployment rates increase to the Fed's projected 4.6% by the end of the year.

"What would you say to them? How would you explain your view that they need to lose their jobs?" asked Warren.

"Will working people be better off if we just walk away from our jobs and inflation remains 5-6%?" Powell fired back. "We are taking the only measures we have to bring inflation down."

▸ A number of Republican Senators focused their line of questioning on the Fed's voluntary climate change pilot program. 

Under the program, the largest six banks in the United States — Bank of America, Citigroup, Goldman Sachs, JPMorgan Chase, Morgan Stanley and Wells Fargo — have been given until July to show the Federal Reserve what effects disastrous climate change scenarios could have on their bottom lines.

The Federal Reserve has stressed that the exercise "is exploratory in nature and does not have capital consequences" but some lawmakers are worried that the Fed may soon begin to require it and enforce penalties. 

"Do you agree that the Federal Reserve does not have the authority or statutory direction to use its monetary policy or supervisory tools to wade into ESG or other climate policies?" Republican Senator Tim Scott asked.
Powell said that he agreed with Scott's statement. 

▸ Bank stocks took a hit on Tuesday as Powell's suggestion that interest rates may go higher and stay there for longer increased fears of an imminent recession. JPMorgan Chase shares dropped by nearly 3%, Goldman Sachs shares fell 3.1%, Bank of America stock shed 3.2% and Wells Fargo fell 4.7%.
Brown Foreman and Campbell Soup report earnings before the bell.
MongoDB reports earnings after market close.
Plus: The February ADP National Employment Report is due at 8:15 a.m. ET; January JOLTs Job Openings are expected at 10 a.m. ET; Federal Reserve Chair Jerome Powell will testify before the House Financial Services Committee at 10 a.m. ET. 
WHAT WE'RE READING AND WATCHING
▸ Snap stock surges as Congress renews TikTok ban efforts (CNN Business)
▸ FDA redefines 'healthy,' the food industry pushes back (Washington Post)
▸ Ticketmaster goes down again as Eurovision fans flood site (CNN Business)
▸ Silicon Valley's AI frenzy isn't just another crypto craze (Vox)
▸ Google's 16th employee is getting her own Barbie (CNN Business)
▸ The boom time for farmers can last (Barron's)
Starbucks is in demand on Capitol Hill
The Congressional spotlight will soon shift focus to Starbucks interim CEO Howard Schultz. 

Schultz is set to testify before a Senate committee about the company's labor practices on March 29. He had previously refused to testify but acquiesced under threat of a subpoena. 

Starbucks executives have been fighting a growing wave of unionization at their stores around the United States. Schultz has repeatedly said he does not think his workers should unionize. 

"I look forward to hearing from Mr. Schultz as to when he intends to end his illegal anti-union activities and begin signing fair first contracts with the unions," said Vermont Senator Bernie Sanders.

Schultz will testify before the Senate Health, Education, Labor and Pensions (HELP) Committee, which Sanders chairs.