An exclusive inside look with your free CNN account
🇲🇽 Eva Longoria explores Mexico's hidden treasures
Eva Longoria helps a member of the Muxe community prepare Zapotecan cuisine in Oaxaca, Mexico. (Photo credit: Ramona Rosales/CNN)
Pans clattered in the background as Eva Longoria searched for her earbuds so she could talk while cooking lunch for her family in the kitchen of their Mexico City home. 
"There's not a wasted moment that happens in my day," Longoria said. That includes gearing up for the March 26 premiere of her new CNN TV series "Searching for Mexico," a show that takes an immersive look at the food and culture of six very different regions of the country. 
"A lot of people think Mexico is tacos and tequila, right? And it's so much more — it's so diverse and it's so elevated," Longoria said. "I think people are going to not only fall in love with the food, but the people. … It's a jewel of a country."
Longoria has many personal connections to Mexico — she's a self-described "Texican," born and raised in Texas, where her family has lived for generations, and she's of Mexican heritage. Her husband is from Mexico, where they reside with their 4-year-old son. 
Yet there were still things that surprised her —and her husband, who joined her during the filming of "Searching for Mexico" — about the country and its multifaceted culture.
"There were 100 things he did not know," she said. "He had never really been to the Yucatan. … He had never really experienced Veracruz. And he did that with me. So it was very fun to even show him a side of Mexico he didn't know."
Longoria and her 4-year-old son, Santiago, enjoy churros during the filming of "Searching for Mexico." (Photo credit: Ramona Rosales/CNN)
Food has always been a connection point to her family, Longoria says. She grew up on a ranch where they raised their own food, and she took pride in learning to cook at a young age — something she's passing on to her young son.
"He's always in the kitchen," she said. "He likes to bake — you know, cookies, cake, Jell-O — and he does a lot of the chopping. He's my sous chef."
That's why she has always made time to prepare meals for, and with, her family, even as she maintains a super-busy life as an actress, producer, director, activist and, now, a culinary tour guide on "Searching for Mexico." 
She found time to talk to us about what she learned from the show. Here's what she told us:
On the difference between US and Mexican culture: "Mexicans, in general, really value life and living, where I think here in the United States we really value work and status, and accomplishment and attainment, and job and career — and we work very hard. If you look at Europe and other countries — specifically Mexico — they value family and meal time. That's why there's siestas in the afternoon and all the stores closed because their culture is, 'Take your time, eat lunch, take a nap.' "
How those cultural difference are reflected in the way Americans and Mexicans eat: "We're (Americans) are like go, go, go. Grab a sandwich. We invented coffee to go. If you go to Italy, they don't even have a to-go cup. They're like: 'What are you talking about? No, you cannot have coffee to go — sit your ass down and enjoy it!' "
"That's the biggest lesson I think I learned from Mexico and Mexicans: Food is a vehicle to gather and to talk and to bond. It's not to solely nourish. It's to savor what you're what you're tasting, to be in the present. Look at the colors on your plate and have a great appreciation for the people who prepared this meal."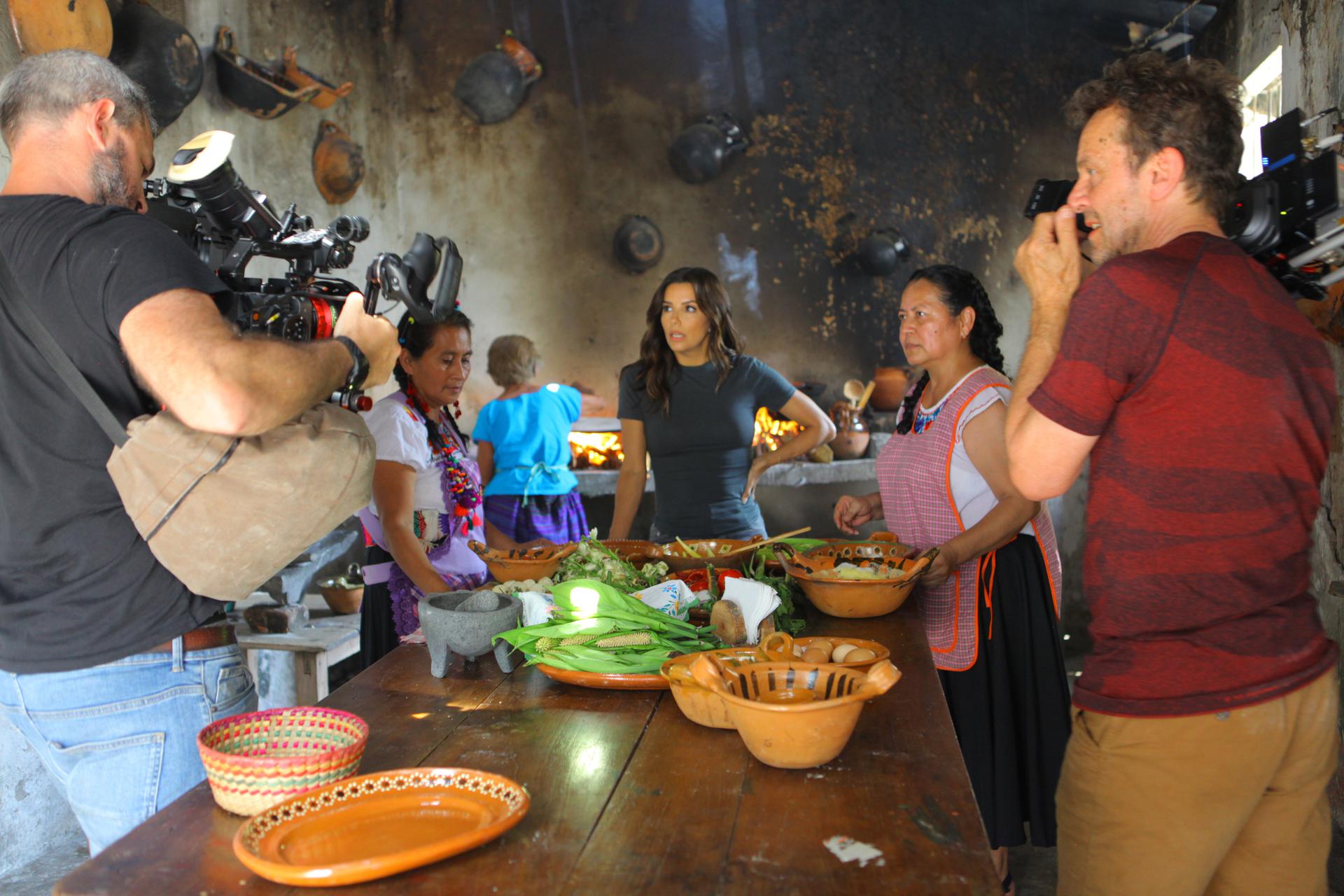 Longoria and the camera crew film in Coetzala, Mexico, with local coffee farmers. (Photo credit: Andrew Muggleton/CNN)
The uniqueness of Mexican cuisine: "Mexican cuisine as a whole is one of the only cuisines that is protected by UNESCO as a cultural heritage. And what that means is you can trace Mexican food back to itself. Italy is known for pasta, but noodles actually originated in Asia. Switzerland is known for the best chocolate in the world, but chocolate actually originated in Mexico. There has to be direct origins to be protected by UNESCO. Now, there's a lot of influence on Mexican food because of colonization. It was a highly vegetarian diet until the Spaniards came and brought pork, cows and dairy. The biggest asset to Mexican cuisine is its ingredients — the avocado, the tomato, chili, beans, corn. That's really the basis of that cuisine, and nobody grows it better than them."
Her favorite episode of 'Searching For Mexico': "Probably my favorite episode was Veracruz, which they call 'the port of spice' because, historically, everything came into the Americas through that port: Chinese influence, Caribbean influence, African influence such as the plátano (plantain) — that's an African influence, that's a Caribbean influence, and it's a big part of the diet there. It's interesting to see what has survived and what has been folded into Mexican culture and then what was rejected. I hope people respond to it, because it's just a beautiful culinary journey. There wasn't an episode I didn't cry. It's a beautiful storytelling of Mexico."
On what she hopes the show's impact will be for tourism in Mexico: "It would be amazing for the country of Mexico for people to experience what I got to experience in 'Searching for Mexico.' A big reason why I wanted to do this show is to improve relations with Mexico and the United States, and I think the easiest way to do that is through food."
💳  CNN insider rec of the week
Brought to you by CNN Underscored
Underscored caught up with Eva Longoria to learn about her favorite Hispanic-owned brands. From her favorite coffee mug to the tequila she always has at home, shop her essentials all in one place.
- Written and edited by Kyle Almond, Tricia Escobedo and Jessica Sooknanan
INSIDE CNN
An exclusive inside look with your free CNN account