Tonight: What the heck is happening to the banks now? Let's get into it.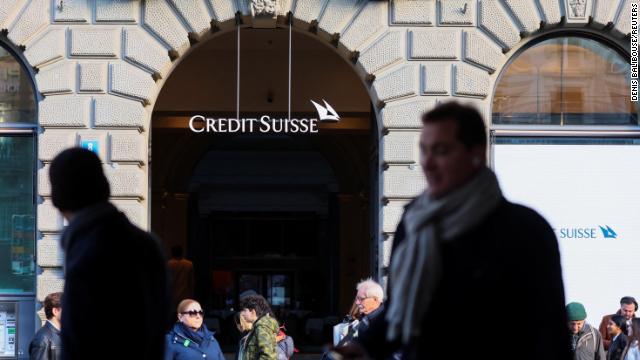 It's honestly pretty rude of the Swiss to work all weekend and make news while some of us are trying to chill. But I guess the burgeoning financial crisis was "urgent" or whatever.
So here's where things stand after a turbulent couple of weeks in the banking world:
First, the Swiss situation:
So, that was Sunday. Fast forward to Monday morning in the US, where the big question of the week is: Who's next? And will they be saved or allowed to fail?
And just like last week, the bank with the big target on its back is... First Republic. 
The profitability problem
So, for those keeping track at home: Yes, First Republic secured a $30 billion lifeline last week, and that was on top of a $70 billion loan from JPMorgan a few days prior. But investors aren't satisfied.
Why is Wall Street still worried?
There could be any number of reasons, but one major question mark hanging over First Republic is about its levels of capital — those safety-cushion funds that banks use to absorb losses.
Thursday's government-arranged $30 billion deal is essentially a big cash deposit (read: not a capital injection) that's allowing First Republic to pay out customers who are pulling their funds. 
That deposit probably helped calm some depositors, but it doesn't solve First Republic's bigger financial issues.
The latest publicly available information we have on First Republic's financials comes from December of last year. That was just three months ago, but boy has it been an interesting quarter. One expert I spoke to said that there is "every reason" to suspect the bank's capital has taken a hit from its heavy losses on its bond portfolio.
The Journal's reporting also suggested the banks trying to stabilize First Republic are worried about capital. The paper said that the latest talks are "fluid and fast-moving" but have "focused on how the industry could arrange for an investment that would boost the bank's capital, according to people familiar with the matter."
Just to pile on: Moody's downgraded First Republic's credit rating to junk status Friday night, citing a deterioration of the bank's financial profile. S&P followed suit Sunday.
Good news and bad...
Bottom line: First Republic — hot on the heels of Credit Suisse, Silicon Valley Bank and Signature — appears most likely to be the next wobbly domino to fall. But perhaps the more important question is, will it be the last?
RELATED COVERAGE
CEO Andy Jassy said Amazon is cutting 9,000 more jobs, adding to the gut-wrenching 18,000 layoffs the company announced earlier this year.
The cuts in the tech sector have been escalating as companies see pandemic-induced demand for digital goods and services dry up. 
Google has cultivated a reputation for years as a company that put its employees first. Apart from lavish compensation packages, it was also generous with perks that became synonymous with working in Big Tech — like in-office climbing walls, free gourmet meals, on-site massages.
It's easy for outsiders to roll their eyes at the company's longtime mantra — "don't be evil" — but the ethos helped make Google consistently the top-ranked company people wanted to work for in the United States. 
But, as my colleagues Clare Duffy and Catherine Thorbecke write, Google's recent handling of some 12,000 layoffs — conducted over email — underscores a shift underway inside the company.
The Google culture that once prized openness and all-around good vibes has increasingly been tested and eroded by internal scandals, walkouts, mounting public scrutiny and business demands.   
The mass layoffs over email shocked people both inside and outside of Google. Veterans of the company who'd been there for decades were dismissed with little explanation. Ditto at least one employee on health leave, and another who was in labor.
In interviews with CNN, more than half a dozen current and former Google employees, including several affected by the recent layoffs, described a company whose culture has been changing in big and subtle ways for years, including scaled-back perks, reduced access to senior leadership and a focus on short-term business wins rather than long-term vision.  

"At the end of the day, and probably at the beginning of the day, there is an abiding devotion to revenue and seemingly endless growth," one former employee said. "And that comes without any thought to employees' welfare in the end." 
Read Clare and Catherine's full story here.
Last updated March 20 at 7:00 PM ET