On the 12th day of the banking crisis my Jay Powell gave to me ... aaaa-nxieeetyyyyyyy. Let's get into it.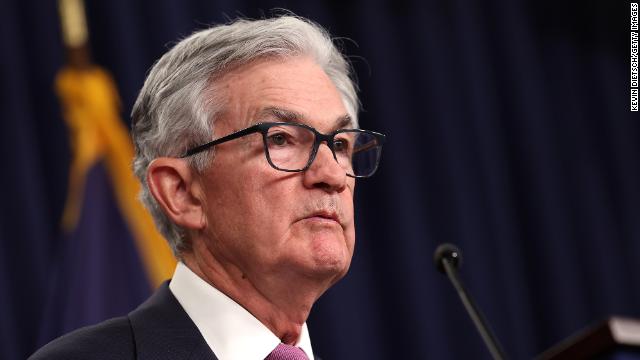 One week ago, right in this here newsletter, I wrote about how Wall Street was having a Zen moment. It was Tuesday. Markets had chilled out, seemingly ready to move on from the turmoil of the previous week, which saw the collapse of three different banks and sparked fears of a rash of bank runs. 
But that bud of calm burst into chaos just a few hours later, naturally, when fresh turmoil at Credit Suisse opened a whole new can of worms for investors to freak out about. 
Fast-forward one week to today: It's Tuesday again. Stocks are up from Hong Kong to London to New York. Credit Suisse is safe in the (awkward) embrace of its reluctant rescuer, UBS. Even First Republic, the bank deemed most likely to fall in the United States, saw its stock pop more than 50% Tuesday after nosediving by the same amount the day before. 
Are we, like, actually out of the woods now? The answer, according to people much smarter than me, is a very confident maybe. 
In the optimistic camp: "The bank crisis-ette is over," Daniel Alpert, managing partner at Westwood Capital, told me. "The market has digested the fact that this is not (yet) a credit crisis and the thing that gave rise to the liquidity crisis — an old fashioned bank run — has been extinguished by regulatory action."
On the other hand: Oanda senior analyst Craig Erlam wrote that he is hopeful the worst is behind us, but "I can't say I'm particularly confident." The rapid response from central banks and regulators has been impressive, and "while we can commend them for their firefighting skills, only time will tell if they've been successful in extinguishing the flames."
One thing analysts seem to agree on is that what happens next hinges on the Fed, which will announce its latest policy decision Wednesday afternoon. 
Tomorrow's Fed meeting may be the most important one of Jay Powell's career. And it will be the first time the world hears from Fed officials since the collapse of Silicon Valley Bank, thanks to a cosmic twist of timing. (Fed staff are typically under a blackout period in the run-up to policy meetings. The previously scheduled blackout, in which they don't speak to the press, began March 11 — exactly one day after SVB went belly-up.) 
In all likelihood, the Fed is going to raise interest rates by a quarter of a percentage point, or 25 basis points, underscoring its commitment to fighting inflation.
But because of the banking turmoil, there is a chance the Fed would decide not to raise rates this time around. Goldman Sachs economists said this week that they expect Powell and Company to hold rates steady. 
That's because the Fed's aggressive rate hikes over the past year have eroded the value of bonds that make up a large portion of banks' portfolios, and Wall Street folks are worried about those unrealized losses growing. 
If the Fed feels the crisis has passed, Alpert said, it will be emboldened to go for the quarter-point hike. If not, he expects the committee to say they are pausing. 
"They have an argument to pause that is pretty damn strong," Alpert said in an email, noting that prices of food and housing are coming off recent highs. 
He added: "But what a tap dance Jay Powell is going to have to do at the press conference tomorrow" — covering the banking situation, rising layoffs, inflation and employment data, etc. "Hope he's up to it!"
RELATED COVERAGE: 
The median price of a home in the United States was lower last month than it was a year earlier — the first year-over-year decline since 2012.  
The median existing-home price was $363,000 in February, down 0.2% from a year ago. 
At the same time, sales surged last month for the first time in a year, even as mortgage rates remained elevated.
As Bed Bath & Beyond clears out hundreds of its cavernous stores in its bid to avoid bankruptcy, it's creating a rare opportunity for rival retailers. 
Despite all the talk of the internet killing brick-and-mortar stores, the spaces Bed Bath & Beyond occupy have become rare and precious. That's because there's been little new retail development since the 2008 recession. 
But some businesses — gyms, big-box retailers, etc — still crave space.
Already, TJ Maxx, HomeGoods and Ross have swooped in to claim Bed Bath & Beyond's leases, my colleague Nathaniel Meyersohn reports. Other interested parties include Burlington, Five Below, Nordstrom Rack and budget gym Planet Fitness, according to retail landlords and real estate analysts.
"A lot of great real estate is going to come available into a market where there's been no vacancies," said Brandon Isner, the head of retail research at CBRE, a commercial real estate firm. "It will not take long for retailers to occupy those spaces."

In short: Bad news for one brand means opportunity for another.

"The biggest source of new store locations comes from other retailers closing stores," Burlington CEO Michael O'Sullivan said on an analyst call in February. "So many of our most productive locations were formerly Circuit City or Toys 'R' Us or Sports Authority."
(R.I.P.)
It is a tiny but discernible silver lining for those of us mourning Bed Bath & Beyond's well-documented decline that the brand's giant, warehouse-like carcasses will soon be filled, once again, with mountains of discounted merch and/or creaky weight machines and sweaty gym rats.
🤖 Google is opening access to Bard, its new AI chatbot tool that directly competes with ChatGPT.
📱 Security experts say the US government's concerns over TikTok appear to reflect only the potential for the app to be used for foreign intelligence — not that it has been. 
🦊 A Fox News producer filed a pair of explosive lawsuits against the right-wing channel, alleging that the network's lawyers coerced her into providing misleading testimony in Dominion Voting Systems' $1.6 billion defamation case against the company. Meanwhile, Dominion lawyers claimed that Rupert Murdoch and his son, Lachlan, instructed Fox News after the 2020 election to "shut down the talk of fact-checking" and "let the hosts run wild" with election conspiracies.
Last updated March 21 at 7:00 PM ET