Tonight: Twitter's advertising exodus is a body blow. Plus: Adidas reveals how much its break-up with Ye is costing it. Let's get into it.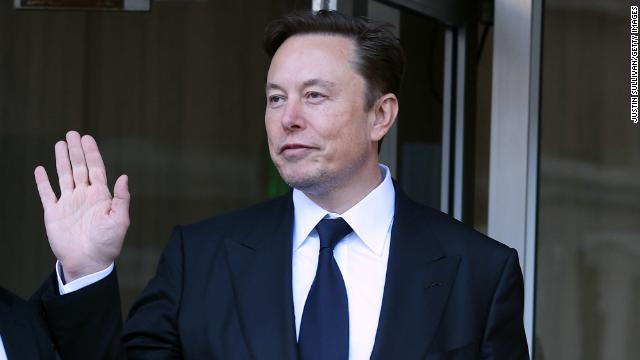 It's no surprise that things aren't going great for Twitter. Since Elon Musk took over the company at the end of October, advertisers and users have fled while trolls, misogynists, racists and antisemites have been allowed back on the platform. Anecdotally, I can tell you the experience of Twitter is just suckier (and it wasn't even all that great before).
But my colleague Clare Duffy got her hands on data that illustrates just how bad it really is.
Here's the deal: More than half of Twitter's top 1,000 advertisers in September were no longer spending on the platform in the first weeks of January, according to data provided to CNN by digital marketing analysis firm Pathmatics.
Some 625 of the top 1,000 advertisers, including Coca-Cola, Unilever, Jeep and Merck, had pulled their ad dollars from the platform as of January, according to estimates from Pathmatics. The brands did not immediately respond to a request for comment.
Twitter, which eliminated much of its media relations team during last year's layoffs, did not respond to a request for comment.
Why it's a big deal: In 2021, advertising brought in $4.5 billion for Twitter, accounting for the vast majority of the company's revenue.
But advertisers, naturally, started to worry when Musk took over and started easing up on content moderation. If you're a global brand, you really don't want to see your ads popping up next to hate speech.
Since his takeover, about 80% of Twitter's staff have been laid off, fired, or have left voluntarily, according to a CNBC report, which said the company has just 1,300 workers left, down from 7,500. (Musk disputed those figures, saying there were 2,300 full-time employees, but either way it's a massive headcount loss.)
Among those cuts were people who oversaw relationships with advertisers, and once brands lose their connection to the company, it becomes a lot harder to do business.
Now, Musk appears to be trying to win them back — he kinda has to, after shelling out $44 billion to buy the company. Twitter reportedly offered a Super Bowl "fire sale" deal. And it has also partnered with a third-party "brand safety" firm that says it can show advertisers if their ads appear alongside inappropriate or unsafe content on Twitter.
But, Clare notes, the pushback continues. On Thursday, a coalition of rights groups renewed calls for companies to stop advertising on Twitter, following a research report that raised concerns about ads "appearing next to toxic content" from previously banned accounts.
RELATED: Former Twitter employees are launching their own rival platforms.
This is just my semi-annual reminder to all of you outside of New York City that living in New York City is expensive.
Even in January, a month that's usually slow for the housing market, rent in Manhattan went up by double-digit percentages from a year earlier.
See here: The median (median!) cost of a one-bedroom in the city last month? $4,000. A two-bedroom? $5,532 — that's about $66,000 in cash for a whole year.
(But like, what are we gonna do, not live in New York? Hard pass.) 
Break-ups are always painful, and often expensive. But when your partner turns toxic on you and starts spouting antisemitic conspiracies … yeah it's time to go, no matter the pain.
That's the lesson Adidas is coping with now.
On Friday, the Germany-based brand said that its breakup with Ye, fka Kanye West, is expected to cost it $1.3 billion in lost sales this year.
That news sent shares down more than 12%.
Inventory of Yeezy-branded apparel and sneakers could be written off entirely, Adidas said, resulting in a possible $749 million loss this year.
"The numbers speak for themselves. We are currently not performing the way we should," said the newly appointed CEO Bjorn Gulden.
ICYMI: Adidas ended its nine-year partnership with Ye in October after he went on a violent anti-Jewish tirade on Twitter.
The company responded saying it doesn't tolerate antisemitism or any other hate speech, calling Ye's remarks "unacceptable, hateful and dangerous." Which is true. We're not going to repeat them here, but the details are here if you want to know more.
Adidas signed Ye away from rival Nike in 2013, in a major coup for the brand. In 2016, Adidas called the tie-up "the most significant partnership ever created between a non-athlete and an athletic brand."
Significant indeed! Unfortunately for Adidas, that significance has now become a burden.
The German sportswear giant doesn't have a ton of options for what to do with its glut of Yeezy-branded shoes and apparel. It could try to strip the branding and sell them at a discount, though that brings its own expenses and headaches. 
My colleague Jordan Valinsky has more. 
🍬 What was the deal with that M&M's "clam" commercial? 
🎈 The US government is restricting six companies tied to the Chinese army's aerospace programs from obtaining US technology.
💰 Secure 2.0, the new retirement rules that lawmakers passed in late December, includes several provisions that will make the tax-free savings vehicle known as a Roth more accessible and flexible. 
🔌 Ford is investing $3.5 billion to build a battery plant in Michigan, a move that will help the automaker take advantage of more federal tax credits for electric vehicles.