Big Tech investors are having a bit of whiplash. Plus, what you need to know about tomorrow's US jobs report. Let's get into it.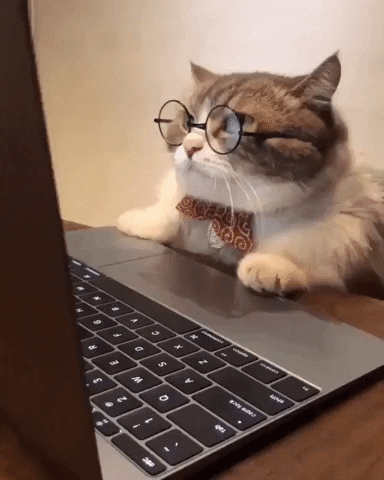 You know when you're a kid, and you're all pumped up because your birthday is coming up and you're throwing a party and it's going to be the most incredible day ever, but then the day arrives and it's not what you imagined so you fall down and wail over the injustice?
That's more or less the story of the Nasdaq today. 
Here's the thing: Investors had been overly hopeful about tech earnings coming after the close of trading Thursday. The Nasdaq, which is heavily weighted toward tech companies, rose 3.3% during trading hours after Facebook's parent company outperformed expectations. But then came earnings from Apple, Google and Amazon... 
Apple reported a rare revenue decline for the quarter and a steeper drop than Wall Street analysts had expected after facing a shutdown at a key Chinese factory late last year.

Key quote: "Apple delivered a shockingly weak earnings report," Investing.com senior analyst Jesse Cohen said. "Apple's poor quarter proves that even the most valuable US traded company isn't immune to the challenges facing the tech industry at large."



Google's parent, Alphabet, saw a steep decline in profits as its ad sales machine came under pressure from heightened competition and advertisers tightening spending.

Alphabet "underperformed our expectations across almost all business units," Cohen said.



Amazon actually reported solid revenue for the final three months of last year — a 9% increase from the prior year, which beat Wall Street's expectations. Buuuuut the company indicated sales for the current quarter could be lighter than analysts expected. Shares fell nearly 4% after the market closed. 

 
What happened?
By reporting earnings a day before its rivals, Meta managed to set the tone for Big Tech. And it's hard to overstate just how amped Wall Street was that Meta's results beat expectations. 
ICYMI: On Wednesday, Meta didn't report a slam-dunk quarter, per se. But the fact that its ad business fell only 4% from the year-earlier period triggered some relief about the state of the digital advertising industry. Plus, CEO Mark Zuckerberg touted his plan to focus on "efficiency" going forward. Oh, and the company is also going to boost its share buyback budget by a cool $40 billion — investors like that a lot. Revenue was flat, but not down, and that's what passes for good news these days. 
All of that helped send shares of Meta up 23% Thursday — its biggest gain in nearly a decade.
Just to underscore how big of a deal that stock movement is: When Meta goes up 23% that is equal to about $100 billion in market value. That is more than the vast majority of state budgets. It's equal to roughly the entire market cap of Citi, America's third largest bank by assets. In a single day. 
THE TAKEAWAY
Big Tech took a beating last year as inflation, higher interest rates and supply chain hangovers weighed on business. All of the major tech companies, minus Apple, have resorted to layoffs and other cost-cutting measures that please shareholders. 
Those layoffs and ]downbeat outlooks signal, for better or worse, that tech is no longer immune to economic changes, my colleagues Nicole Goodkind and Clare Duffy write. 
An unopened, first-generation iPhone from 2007 is going up for auction. This obsolete brick of a phone, which was originally priced at $599 (plus, like, you had to have an AT&T phone plan — remember that?), is expected to fetch a ridiculous sum of $50,000.
AKA the cost of 50 brand new iPhone 14 Pros.
What a week.
We had the Fed meeting. We had JOLTS, aka the "quit rate," that tells us how many people are leaving their jobs on purpose. Beyoncé announced her 2023 tour… what more can the universe bestow?
Oh yeah, the January jobs report, which comes out tomorrow morning.
Here's the deal: The closely watched report is expected to show 185,000 positions were added to the economy last month. Although that would be the smallest monthly gain in about two years, it's still a brisk pace of hiring. Pre-pandemic, the monthly average was around 183,000, my colleague Alicia Wallace writes. 
All in all, that'd be a solid result, especially when you read that number in the context of all the other key figures released this week: 
Job openings rose unexpectedly to 11 million — the highest level since July, according to the Job Openings and Labor Turnover Survey known as JOLTS.

That figure was up significantly from the 10.4 million openings in November and well exceeded economists' expectations of 10.3 million.

That means we're back to having 1.9 jobs open for every one person looking for work. That's a great thing for workers, but not quite what the Federal Reserve had in mind as it tries to put a damper on inflation.
And yet, the Fed's aggressive rate hikes have helped bring inflation down.

Here's our boy Jay Powell from yesterday's Fed policy press conference: "I would say it is a good thing the disinflation we have seen so far has not come at the expense of a weaker labor market. But I would also say the inflationary process you see under way is really at an early stage."

Translation: We're happy the labor market is strong, but we're not declaring victory on inflation yet because workers will demand more money (as they should) and that's going to keep upward pressure on prices. 
Bottom line: The labor market may not be as white-hot as it was a few months ago, but it's still in good shape despite all the interest rate hikes that should slow down business expansion. In December, the US unemployment rate fell back down to 3.5%, once again matching a 50-year low. It's expected to tick up just slightly to 3.6% tomorrow. 
And despite high-profile layoffs — mostly by large tech firms — those cutbacks haven't become widespread.
Key quote: "It's a very interesting time where it's really not clear whether what we're seeing is a welcome, healthy rebalancing of the labor market — or a more worrying stall," said Julia Pollak, senior economist with ZipRecruiter.
🏡 Mortgage rates have fallen for a fourth week in a row.
📉 Shares in Gautam Adani's businesses plunged further on Thursday after an attempt by the Indian billionaire to reassure panicking investors failed to halt a stock market meltdown that has wiped $100 billion off the value of his conglomerate.
🛢 Shell made a record profit of almost $40 billion in 2022, more than double what it raked in the previous year, after oil and gas prices soared following Russia's invasion of Ukraine. Meanwhile, Greenpeace activists scaled a Shell oil platform that is being transported to the North Sea, staging a peaceful protest against the fossil fuel industry.