Tonight: We're back on our SBF drama. Plus: Airbnb is riding high. Let's get into it.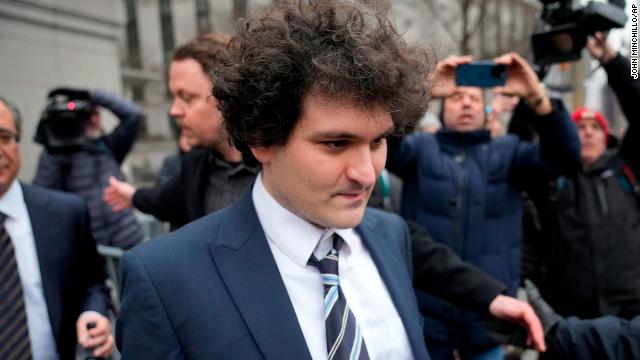 Two medium-big developments in the SBF saga today:
The judge in his case unsealed the names of two people who co-signed his epically huge $250 million bond package.

Federal prosecutors seem pretty ticked off and want the judge to put much tighter restrictions on the crypto entrepreneur's internet access.
Here's the deal: In documents made public Wednesday, the court revealed that two Stanford University academics — Larry Kramer, a former dean of the law school, and Andreas Paepcke, a computer scientist — each signed on as guarantors to help secure SBF's release on house arrest. 

Kramer and Paepcke signed bonds worth $500,000 and $200,000, respectively. Bankman-Fried's parents, both Stanford law professors, are also guarantors, and used their Palo Alto, California, home to secure the bond. (Under the terms of the deal, at least one of the guarantors couldn't be a relative.)
No one will have to pay a dime of that bond unless SBF fails to show up in court or violates some other conditions set by the judge. But it's still a big wager to place on your friend's 30-year-old kid after he's been charged with orchestrating what prosecutors have called one of the biggest financial frauds in American history.
In a statement to CNN, Kramer described Joe Bankman and Barbara Fried as close friends since the mid-1990s. 

"During the past two years, while my family faced a harrowing battle with cancer, they have been the truest of friends ... In turn, we have sought to support them as they face their own crisis."
He added that he had no business dealings or interest in the case "other than to help our loyal and steadfast friends."
Paepcke didn't immediately respond to a request for comment. 
Why it matters
The identities of the two co-signers on the bond — one of the largest pre-trial deals ever, according to prosecutors — had been kept under wraps at the request of Bankman-Fried's attorneys, who cited concerns for their privacy and safety.
Several media outlets filed a motion to make them public, arguing that the public has an interest in knowing who provided SBF with financial backing "following this alleged massive fraud and political scandal, particularly given Mr. Bankman-Fried's close relationships with leaders of the financial industry, investors, prominent Silicon Valley billionaires, and elected representatives." 
The timing also coincides with a high-stakes bail hearing on Thursday.

Which brings us to update No. 2...
Federal prosecutors asked the judge to significantly restrict Bankman-Fried's use of cellphones, computers and the internet after they alleged he found "loopholes" in his bail conditions.
That request came days after prosecutors said Bankman-Fried contacted a former FTX employee who is a potential government witness. (Which, it kinda goes without saying, is a big no-no for someone facing federal fraud charges that could land him in prison for the rest of his life.) 
"There is now a record before the Court of a defendant who appears motivated to circumvent monitoring and find loopholes in existing bail conditions," prosecutors said in a letter to the judge.
Prosecutors proposed limiting Bankman-Fried's use of electronic devices to prepare for trial, allowing only a Gmail account, voice calls and SMS text messaging. He could use Zoom to communicate with this attorneys, they said.
They also asked the judge to limit Bankman-Fried to one computer and one cellphone, which would have monitoring systems. He would also have to make his devices available for search if there is a suspicion that he deviated from the bail conditions.
Prosecutors noted Bankman-Fried chose to use a VPN, or virtual private network, to watch the Super Bowl, even though it was readily available to watch in the US. (VPNs aren't uncommon, of course, but they can be used to disguise your computer, making it hard to track what you're up to. Again, mostly a problem only if you're under federal indictment or trying to avoid getting caught doing something you shouldn't.) 
Bankman-Fried's attorneys have told the judge that he did not transfer assets from FTX or Alameda accounts. He just wanted to watch the game like any red-blooded American, your honor. 
What happens next?
Legal experts tell me that if Bankman-Fried violated the terms of his bail by using the VPN, Judge Lewis Kaplan has the discretion to either impose stricter terms or revoke the deal entirely. (The former is more likely. The latter would get SBF booted from his cushy California house arrest and land him in a New York jail.) 
We'll know more tomorrow afternoon. SBF's hearing is scheduled for 2:30 ET. 
"Bankman-Fried does not seem to have a sense of the seriousness of his situation," said Howard Fischer, a partner at Moses Singer, citing Bankman-Fried's frequent public statements and engagement with media. "For someone facing considerable jail time, he seems to be very confident in his ability to talk his way out trouble."
My colleague Kara Scannell and I have more on all the SBF drama here.
Airbnb shares posted their biggest single-day gain ever after the company reported its first annual profit. 
Airbnb earned $1.9 billion in 2022, compared with a $352 million loss a year earlier. The fact that it did report a profit wasn't the surprise, but the result was better than expected. 
Wall Street was even more fired up by the company's first-quarter projections. Airbnb said it expects revenue of between $1.75 billion and $1.82 billion, up from $1.5 billion in the year prior.
The stock ended the day up 13.4%  its biggest one-day jump since the company went public in December 2020. 
☕ Howard Schultz declined Bernie Sanders' request to testify before Congress about Starbucks' compliance with federal labor laws. 
🧼 Olaplex, a hair care brand favored by TikTok and Instagram influencers, has been sued by several customers who allege its products caused "serious injury."
✈️ Lufthansa was "stabilizing" its flight operations after a company-wide IT outage led to a raft of flight cancellations and delays that stranded thousands of passengers.
🚘 Nissan is recalling more than 400,000 older SUV, van and pickup models in the United States because the badge on the steering wheel can break apart or detach when the airbag inflates.