An exclusive inside look with your free CNN account
🎤 She travels across the country and finds the guests who appear on CNN 
Monica Serrano, in Rockport, Texas, covers Hurricane Harvey devastation in 2017.
If you've ever relied on CNN for breaking news coverage or watched a CNN town hall event then you've likely seen the work of Monica Serrano and her team.
As an editorial producer for CNN's network booking unit, Serrano works with all shows across CNN to find guests central to stories dominating the news cycle — such as presidential candidates on the campaign trail, eyewitnesses and law enforcement.
Serrano, originally from Mexico, is now based in New York. Frequently, she's out in the field, covering stories where they are — recently Alex Murdaugh's trial in South Carolina and the events following Tyre Nichols' death in Memphis, Tennessee.
We caught up with Serrano when she was between assignments.
Tell us about a day in the life of a booker for CNN.
The truth is no two days are the same, as the work is dictated by the news of the day. Some days start off with a phone call telling me to "get on the next flight out" to cover the latest breaking news story or work on a CNN documentary, while others are dedicated to meeting and building relationships with publicists and leadership offices to book high-profile guests or authors. Other days might be dedicated to researching expert voices who can add a new perspective.
There's always someone that shows really want to hear from, and my team and I try our very best to make it happen — so the days are always exciting in one way or another!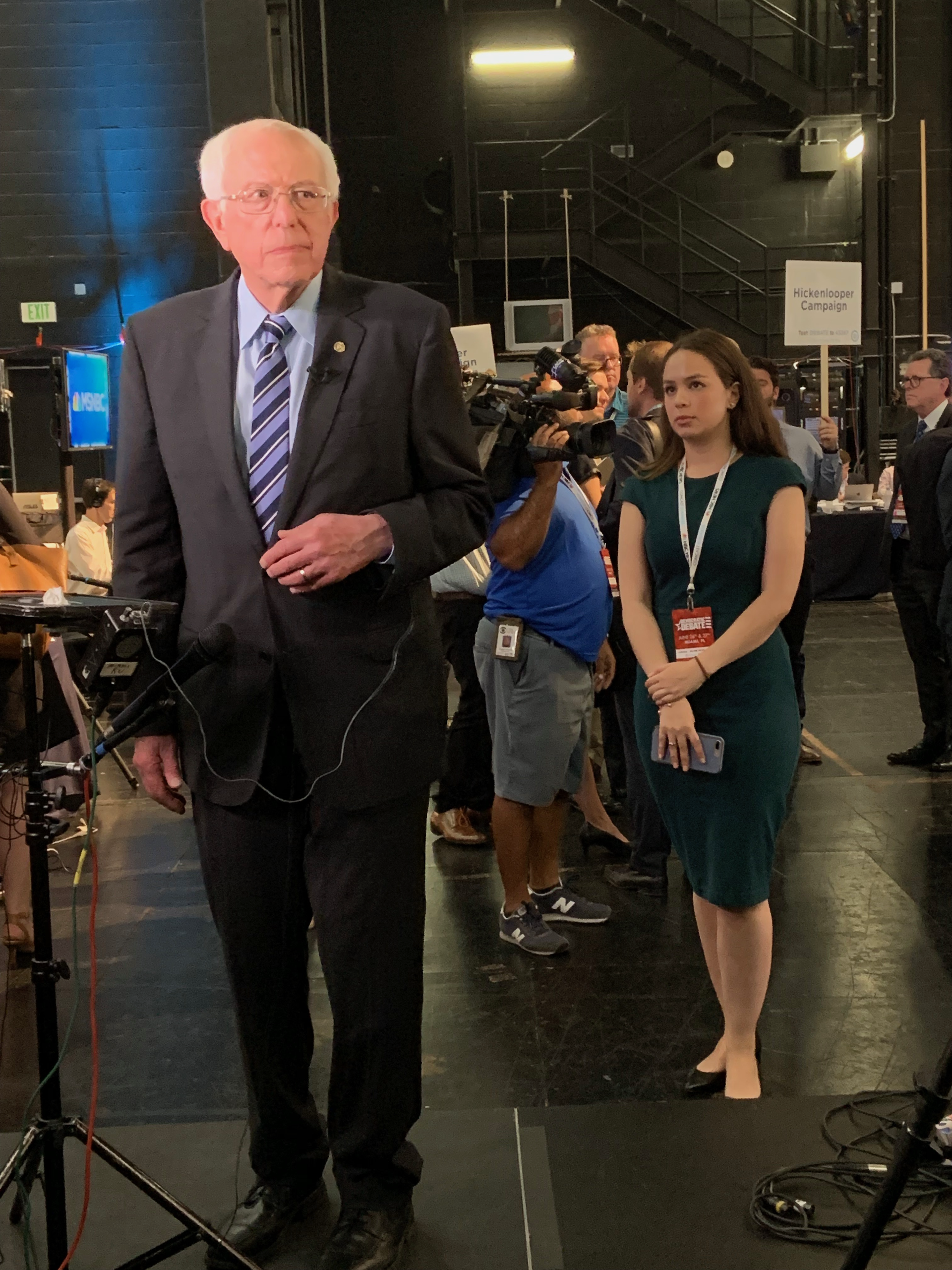 Serrano stands near US Sen. Bernie Sanders at the first Democratic presidential debate of the 2020 election cycle.
You've been with CNN for six years now. What inspired you to become a journalist in the first place?  
I have always been very curious, sometimes to a fault. I used to get in trouble in school as a kid for asking "too many questions." My interest in news itself came in large part from my dad, who was always talking to my younger brother and me about what was going on in the world. He talked to us about the importance of being informed and taught us about other cultures and customs.
CNN played a big role in my wanting to become a journalist as well. I remember my mom turning on CNN on 9/11, and holding my hand as we watched in disbelief. From a very early age, I wanted to help people tell their stories. I knew the impact that people's stories around the world had had on me, and I just knew that by doing this I would be able to have a bigger impact on the world.
You've worked on a lot of tough stories, including natural disasters and mass shootings. How do you gain the trust of the people affected to share their stories with CNN?
I honestly just listen. I think a lot of the time when people go through a traumatic event, they just want to be heard. I always approach people with respect and make clear from the beginning that I am there to help them share their story only if they want me to. I respect people's boundaries and give them room to think through everything. I answer all of their questions and walk them through the often daunting process of doing a TV interview from start to finish. This might go without saying, but patience and kindness truly do go a long way with people.
What is one of the biggest interviews you've booked for CNN?  
When I think of a big interview, I can't help but think of the interviews that have had the biggest impact on me personally. An interview that has stuck with me is one with Adrian Alonzo, the uncle of Ellie Garcia. Ellie was one of the children who lost their lives in the shooting in Uvalde, Texas. Even through the pain, the grief and the heartache of losing his 9-year-old niece, Adrian said he forgave the shooter … that Ellie would have wanted him to do that and not harbor hate in his heart. It was such an incredibly powerful statement, and one that I don't think I'll ever forget.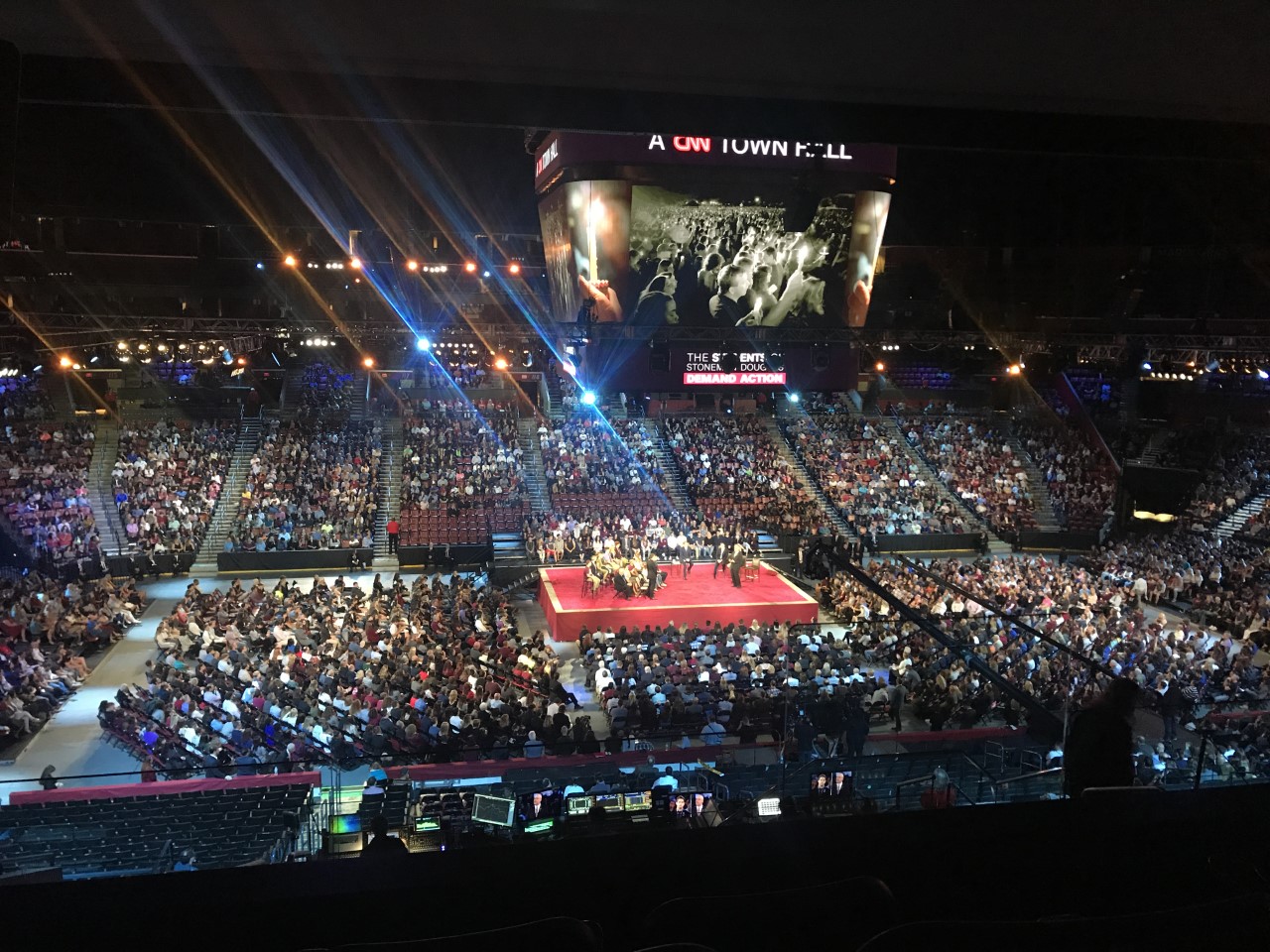 Serrano helped book the guests for a CNN town hall in Parkland, Florida, weeks after the 2018 mass shooting at Marjorie Stoneman Douglas High School.
CNN has sent you all over the country to cover breaking news. What are some of your most impactful memories?
Many moments in this job have completely changed the way I see the world and the people in it. One thing is for sure: This job has allowed me to see things and meet people that I otherwise never would have come across. I have driven through hurricanes, consoled grieving families who have lost their loved ones, met several global leaders, been part of presidential town halls, debates and even a royal wedding. 
You're constantly on the go, traveling from one big story to the next. What do you never leave home without? 
When you are traveling to cover breaking news, you never really know what you are going to be getting yourself into, so you have to be prepared for everything. Of course, I pack for whatever weather conditions are like in the place I am traveling to, but there are a few things in my suitcase that have become staples for every trip. I never leave home without multiple phone chargers and portable chargers, a swimsuit, a formal black dress, many more socks than I think I'll need, a bar of laundry soap (sometimes you are in a place much longer than you anticipated), baby wipes (especially when covering natural disasters, as running water can sometimes be an issue), a hat and a pair of black heels.
You've seen more of America in your time at CNN than most people will in a lifetime. How has that shaped your perspective as a journalist?
America is much bigger than I ever imagined. I know that people know it is a large country, but I promise it is 10 times bigger than you think it is! There is a perception that everyone in this country can kind of be grouped together somehow, and that everyone has the same main concerns. The truth is that this country is so incredibly diverse, and the concerns people have across the country are not just those that make it onto a voting ballot. Traveling around America has made me realize that things are often not as they seem, and that everyone has a story to tell. There are so many different sides to a story.
I think seeing so many different places, and getting to know such different people, has made me much more open-minded than I already was, and it has taught me to never make assumptions unless I want to be proven wrong. All of these lessons have made me a much better and more well-rounded journalist.
💳  CNN insider rec of the week
Brought to you by CNN Underscored
The best travel wallets make it easy to keep track of all your travel essentials. To help you find a great travel wallet for your next business or family trip, we looked at some of the most functional, beautiful and reasonably priced options out there. Read on to shop our favorite picks before your next trip.
- Written and edited by Leighton Rowell, Kyle Almond, Tricia Escobedo and Jessica Sooknanan
INSIDE CNN
An exclusive inside look with your free CNN account