An exclusive inside look with your free CNN account
📹  How CNN's live TV shows come together 
Brian Gierok during a live show in Atlanta's CNN Center.
A news program has many parts that you will never see, or even think about, as a viewer. Microphones, robotic cameras, scripts, earpieces — all these need to be in place and ready to go before the program begins. 
That's where Brian Gierok comes in. He's a technical operations assistant at CNN's Atlanta bureau. We recently asked Gierok to explain a little bit more about his job and how he got his start. Here's what he told us:
Tell us a bit about the daily duties of a technical operations assistant.
During my normal day, I usually get into the studio an hour before the show starts to set up many things, including the microphones, scripts and sometimes even set pieces. Once the anchor walks into the studio, I transform into the floor director for the show.
I help direct the anchors to look at the correct cameras, I make sure that they know where they're going next, and if the director needs anything, I make sure that it gets taken care of. My job is to be the liaison between the control room and the studio, making sure that everything is set up and ready to go both before the show and while we are on air.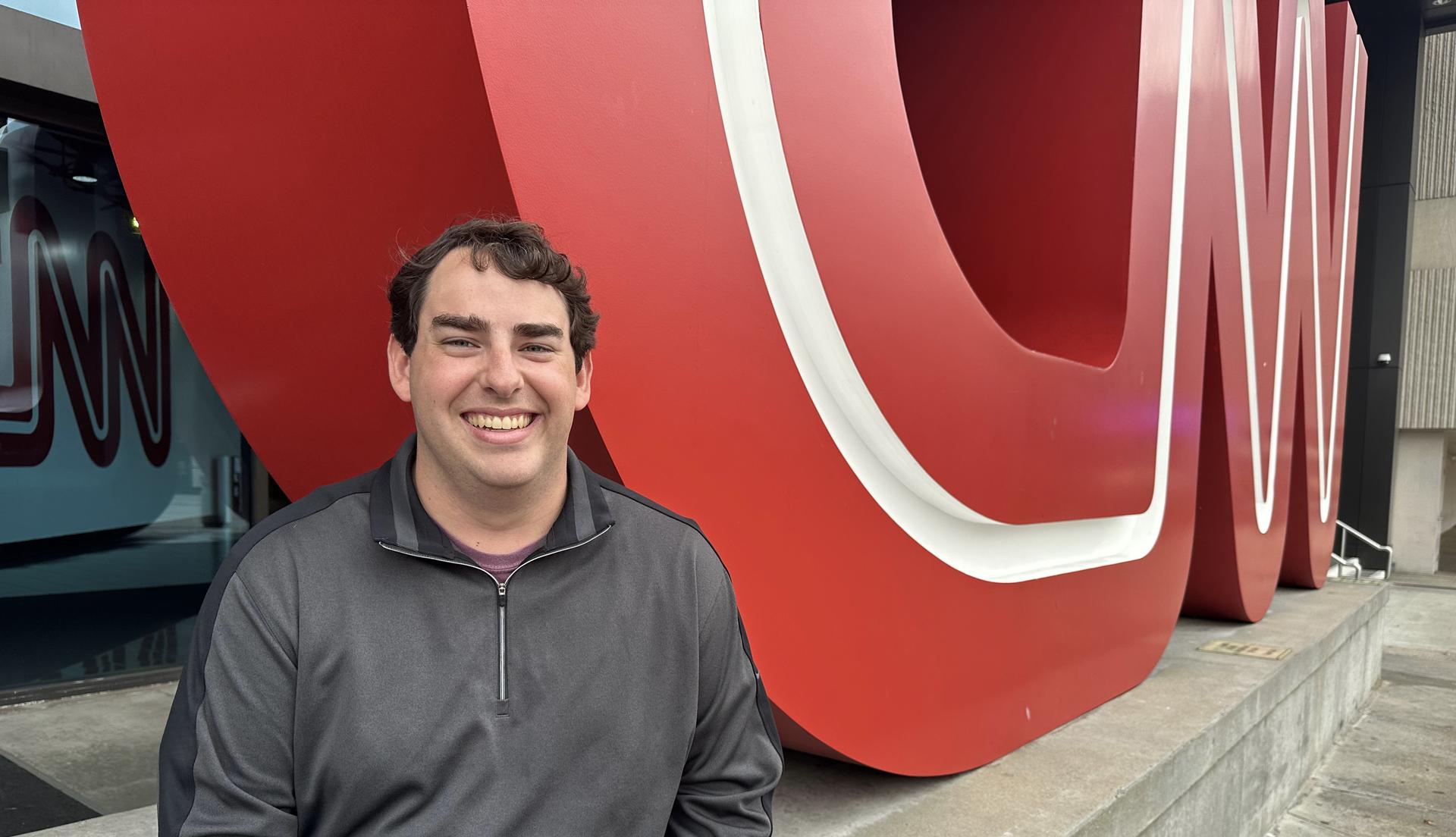 Brian Gierok outside the CNN Center in Atlanta.   
You work closely with on-air talent in Atlanta. What is that part of the job like? 
I would probably have to say the most surprising thing I have noticed about our anchors here is just how human they are. People like to put those on television on a pedestal, and I was guilty of it for the longest time as well. However, when the cameras are off, they want to have a good time at work just like the rest of us. They love having music being played during the breaks, they love talking about their kids or something crazy that happened to them this weekend, and they want to hear about us and how our family is doing at home. It just makes coming to work with them better than sitting in a cubicle every day.
What do your friends and family find the most surprising about your job?
One thing that people always find surprising is how all the moving parts required to put on a show come together.  They always ask, "How do the anchors know where they are supposed to be next?" or "How do you know what mics (microphones) to put on them?" They just find it so surprising that the different puzzle pieces come together and everything goes so smoothly.
How did you get your start at CNN?
While I was studying journalism at the University of Georgia, we were always told about CNN in Atlanta and how that is the place to go if you want to work in this industry. Once I graduated, it was one of the first places I applied to — and here we are! It's crazy though because I started here at CNN in January 2020 right before the pandemic, so I was only able to get to see the building buzzing with people for a couple of months until everything was shut down. I love that we are back in the swing of things again, because I truly missed hearing the chatter throughout the various newsrooms.
Where do you see yourself in five years?
When I first started this job, we were asked what we wanted to pick as a "major" and a "minor" to train in since this is an entry-level position. Since I have done some camera work in the past, I decided to pick studio operations where I would have the chance to run the robotic cameras for the shows and eventually operate the jib (overhead camera) and steady cameras that are throughout the studios. 
Hopefully once I finish my training, a position will open up in the department and I can get into it. But there are so many opportunities throughout this company, I could be anywhere.
💳  CNN insider rec of the week
Brought to you by CNN Underscored
Amazon has released its first e-reader with note-taking capabilities, the Kindle Scribe, and we put it to the test. We found that it makes note-taking easy and fun no matter what you need it for. Check out our full review right here.
- Written and edited by Kyle Almond, Tricia Escobedo and Jessica Sooknanan
INSIDE CNN
An exclusive inside look with your free CNN account