As China reopened its doors to the world, much of the world wondered whether they should leave theirs open to China.
Last week, in a major step towards ending the border restrictions that have shut the country off from the rest of the world for nearly three years, China announced it would drop quarantine requirements for inbound travelers from January 8.
For Chinese citizens living abroad, this decision means the chance to reunite with family for the first time since the pandemic began. No longer faced with the prospect of China's costly and labyrinthine restrictions for international arrivals, many are planning their trips home.
Others are planning trips away. Ctrip, a travel booking site in China, said searches for popular overseas tourist destinations on the platform jumped 10 times within an hour of the announcement of the new policy. Chinese social media was flooded with celebrations of the long-awaited travel relaxations.
But as many in China celebrated, other countries grew jittery. Swiftly after Beijing's decision, the US announced that it will require all travelers from China to take a test no more than two days before flying, and present proof of a negative result to their airline before boarding. This is the first time since June 2022 that the US has imposed testing requirements for new arrivals.
The new requirements, which come into effect on January 5, will apply both to passengers flying directly to the United States from China, Hong Kong and Macau, as well as to passengers flying through popular third-country getaways, including Seoul, Toronto and Vancouver.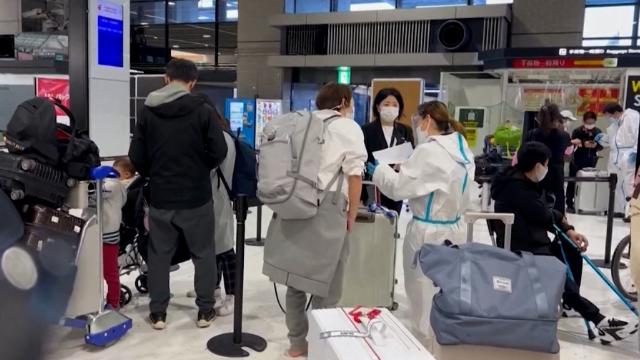 Governments around the world re-introduced testing requirements for Chinese travelers. 
American officials expressed deep concerns about China's lack of transparency surrounding the most recent surge of cases, particularly the absence of genome sequencing information that could help detect new strains of the virus.
"We know these measures will not eliminate all risk or completely prevent people who are infected from entering the United States," a federal health official said. Nonetheless, "taken together they will help limit the number of infected people and provide us an early warning about new variants."
Other countries quickly followed, spurred by the same fears of new variants. Japan, Australia, South Korea and the United Kingdom all imposed testing requirements on arrivals from China. Some EU nations, including France and Italy, took the same decisions independently. The bloc will meet on Wednesday to decide on a coordinated policy.
However, the variant now driving the wave in China – predominantly the BF.7 variant of Omicron – has been circulating in the populations of many of these countries for much of the past year. The combination of high rates of vaccination and prior infection mean many of these countries have a degree of "hybrid immunity" to the variant circulating in China, according to Paul Hunter, professor of medicine at the University of East Anglia.
"At a global scale, this variant does not appear to have any growth advantage against other variants and is in decline globally," Hunter told the Science Media Center.
Professor Francois Balloux, director of the Genetics Institute at University College London, told CNN that, given China's relatively low levels of prior infection and vaccination compared to other nations, "there will probably be little pressure on the virus to evolve" in the immediate future.
Some government officials also doubted that the rush to impose restrictions on Chinese travelers would make other countries safer. Australia's Chief Medical Officer Paul Kelly revealed that the country's decision was made despite his advice that it wasn't necessary.
"Based on available information, and in the absence of a specific threat from a variant with increased pathogenicity and immune escape, I do not believe that there is sufficient public health rationale to impose any restriction or additional requirements on travelers from China," Kelly wrote in a letter dated December 31, and published on the government website on Tuesday.
While many governments may be taking a "better safe than sorry" approach, there are fears that these targeted restrictions could stoke racism and xenophobia, in the absence of clear evidence of their effectiveness.
"I don't see any convincing reason to justify this move," said Yanzhong Huang, senior fellow for global health at the Council on Foreign Relations. "So far we don't have any evidence supporting whether there are indeed such variants emerging in mainland China." He added that other countries, like Australia, are "swimming in Covid," but don't face the same restrictions.
Meanwhile, the recent wave may already have peaked in some of China's cities. A study published last week in the Frontiers of Medicine journal said mathematical modeling predicted the latest wave of infections would pass through China's major cities, including Beijing and Shanghai, by the end of 2022.
But, while some cities may have some temporary respite, rural areas are expected to be hit hard by the virus soon.
The Lunar New Year beckons. For many, the week-long holiday later in January is the chance to reunite with family members for the first time since the pandemic began. But hundreds of millions of people traveling across the country to celebrate – and the spike this is likely to cause – may test just how prepared China is for life after zero-Covid.
IN OTHER NEWS

While the world waits to see whether a "China variant" materializes, the US Centers Disease Control and Prevention warned Friday of a new Omicron strain taking hold in large parts of America: XBB.1.5. Several new BQ variants had looked set to edge out the dominant BA.5 strain, but now the CDC's variant dashboard showed that XBB.1.5 could soon sweep the field. The CDC estimates that XBB.1.5 has more than doubled its share of Covid infections each week of the last four, rising from about 4% to 41% of new infections over the month of December. In the Northeast, the CDC estimates it is causing 75% of new cases. "For a few months now, we haven't seen a variant that's taken off at that speed," said Pavitra Roychoundhury, director of Covid-19 sequencing at the University of Washington School of Medicine's virology lab.
Global Cases

661,874,819

 

Global Deaths

6,695,706

 

US Cases

100,847,402

 

US Deaths

1,094,010
Source: Johns Hopkins University
Q
Why is XBB.1.5 spreading so fast?
A
XBB.1.5 has an additional trick up its sleeve that seems to be fueling its growth. It has a key mutation at site 486, which allows it to bind more tightly to ACE2, the doors the virus uses to enter our cells.
"The mutation is clearly letting XBB.1.5 spread better," Jesse Bloom, a computational virologist at the Fred Hutchinson Cancer Center, wrote in an email.
The mutation was first flagged by Bloom, who studies the evolution of viruses and viral proteins, as one that could be important for viral fitness. It has been confirmed by Yunlong Cao at Peking University.
"It's got a better ability to get into cells," Roychoudhury said, which means it's more infectious.
Still, experts say it's hard to know how much of XBB.1.5's growth can be attributed to properties of the virus and how much simply to good timing. Cases were expected to rise slightly after the holiday season – but the rate of this variant's spread has still caused alarm.
Send your questions here. Are you a health care worker fighting Covid-19? Message us on WhatsApp about the challenges you're facing: +1 347-322-0415.

XBB.1.5 has been found to be highly immune evasive, rendering antiviral treatments like Evusheld ineffective.
But the updated bivalent boosters provide greater protection. Michael Osterholm, director of the University of Minnesota's Center for Infectious Disease Research and Policy, said the updated shots can "provide a level of immunity that may not prevent you from getting infected but may have a significant impact on whether or not you become seriously ill and die."
"Right now, the most recent data we have shows that for those who have the bivalent vaccine, they have a three-fold lower risk of dying than those who don't," said Osterholm.
Our top tip this week is to get your updated booster if you haven't already. According to CDC data, only 15% of eligible Americans have had this shot. As new variants continue to circulate, it's important to stay protected this year.
CORONAVIRUS: FACT vs FICTION