Welcome back. Tonight: Updates from China's brewing demographic crisis. Plus: A severance package that'll make you feel a little sick. Let's get into it.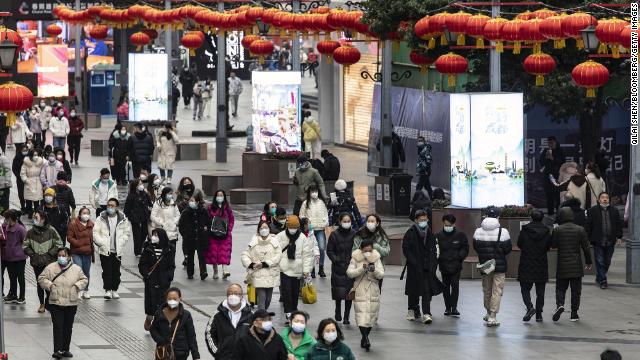 China's population, along with its economic output, is shrinking, pushing the country headlong into a demographic crisis with huge implications for the global economy.
The news: Deaths outnumbered births in China last year for the first time in more than 60 years. At the same time, the country saw its worst annual economic performances in nearly half a century, growing just 3% for the year — far below the government's target of 5.5%.
China's 2022 population count stands at 1.4 billion, down about 850,000 from the year before, according to government statistics.

A decline in population hasn't happened since 1961, when Mao Zedong's disastrous "Great Leap Forward" triggered one of the worst famines in recorded history. 

And despite a push by the government to encourage more couples to have children, China's birth rate fell to its lowest level on record. The birthrate in 2022 stood at 6.8 births per 1,000 people (down from 7.5 per 1,000 a year earlier). 

It's now all but certain India will surpass China to become the world's most populous country.   
What happened?
For one, the country adapted to Beijing's population-control efforts.
Although China scrapped its controversial "one-child" policy in 2015, its birth rate has steadily declined. That's at least partly because of the way the culture of child-rearing arranged itself around the policy.
Consider that the people having children today were most likely only children themselves — the sole beneficiary of their parents' resources.

There's a sense among many in China that having a second kid deprives the first of the best prospects for success in a world where the cost of living and educating children is ballooning.

Generations of one-child families are also grappling with being the sole caretaker of aging parents at the same time they're starting families of their own. 
Compounding the crisis: A graying population
China's working-age population peaked in 2014. The elderly now make up a fifth of its 1.4 billion people. 

It's a trend that won't be easy to reverse: The number of people aged 65 and above is projected to surpass China's working-age population by the year 2080, according to analysis published by the World Economic Forum last year. 

Key quote: "The Chinese economy is entering a critical transition phase, no longer able to rely on an abundant, cost-competitive labor force to drive industrialization and growth," said HSBC chief Asia economist Frederic Neumann. 

"As the supply of workers begins to shrink, productivity growth will need to pick up to sustain the economy's heady pace of expansion."
And then, of course, there's the pandemic...
All of these deep structural issues have been building for years. Covid-19 only made the economic impacts worse.
For the better part of three years, Beijing imposed a draconian zero-Covid policy that sowed deep resentment and eroded the Communist Party's credibility. It also badly stalled China's economic growth, prompting the the Party to scrap the policy last month.
Bottom line: The reversal of Zero Covid could be a shot in the arm for economic growth (if it doesn't backfire and lead to massive outbreaks), but it will hardly be enough to combat the demographic crisis that's been building for generations. 
My colleague Simone McCarthy has more. 
Imagine getting fired in a very public, fairly embarrassing fashion, but then getting handed a $20 million check on the way out. Such is the life of mega-conglomerate executive Bob Chapek...
Chapek, aka Bob II, got the gig of a lifetime in February 2020 when he was named CEO of Disney. But that was just before, you know, everything happened. So after nearly three years marked by a mix of bad luck and poor judgment calls, Chapek got the boot. He's being replaced by none other than his predecessor, Bob I, aka Bob Iger. 
Chapek's walking out with a severance pay package worth roughly $20 million, according to a regulatory filing. That's in addition to the $24 million he made last year — a $2.5 million base salary plus millions in stock options and awards. He made $32.5 million in 2021.
Crypto's biggest critics often argue that the digital assets have virtually no intrinsic value, that the technology underlying it has failed to prove its usefulness, and that the market for digital currency is built on little more than hype. 

And that's all true, according to a report by researchers at Starkiller Capital, a crypto-focused hedge fund.
But it doesn't mean you can't make money from it. 

Crypto trading is essentially a "hot ball of money" bouncing from one digital asset to the next, driven by an ever-shifting narrative about innovation and potential future value, according to the paper's authors, Leigh Drogen, Corey Hoffstein, and Kevin Otte. At any given time, they write, there are a few dominant narratives driving cash into the crypto space, amplified by the fact that crypto market participants are "very online." 

Step back:  The still-young crypto industry is in awkward phase.
Skeptics and naysayers have more ammunition than ever to cast doubt on, like, the whole concept crypto. 

Devotees are on the defensive. They say the tumult of the past year — a so-called "crypto winter" — is the kind of creative destruction that any new technology must endure to weed out the bad players.
But these aren't just any bad actors ... the crypto winter has been marked by the collapse of industry giants including Celsius, BlockFi, and FTX, potentially one of the biggest investing scandals of all time. 

Meet the crypto agnostics
It might seem odd for a digital-asset-focused firm to be publishing a report on how crypto is essentially a hype beast with no fundamental value proposition that also happens to be "rife with insider trading and market manipulation." But the absence of fundamentals is hardly a problem for Starkiller, a quant shop that relies on mathematical modeling and algorithms, not human judgment, to make investment decisions. 

"We may hold a little bit of a different view from some of the more... religious-type crypto people," Drogen said. "When we talk about utility and intrinsic value, there's not much there yet... But we are definitely true believers in the long-term trajectory of the actual utility."

In short, crypto is an emerging technology and investment that isn't for everyone — not yet, at least. For now, crypto is a pure momentum play — and not one for the faint of heart. 

For the uninitiated: Momentum trading is in an investment strategy that aims to capitalize on a trend. If a stock is going up, you should buy it because it has momentum to keep going up, the thinking goes. 

It's been an especially popular strategy for retail traders who got their start during the bull run the early pandemic era. See a stock going up, buy the stock, make money. See a stock going down, short it, make money. Investing is easy! 

Of course, nothing goes up forever, as many learned the hard way when the intense, Reddit-fueled FOMO driving up meme stocks like GameStop and AMC evaporated.  

The crypto trading world functions in much the same way. 

In Starkiller's study, digital assets that performed the best over a 30-day period tended to continue to outperform over the subsequent seven-day period. That's the momentum at work. 

Trading strategies that exploit this phenomenon have consistently delivered excess returns relative to bitcoin, which the researchers used as a benchmark.

The momentum effect becomes self-fulfilling "as market participants attempt to front run the hot ball of money."