Tonight: It's the second US aviation crisis in less than a month. Plus: It's time to choose sides in the Great Kitchen Appliance war. Let's get into it.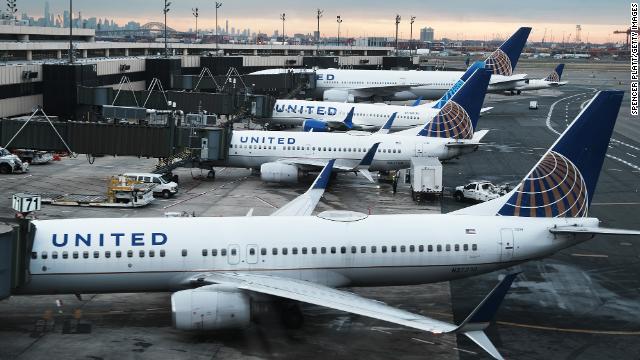 If the past few weeks of shockingly bad news for airlines have set the tone for travel in the year 2023, well, God help us all. 
Early Wednesday morning, thousands of flights were delayed or canceled after a vital computer system managed by the Federal Aviation Administration went offline, for reasons that, as of this writing, remain a mystery.
For around 90 minutes, no planes in the United States were allowed to take off. That set off a cascade of delays and cancellations at a time when airlines were just beginning to shake off their winter holiday hangovers. 
The computer system is known as NOTAM, or Notice to Air Missions. It sends alerts to pilots to let them know of conditions that could affect the safety of their flights, my colleague Chris Isidore explains. 
(This system is separate from the air-traffic-control system that keeps planes a safe distance from one another. That system has also been known to go down on occasion, though when it does it's typically limited to one region of the country. The NOTAM system, however, is national, so when it went down, the whole country had to be grounded.) 
"It's like telling a trucker that a road is closed up ahead," aviation consultant Mike Boyd tells Chris. "It's critical information." 
NOTAM messages could include information about lights being out on a certain runway, or a tower near an airport not having the required safety lights working, or an air show taking place.
WHAT HAPPENED? 
We don't yet know how or why NOTAM was knocked offline.
There's no evidence of a cyber attack, Transportation Secretary Pete Buttigieg said. But he's not ruling that out as a possibility. 
Others speculated the failure was a good old-fashioned case of America's digital infrastructure running on outdated technology. 
DOMINO EFFECT
A 90-minute delay is a headache when it affects just one flight. But a 90-minute delay on every take-off nationwide is...a nightmare. 
As of Wednesday afternoon, more than 8,100 flights within, into or from the US had been delayed; more than 1,200 were canceled, according to the flight-tracking site FlightAware.
The cancellations had a triggering effect for frequent fliers. For the second time in less than a month, Erin Potrzebowski saw her Southwest flight scrapped, she told my colleague Caroll Alvarado.
Potrzebowski was scheduled to catch a Southwest flight from New Orleans to Chicago on December 29. Southwest canceled that flight amid a weeklong debacle that saw the airline canceling thousands of trips. (Potrzebowski  said she rebooked her trip on American Airlines for an additional $400, and she's still waiting to for reimbursement from Southwest). 
Today, Potrzebowski once again got caught up in the chaos. She arrived at Chicago Midway around 6 am, en route to New Orleans. That flight was canceled, of course. She was told to wait another 12 hours for her rescheduled departure. 
I've never experienced anything like the event today and like the Southwest event from a couple of weeks ago," Potrzebowski said. "It's common to experience weather-related issues, but I've never experienced mass cancellations that impact the entire country.
FTX officials overseeing its bankruptcy have recovered more than $5 billion in cash and other liquid assets that may be used to help repay customers, a lawyer for the failed crypto firm said during a bankruptcy court hearing Wednesday.
That disclosure significantly raises the estimated amount of funds FTX claims to hold. Last month, FTX lawyers submitted filings that showed the company and its affiliates had a total of $1.2 billion in cash.
The lawyers also said they had identified more than 9 million creditors — far more than earlier estimates of around 1 million.
News that the US government was considering a ban on gas stoves seemed to, um, light a fire under some lawmakers who don't want Uncle Sam telling them how to cook their dang dinner. 
ICYMI: Richard Trumka Jr, a US Consumer Product Safety commissioner, turned the heat up this week when he suggested that his agency could ban gas stoves because they have been linked to childhood asthma.
*cue the outrage machine*
"I'll NEVER give up my gas stove," GOP Rep. Ronny Jackson of Texas tweeted. "If the maniacs in the White House come for my stove, they can pry it from my cold dead hands. COME AND TAKE IT!!"
Joe Manchin, the conservative Democrat from West Virginia, called it a "a recipe for disaster."
"I can tell you the last thing that would ever leave my house is the gas stove that we cook on," Manchin tweeted. 
Let's clear the air on this whole gas stove fracas. 
Trumka confirmed to CNN today that "everything's on the table" when it comes to gas stoves, but he stressed that any ban would apply only to new gas stoves, not existing ones.
"We are not looking to go into anyone's homes and take away items that are already there. We don't do that," Trumka said. "If and when we get to regulation on the topic, it's always forward looking. You know, it applies to new products."
But also, let's be real about gas stoves. Yes, they are, without question, way nicer to cook on than their electric counterparts.  But there are legitimate health and environmental concerns linked to them, too. 
Trumka pointed to a study published last month in the International Journal of Environmental Research and Public Health that found almost 13% of current childhood asthma in the United States is attributable to gas stove use.
Gas stoves are used in about 35% of households in the United States. That's slowly changing. Last month, New York City moved to ban gas hookups in new buildings, following similar moves by cities in California, Massachusetts and Washington. On Tuesday, Governor Kathy Hochul proposed a measure to make New York the first state to ban natural gas heating and appliances in new buildings.
So far, the CSPC has not "coalesced" around a solution. But Trumka didn't back down from his statement earlier this week to Bloomberg, in which he said "products that can't be made safe can be banned."
Like, remember lead paint? Or asbestos? I for one am pretty grateful those things got the boot. 
The White House weighed in on Wednesday, with a spokesperson telling CNN: "The President does not support banning gas stoves – and the Consumer Product Safety Commission, which is independent, is not banning gas stoves."
Alexander Hoehn-Saric, the agency's chairman, said that research indicates emissions from gas stoves "can be hazardous" and the CPSC is looking for ways to "reduce related indoor air quality hazards."
"But to be clear," Hoehn-Saric said, "I am not looking to ban gas stoves and the CPSC has no proceeding to do so."
Bottom line: Everyone can simmer down. The government is not coming for your gas stove.
🗞️ In a Wall Street Journal op-ed, President Biden called on members of Congress to set aside partisan differences and pass legislation to rein in Big Tech, focusing on digital privacy, antitrust and the industry's liability shield.
📺 Netflix is enjoying a solid rebound after a terrible 2022. The stock is up about 10% this year, a surge that's grabbing Wall Street's attention ahead of the company's fourth-quarter earnings release next week.
🍋 Pepsi is ditching Sierra Mist for a new lemon-lime soda that it hopes can better compete with Coca-Cola-owned Sprite. 
🏡 Wells Fargo, long one of the biggest players in the mortgage business, is taking a big step back. The scandal-ridden bank announced Tuesday that it would focus on serving bank customers and minority homebuyers instead of acquiring new customers.