The World Health Organization (WHO), which has accused China of under-representing the severity of its current Covid outbreak, said it welcomed Beijing's sharing of data and report of nearly 60,000 Covid-related deaths over the last month, while simultaneously requesting more detailed information about the epidemiological situation.
The WHO statement on Saturday came after China's National Health Commission (NHC) gave its first real indication of the extent of the Covid wave now gripping the country. Until the release of data over the weekend, China's Center for Disease Control and Prevention had only logged 37 deaths since early December, when it abandoned its zero-Covid policy – even as the outbreak overwhelmed hospitals and crematoriums.
The head of the NHC's medical affairs department, Jiao Yahui, said on Saturday that there had in fact been 59,938 Covid-related deaths between December 8, the day after China dropped its stringent restrictions, and January 12. The health official added that 90% of the deaths were of people with underlying diseases, such as cancer and cardiovascular diseases. Previously, China had reported only those Covid patients who succumbed with respiratory failure as having died of Covid.
WHO Director-General Dr Tedros Adhanom Ghebreyesus spoke to Chinese Health Minister Ma Xiaowei about the surge on Saturday, in a meeting during which Chinese officials also provided information on hospitalizations and patients requiring critical care, according to the WHO statement. The UN agency said it was analyzing the information to get a better picture of the impact of the wave, and noted that the reported data showed a decline in case numbers and hospitalizations – similar to waves of infections experienced elsewhere.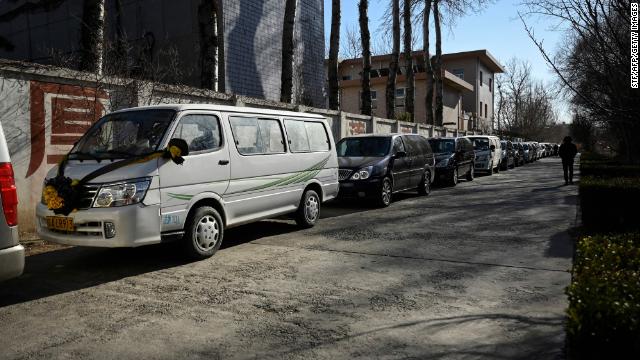 Long lines of hearses outside crematoriums suggested China's death data was unreliable.
"The sharp revision is an official response to international criticism of the lack of transparency and accuracy in China's reporting of Covid-related data," said Yanzhong Huang, a senior fellow for global health at the Council on Foreign Relations.
"Given the still huge gap between the official count of Covid deaths and the international estimate, I don't think the revision will quell outside doubts on the government data," he added.
Meanwhile, in the United States, businesses are struggling with debt, as government loans issued during the pandemic are starting to come due.
At the start of the pandemic, as business stalled, nearly 3.8 million small business owners took out Economic Injury Disaster Loans from the federal government, averaging roughly $100,000 per loan, according to the Small Business Administration. Unlike some other pandemic programs, these 30-year loans, carrying an interest rate of 3.75% for businesses, were intended to be paid back.
After more than two years of deferrals, the first of those monthly payments are hitting businesses – around 2.6 million across the country will owe money by the end of January.
"It's very challenging," said Alan Popovsky, owner of Teddy & The Bully Bar near downtown Washington, DC, who owes the federal government roughly $780,000 and started receiving monthly bills for more than $3,700 in October. "I'm still going to be climbing the hill for some time. Probably for the rest of my life."
The pandemic closed two of Popovsky's four restaurants in the area. He said government loans saved the other two. But with city centers struggling to bring back commuters and foot traffic, revenue is still down more than 45%, and they're fighting to stay open.
The loans were meant to keep small businesses on life support during the pandemic. Now, they may prove to be a terminal illness.
IN OTHER NEWS

While unprecedented protests against zero-Covid contributed to Chinese President Xi Jinping's decision to abandon his flagship policy, new data indicates other factors may have forced his hand. A number of regional governments in China have revealed the enormous sums they've spent on fighting the pandemic, reinforcing a state media report suggesting the mounting costs were a key reason why the country dropped the restrictions. Guangdong, China's top province by economic output, spent a total of 146.8 billion yuan ($22 billion) on pandemic prevention since early 2020, according to a recently released provincial report.
An early look at US data from 2022 suggests that there were significantly fewer Covid-19 deaths in the third year of the pandemic than there were in the first two – but Covid will likely remain the third leading cause of death in the US for the third year in a row. More than 267,000 people died of Covid in 2022, according to preliminary data from Johns Hopkins University, compared with more than 350,000 Covid deaths in 2020 and more than 475,000 in 2021. This first look at the data is based on deaths reported by states through January 9. The final count will differ from this early data as states continue to review death certificates.
Global Cases

667,693,450

 

Global Deaths

6,727,259

 

US Cases

101,724,005

 

US Deaths

1,100,609
Source: Johns Hopkins University
Q
Why are we still stuck on Omicron variants?
A
We've warned in previous weeks of a new variant. You'd be forgiven for not remembering its rather inelegant name: XBB.1.5.
Gone are the days of clearly named variants. Variants were steadily progressing through the Greek alphabet – Alpha, Beta, Gamma and Delta – until we got to Omicron.
When Omicron, also known as BA.1, spread across the world in November 2021, it was so genetically distinct from the viruses that came before it that its branch of the SARS-CoV-2 family tree took a totally different direction.
The second strain of Omicron, BA.2, was as genetically distinct from BA.1 as Alpha, Gamma and Delta had been from each other. Some said they thought it deserved its own letter.
But that never happened. Instead, WHO quietly stopped designating Variants of Concern categories that call for new Greek names.
Instead, it created a new category, Omicron Subvariants under Monitoring, to signal to public health officials which of these spinoffs should be watched.
Read more about the naming process here, and about XBB.1.5 here.
Send your questions here. Are you a health care worker fighting Covid-19? Message us on WhatsApp about the challenges you're facing: +1 347-322-0415.

With XBB.1.5 circulating, and cases on the rise after the holiday season, it's best to take precautions – especially if you're a senior citizen.
Older adults represent nearly 90% of US deaths from Covid-19 in recent months, the largest portion since the start of the pandemic.
What does that mean for people 65 and older catching Covid? The message from infectious disease experts and geriatricians is clear: Seek treatment with antiviral therapy, which remains effective against new Covid variants.
The therapy of first choice, experts said, is Paxlovid, an antiviral treatment for people at risk of becoming seriously ill from the virus.
CORONAVIRUS: FACT vs FICTION