Tonight: Buybacks are in. Plus: BuzzFeed has a big day and Bed Bath & Beyond is circling the drain. Let's get into it.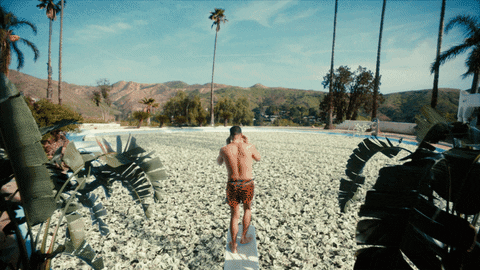 While most blue-chip companies were reporting losses last year, Big Oil was having a moment. Crude prices surged, thanks in part to high demand and reduced supply. All of that helped make Chevron the top-performing Dow stock of last year, with shares surging more than 50%.
To be clear: It's not that Chevron, or any of its peers, did anything special to earn their windfall profits last year. There was no big innovation or breakthrough — they just got rich off the price of oil shooting up.
Now, when you're a profitable company, you have a lot of options for what to do with those profits. You can reinvest in the business, upgrading your equipment or hiring more people. You can issue a dividend to shareholders, as a treat. Or, in America, you can do a buyback, in which you use the profit to purchase your own stock on the open market.
Buybacks are increasingly common, and controversial (in fact, they were flat-out illegal until 1982).
On one hand it's an easy way for a company to reward shareholders and signal confidence in its own value (after all, what moron would buy shares in a company whose stock is about to go down?). But critics say the practice artificially inflates the stock's value by creating fake demand. Conveniently, it also gooses executive compensation, the vast majority of which comes from stock options.
See here: Chevron, which is expected to report Friday that profits for 2022 doubled to more than $37 billion, is balking at calls from investors and the White House to funnel its extra cash into more drilling capacity to help reduce prices for inflation-weary customers.
Instead, Chevron is buying $75 billion worth of its own shares, and jacking up its quarterly shareholder dividend. That decision prompted rebuke from the Biden administration.
"For a company that claimed not too long ago that it was 'working hard' to increase oil production, handing out $75 billion to executives and wealthy shareholders sure is an odd way to show it," said White House spokesperson Abdullah Hasan.
Chevron's buyback package is so large, according to Bloomberg, that it could fund more than four years of drilling and other projects.
Representatives for the company didn't immediately respond to requests for comment.
Of course, Chevron and other US oil producers, including Exxon Mobil, are putting some money into new energy projects this year. But, according to Reuters, those expenditures will be dwarfed by the amounts paid to shareholders.
Meanwhile, gas prices in the United States are marching higher every day, and are on track to once again breach $4 a gallon this spring.
That is what a PR consultant might call bad optics.
At least Chevron executives aren't all alone in making such bold calls...
Railroads are also saying "screw the optics" and directing profits right back to shareholders. Earlier this week, Union Pacific, one of the major freight railroads that fought off union demands for paid sick days, reported another year of record earnings.
As my colleague Chris Isidore reports, the company's employee pay and benefits rose 12% for the year, to $4.6 billion. That was far less than the $6.3 billion that Union Pacific spent repurchasing shares of stock.
BuzzFeed it will work with OpenAI, the company behind the viral generative text bot ChatGPT, to use artificial intelligence to help create content, marking a milestone in how media companies implement the new technology into their businesses.
Jonah Peretti, the company's co-founder and chief executive, said the technology would be used to create quizzes, help with brainstorming, and assist in personalizing content to its audience. 
The news sent BuzzFeed's sagging stock skyrocketing, briefly rising above 150% before ending the day up about 120%, or a little over $2. 
RELATED: ChatGPT is smart enough to pass exams from top law and business schools. 
The end could be near for Bed Bath & Beyond, that beautiful relic of '90s consumerist maximalism that has furnished countless dorm rooms over the years.
On Thursday, the company said it could no longer pay the debts it owes to banks and received a notice of default from its lender, JPMorgan Chase. Shares of Bed Bath & Beyond plunged more than 20% on the news, to about $2.56 a share. 
In a regulatory filing, the company said it would consider "all strategic alternatives," including restructuring its debt under Chapter 11 bankruptcy. 
Bed Bath & Beyond defaulted "on or around" January 13, according to the Securities & Exchange Commission filing. As a result, creditors are demanding immediate payment.
Despite a loyal following forged by an enduring love of the store's generous coupons, the company has struggled to adapt to the world where shoppers no longer want to wander cavernous stores stacked to the ceiling with options. We want one bath mat, one garlic press, one shower curtain that we can select from the comfort of our couches and have delivered to our doorsteps. Amazon made us this way. Walmart and Target adapted, while Bed Bath & Beyond did not. 
It's not the end of the road just yet, but the outlook isn't great. My colleagues Nathaniel Meyersohn and Paul R. LaMonica have the story.
🇺🇸 The US economy expanded again during the fourth quarter, registering solid growth to end 2022 even as consumers and businesses battled historically high inflation and rising interest rates. Gross domestic product — the broadest measure of economic activity — increased at an annualized rate of 2.9% from October to December last year. For 2022, GDP expanded 2.1%.
✈️ Southwest Airlines said it is testing software fixes that the company developed after its Christmas travel meltdown, as the airline faces multiple federal investigations.
👀 The chief executive of the Madison Square Garden Entertainment Corporation has doubled down on using facial recognition at its venues to bar lawyers suing the group from attending events.
For tonight's show, I spoke to Nightcap host Jon Sarlin about how Elon Musk's Twitter antics are damaging Tesla's brand. Plus, high school teacher Cherie Shields argues that ChatGPT is an excellent teaching tool and schools are making a mistake if they ban the AI technology. 
It's another banger, folks. Watch the entire episode here.