Tonight: An Aussie mining company is on a wild search for a dangerously radioactive widget. Plus, happy All Powell's Eve to those who observe. Let's get into it.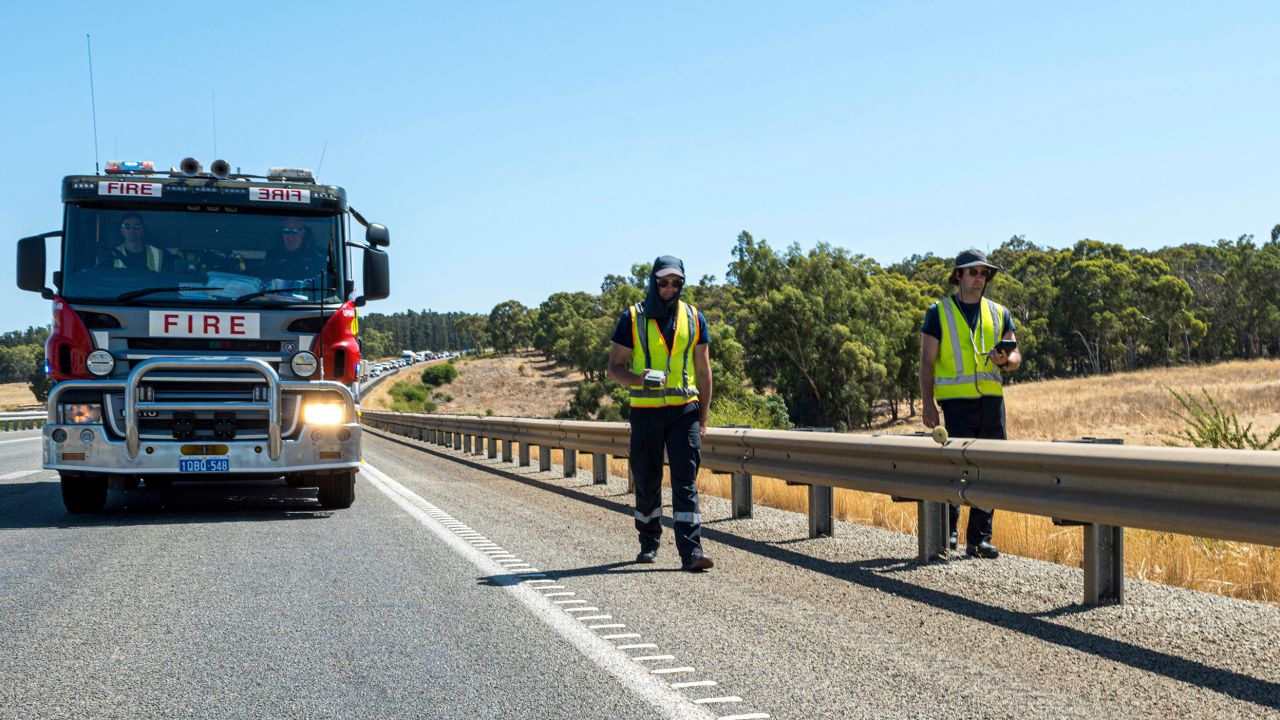 Rio Tinto, one of the world's largest mining companies, apologized this week after it announced that a tiny, highly radioactive capsule smaller than a penny had just, kinda ... disappeared. Like, it's probably on the road somewhere between Perth and the Gudai-Darri mine site, which is *checks notes* about 870 miles of desert highway.
Crikey.
Here's the deal: The capsule is part of a density-measuring tool used in mining, and it contains Caesium-137, a radioactive isotope that you definitely don't want to touch. Or get close to. Authorities are warning people to keep their distance if they come across it (highly unlikely, given the route in question is longer than the California coast line and covers some of the least-populated land on Earth, but still, good to be on alert).
Exposure could lead to serious health problems, including skin burns, radiation sickness and cancer risks.
Rio Tinto said it believes the silver capsule, about 6 millimeters wide, likely fell off a truck (which the company was keen to note was operated by a third-party contractor) after becoming dislodged by bumpy roads.
(Imagine being the guy whose job it is to check that all the radioactive stuff arrived safe and sound after four long days on the road only to find a broken gauge, a bunch of missing screws and, critically, no sign of the potentially deadly radioactive capsule that's so powerful that even standing a few feet from it for an hour would be like getting 10 chest X-rays …) 
BOTTOM LINE
To be clear, this thing isn't likely to be found — either by authorities now scouring the route with special radiation-detecting equipment, or by passersby because, well, it's waaaaay out there. (Am I worried about the prospect of a kangaroo picking it up, acquiring special powers and creating a colony of genetically mutated hyper-intelligent kangaroos? Of course I am, and frankly I'm a little concerned Rio Tinto's statement didn't even mention it.)
The mishap is a rather unwelcome one for a company whose reputation has been badly damaged by recent scandals. In 2020, Rio Tinto blew up a 46,000-year-old sacred indigenous site with dynamite to expand one its iron-ore mines, prompting widespread outrage and forcing the CEO to resign. It was also named in a parliamentary report outlining numerous accounts of sexual harassment and assault at large mining sites, including ones run by Rio Tinto. 
Rio Tinto didn't release the name of the logistics company it hired to transport the device carrying the capsule. But it did say that it moves this kinda stuff around all the time and hasn't had a problem until now. I'm not sure if that makes me feel better or worse…
Snapchat's parent company reported stalled revenue growth and a large net loss for the final three months of 2022, sending its stock down 15% in late trading Tuesday. 
Snap's quarterly revenue was just shy of $1.3 billion, essentially flat from the year prior. For the full year, revenue grew 12%, a slower rate that the company attributed to "rapid deceleration in digital advertising growth."
The company posted a net loss of more than $288 million in the quarter, compared with $22.5 million in net income in the same period a year earlier.
One month into 2023, and it looks like Wall Street is keeping that new year optimism alive and humming. 
my colleague Paul R. La Monica writes. The Nasdaq is up 11% for the month — its best month since July — while the S&P 500 is up 6% and the Dow is 3% higher.
After an abysmal 2022, January has been a pleasant change of pace,
Stocks moved higher again Tuesday, aka All Powell's Eve.
Yes, it's already time for another Federal Reserve policy meeting, and investors are counting on chairman Jay Powell announcing a quarter-point interest rate hike — a significant pullback from the aggressive monetary tightening that the central bank began last spring. 
Wall Street is also eagerly awaiting earnings from four key Nasdaq-listed giants later this week: Facebook owner Meta Platforms, Apple, Amazon and Google parent Alphabet. And if that weren't enough suspense for one week, the jobs report for January comes out Friday morning. 
So, for those keeping track at home, we've got good news brewing in the economy. 
✅ Inflation has likely peaked and is steadily cooling.
✅ Interest rate hikes are getting smaller and could even pause entirely later this year.
✅ Corporate America is so far showing decent earnings. 
✅ The labor market remains resilient.
With all of that, why are people still freaking out about a recession? 
Look, no one knows with any certainty, but there are mixed opinions about whether the US economy will contract later this year. There are  skeptics who doubt that corporate earnings will grow sharply enough this year to justify the January stock rally and keep its momentum going, Paul notes. The market could be poised for a fall if earnings or economic data disappoint.
"The market is partying but many management teams are saying that there are clouds on the horizon," said Austin Graff, chief investment officer with Opal Capital. "The reality is that this is a choppy environment. You have to focus on what's coming."
On the global front, at least, the outlook is far less gloomy than it was even a few months ago. 
On Monday, the International Monetary Fund said it now expects global growth to slow to 2.9% this year (from 3.4% in 2022). That's up from a forecast of 2.7% in October.
While that's still historically weak, "the outlook is less gloomy than in our October forecast, and could represent a turning point, with growth bottoming out and inflation declining," wrote Pierre-Olivier Gourinchas, the IMF's director of research.
Why the optimistic shift?
China's "sudden reopening," the IMF said, "paves the way for a rapid rebound in activity."

Europe economy also managed to eke out growth in the fourth quarter of 2022, easing fears of a recession.
My colleague Julia Horowitz has more.
💊 Pfizer generated nearly $57 billion in sales last year from its Covid-19 vaccine and  antiviral pill, amounting to nearly 60% of the company's total revenue for 2022. This year will be a different story: Pfizer said it expects Covid-related sales to fall by more than half, to $21.5 billion. 
🗓 In a first-of-its-kind proposal in the United States, some Maryland lawmakers want to subsidize employers that choose to experiment with a four-day workweek. 
🤖 Two months after OpenAI unnerved some educators with the public release of ChatGPT, an AI chatbot that can help students and professionals generate shockingly convincing essays, the company is unveiling a new tool to help teachers adapt.
🇫🇷 French workers brought Paris to a standstill in second mass strike over pension reforms.