Sam Bankman-Fried was just arrested in the Bahamas. Let's get into it.
(As a quick programming note: Tonight's newsletter will look a little different than usual because, well, SBF was arrested in the Bahamas...on our deadline.)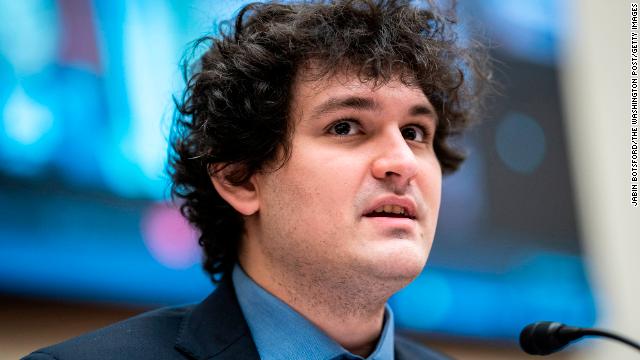 Sam Bankman-Fried, the founder of failed crypto exchange FTX, was arrested in the Bahamas on Monday after US prosecutors filed criminal charges against him, according to a statement from the government of the Bahamas.
The Southern District of New York, which is investigating Bankman-Fried and the collapse of FTX and its sister trading firm Alameda, confirmed his arrest on Twitter.
"Earlier this evening, Bahamian authorities arrested Samuel Bankman-Fried at the request of the US government, based on a sealed indictment filed by the SDNY," wrote US attorney Damian Williams. "We expect to move to unseal the indictment in the morning and will have more to say at that time."
Bankman-Fried was arrested without incident at his apartment complex shortly after 6 pm ET Monday in Nassau, and is set to appear in court Tuesday, the Royal Bahamas Police Force said in a statement.
A representative for Bankman-Fried's legal team didn't immediately respond to CNN's request for comment.
Shortly after the SDNY confirmed his arrest, the Securities and Exchange Commission said it had authorized separate charges relating to Bankman-Fried's "violations of securities laws," which will be filed publicly on Tuesday.
It's unclear what charges await Bankman-Fried, the 30-year-old crypto celebrity who became a pariah overnight last month as his company suffered a liquidity crisis and filed for bankruptcy, leaving at least a million depositors unable to access their funds.
The New York Times, citing a person familiar with the matter, reported that the charges against Bankman-Fried included wire fraud, wire fraud conspiracy, securities fraud, securities fraud conspiracy and money laundering.
The United States' extradition treaty with the Bahamas allows US prosecutors to return defendants to American soil if the charges would be considered punishable by imprisonment of at least a year in both jurisdictions.
In the four weeks since FTX filed for bankruptcy, Bankman-Fried has sought to cast himself as a somewhat hapless chief executive who got out over his skis, denying accusations that he defrauded FTX's customers.
"I didn't knowingly commit fraud," he told the BBC over the weekend. "I didn't want any of this to happen. I was certainly not nearly as competent as I thought I was."
Bankman-Fried was scheduled Tuesday to appear virtually before the US House Financial Services Committee. After his arrest, Rep. Maxine Waters, chairwoman of the committee, said Bankman-Fried would no longer give testimony as scheduled Tuesday. The hearing was set to move ahead, however, beginning with testimony from FTX's new CEO, John J. Ray III, who took over for Bankman-Fried on November 11 and is tasked with shepherding it through the bankruptcy process.
"While I am disappointed that we will not be able to hear from Mr. Bankman-Fried tomorrow, we remain committed to getting to the bottom of what happened," Waters said in a statement Monday night.
Ray has so far painted a picture of a crypto empire with virtually no corporate controls and a shocking lack of financial and other record-keeping.
"The scope of the investigation underway is enormous," Ray said in prepared remarks released Monday ahead of his testimony.
While the probe isn't completed, Ray said, FTX's collapse appears to stem from the concentration of power "in the hands of a very small group of grossly inexperienced and unsophisticated individuals" who failed to implement virtually any corporate controls.
Ray also states as fact that "customer assets from FTX.com were commingled with assets from the Alameda trading platform." That's a key issue for investigators, as FTX and Alameda were, on paper, separate entities.
Bankman-Fried has denied knowingly commingling funds and sought to distance himself from the day-to-day management of Alameda, which made a number of high-risk trading strategies such as arbitrage and "yield farming," aka investing in digital tokens that pay interest-rate-like rewards, according to reporting from The Wall Street Journal.
His criminal indictment is due to be unsealed tomorrow morning in New York. Follow along as we cover that news at CNN.com/business. 
Twitter on Monday night announced it was disbanding its "Trust and Safety Council," according to an email the company sent to the councils' members that was obtained by CNN.
Per my colleague Donie O'Sullivan: Twitter said it was "reevaluating how best to bring external insights into our product and policy development work. As part of this process, we have decided that the Trust and Safety Council is not the best structure to do this."
Why it matters: Elon Musk has owned Twitter for a little over six weeks, and  is undoing many of the policies and practices established before his arrival.
A page on Twitter's website, which has now been removed, explained that the council was made up of external expert organizations that advised on issues including online safety, human and digital rights, suicide prevention, mental health, child sexual exploitation, and dehumanization.
"Together, they advocate for safety and advise us as we develop our products, programs, and rules," Twitter previously explained.
Three members of the council resigned in protest last week, writing in a statement that "contrary to claims by Elon Musk, the safety and wellbeing of Twitter's users are on the decline."
That news came shortly after Donie reported that Twitter's former head of trust and safety has fled his home due to an escalation in threats resulting from Elon Musk's campaign of criticism against him, according to a person familiar with the matter.
Yoel Roth, who resigned from the social media company in November, has in recent weeks faced a storm of attacks and threats of violence following the release of the so-called "Twitter Files" — internal Twitter communications that new owner Musk has released through journalists including Matt Taibbi and Bari Weiss.
Roth's position involved him working on sensitive issues including the suspension of then-President Donald Trump's account in 2021. On Monday, Weiss posted a series of screenshots purported to show internal Twitter documents where Roth and others discussed whether to ban Trump's account, with some employees questioning if the former president's tweets violated the platform's policies.
While Musk had initially been publicly supportive of Roth, that all changed as soon as Roth left the company. 
And online criticism and threats have now taken a dark turn. Over the weekend, Musk appeared to endorse a tweet that baselessly accused Roth of being sympathetic to pedophilia — a common trope used by conspiracy theorists to attack people online.
A person familiar with Roth's situation told CNN threats made against the former Twitter employee escalated exponentially after Musk engaged in the pedophilia conspiracy theory.
BIG PICTURE
It has been a remarkably chaotic week, even by Musk's standards.
On Sunday, he made a laughably misguided appearance with comedian Dave Chappelle in San Francisco, prompting the audience to boo for several minutes.  Prior to that, Musk tweeted that his "pronouns are Prosecute/Fauci," at once mocking the use of nonbinary pronouns while disparaging Anthony Fauci, America's top immunologist.
For those keeping track at home, Musk has laid off more than 3,000 people, reinstated the accounts of avowed white supremacists, Covid deniers and misinformation peddlers. Hate speech against Black people and people in the LGBTQ+ comminity has grown dramatically, according to watchdog groups. And the mercurial "technoking" has converted several Twitter conference rooms into makeshift bedrooms, in a not-so-subtle nod to his demand that anyone still employed there commit to working "extremely hardcore."
Bottom line: Musk's absurd antics have long gotten a pass from investors and his legion of fans as the harmless quirks of an eccentric genius. But advertisers, customers and investors can only excuse so much. 
He's the CEO behind the vast majority of electric vehicles on the road in the US; he's already sent human beings into space; and he runs a company that literally wants to implant computer chips into human brains. No one with any sense of morality can afford to ignore Musk's increasingly unhinged behavior.