Last week, Chinese President Xi Jinping faced an unprecedented challenge not only to his flagship zero-Covid policy – but to his leadership. The two things have, in a sense, become one and the same. Xi has staked his authority on his unflinching approach to suppressing Covid-19; he is the only world leader still pursuing such a draconian policy. But after three years of lockdowns, mass testing and other severe restrictions on daily life, many Chinese citizens took to the streets to demand an end to zero-Covid – and the authoritarianism that enabled it. "Xi Jinping, step down! Communist Party, step down!" crowds were heard to shout in cities across the country.
Many in China waited this week to see whether the demonstrations would make a difference. Citizens heard little from the central government, but at the local level, there were fledgling signs of movement. More than 20 cities – including Beijing and Shanghai – began rolling back some of their most stringent rules. Residents of these cities could travel on a train or go to a restaurant without a negative test. The changes were modest, but welcome. "I feel like everyone's hard work is paying off," said a protester who took part in a demonstration in Beijing.
Then, on Wednesday, China announced sweeping changes to its pandemic response, the clearest and most significant sign yet that the central government is moving away from zero-Covid.
In a statement reported by state broadcaster CCTV, China's State Council unveiled 10 new guidelines that loosen some restrictions. The overriding message: Daily life in China will be different.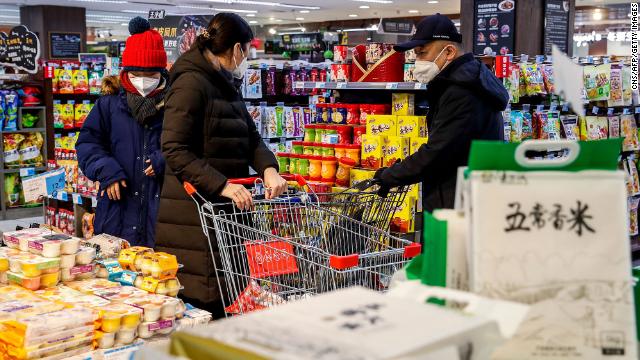 Citizens can now enter most places without showing a negative test or their health code.
Citizens will no longer have to show health codes on their mobile phones – colored red, amber or green – in order to leave their homes, use public transport or enter shops. They will be able to quarantine at home if infected, rather than being transported to far-off government facilities. Authorities will also be forbidden from blocking fire escapes and entrances to buildings, restrictions that were blamed for fueling a deadly apartment fire in the far-western Xinjiang region, sparking protests. Citizens can now travel across the country without testing, and with the Lunar New Year just a month away, many families will be reunited for the first time since the virus emerged. "I haven't been home for Chinese New Year for two years now, I'm crying," one person said on Weibo.
Although Beijing will not concede the protests forced its hand, no other explanation for retreating from zero-Covid appears credible. The move comes amid record levels of Covid cases, fueled by outbreaks in multiple cities. A surge in infections usually follows the winding down of restrictions. In China, it is the other way round.
While the relaxing of restrictions has been met with celebrations from many citizens, it has also sparked concerns among experts about a coming Covid wave that China is ill-prepared for. Last month, China released a list of measures to bolster its health systems against Covid-19, which included directives to increase vaccination in the elderly, stockpile antiviral treatments and medical equipment, and expand critical care capacity – efforts that experts say take time and are best undertaken before an outbreak.
Even a small number of severe cases among vulnerable and under-vaccinated groups like the elderly could overwhelm hospitals if infections spike across the country of 1.4 billion, experts say.
After three years of zero-Covid, China has limited its death toll, officially reporting only 5,235 Covid-19 deaths since early 2020 – the World Health Organization estimates the number is closer to 30,000. Modeling from researchers at Shanghai's Fudan University published in the journal Nature Medicine earlier this year projected that more than 1.5 million Chinese could die within six months if Covid restrictions were lifted and there was no access to antiviral drugs, which have been approved in China.
If an Omicron-induced wave causes cases to climb, many may wonder what the pain of the past three years was for.
IN OTHER NEWS

The United Kingdom government will be forced to release documents on Covid-19 contracts awarded to a firm with links to a Conservative member of the House of Lords. Michelle Mone is accused of personally profiting from a £200 million ($244 million) contract awarded to the firm PPE MedPro, which was tasked with supplying personal protective equipment during the pandemic. Mone denies the claims and has taken leave of absence from the House of Lords as she tries to clear her name. A report by the Public Accounts Committee earlier this year said the government spent more than £12 billion on protective equipment in 2020-21, £4 billion of which did not meet the standards needed by the National Health Service and so was not used.


A US Secret Service spokesperson told CNN on Monday that Chinese government-linked hackers have stolen at least $20 million in US government Covid relief funds – the first time the agency has connected Covid-19 fraud to hackers affiliated with a foreign government. The hackers raided unemployment insurance funds and Small Business Administration loan money in more than a dozen US states, said Secret Service spokesperson Justine Whelan.
Global Cases

646,616,556

 

Global Deaths

6,645,370

 

US Cases

99,081,465

 

US Deaths

1,082,246
Source: Johns Hopkins University
Q
Why do people get more colds and flu in winter?
A
We're in the middle of cold and flu season, when it seems everyone you know is suddenly sneezing and sniffling. It's almost as if those pesky cold and flu germs whirl in with the first blast of winter.
But germs are present year-round. So why do people get more colds, flu and now Covid-19 when it's chilly outside?
In what researchers are calling a scientific breakthrough, a new study may have found the biological reason we get more respiratory illnesses in winter. It turns out the cold air itself damages the immune response occurring in the nose.
Send your questions here. Are you a health care worker fighting Covid-19? Message us on WhatsApp about the challenges you're facing: +1 347-322-0415.

Nearly 20,000 people in the US were admitted to the hospital for flu last week, almost double the number of admissions from the week before, according to data updated Friday by the US Centers for Disease Control and Prevention.
In a letter obtained exclusively by CNN, US Health and Human Services Secretary Xavier Becerra wrote to the nation's governors that the Biden administration "stands ready to continue assisting you with resources, supplies, and personnel."
The Biden administration has not declared a public emergency for the respiratory virus RSV or flu, but the Becerra letter outlines ways the public health emergency declaration for Covid-19 can be applied to more broadly address challenges brought on by a confluence of Covid-19 and other respiratory and seasonal illnesses.
Our top tip this week is to get this season's flu vaccine if you haven't already done so, which the CDC said Monday was a "very good match" to the circulating strains. And read this guidance on whether or not your child is too sick for school.
CORONAVIRUS: FACT vs FICTION