In recent weeks, protesters took to the streets of Chinese cities to demand an end to zero-Covid – the policy that has placed severe restrictions on the lives of citizens for nearly three years – and strict censorship. "No to lockdown, yes to freedom," read one banner. "Give me liberty or give me death!" chanted crowds by the hundreds.
Faced with this unprecedented pressure, President Xi Jinping retreated from his hard-line stance on zero-Covid, and Beijing announced sweeping changes to its pandemic response. Under a new 10-point plan, citizens saw many of the restrictions scrapped. In the words of one Beijing resident, "the world changed overnight."
But why, then, are the city's streets now more deserted than they were during the days of zero-Covid?
Beijing has been hit with a significant, and spreading, outbreak of Covid – the first it has faced since the beginning of the pandemic. Cases were already on the rise before the retreat from zero-Covid, but have since exploded. While the state may no longer be imposing severe restrictions on the population, many are imposing restrictions on themselves. Aurora Hao, an English teacher in Beijing, said the relaxation of the rules did not mean she had become relaxed about the virus. "I want to keep myself safe," she told CNN. "We are still waiting and watching. It is not the case that people all rushed out once the seal is off."
The impact of Beijing's outbreak was visible in the upmarket shopping district of Sanlitun on Tuesday. There, the usually bustling shops and restaurants were without customers and, in some cases, functioning on skeleton crews or offering takeout only.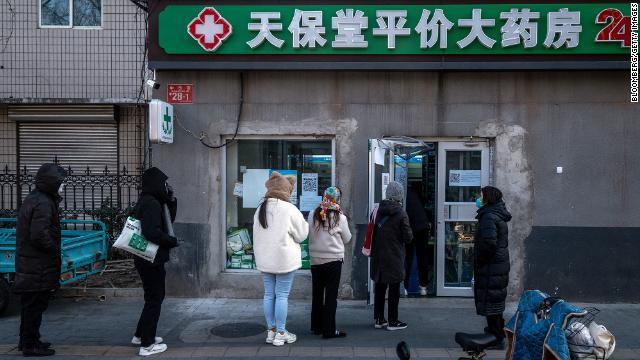 Customers queue for medicines outside a pharmacy in Beijing.
One community worker told CNN that 21 of the 24 workers in her Beijing neighborhood committee office had fallen ill in recent days. James Zimmerman, former chairman of the American Chamber of Commerce in China, said about 90% of the people in his Beijing office had Covid, up from around half a few days ago. "This thing came on like a runaway freight train," he said.
These anecdotes are at odds with official data, which suggest the peak has already passed. Authorities recorded 8,626 Covid-19 cases across China on Sunday, down from the high of more than 40,000 daily cases late last month.
But this apparent dropoff masks a shift in how – and whether – cases are recorded. China's National Health Commission (NHC) announced Wednesday it had given up trying to keep track of all the new Covid cases, and that it would no longer include asymptomatic cases in its daily count – saying the number of these cases was "impossible to accurately grasp." The announcement followed China's scrapping of the virus tracking app.
While the full picture remains obscure, scraps of data tell an increasingly alarming story. The city's major hospitals recorded 19,000 patients with flu symptoms from December 5 to 11 – more than six times the figure of the previous week, a health official said Monday. The number of patients visiting fever clinics was 16 times greater on Sunday than a week prior. Citizens are scrambling to protect themselves against the virus, with sales of face masks rocketing 682% year-on-year in the first six days of the month. There were also numerous reports of panic buying of fever medications.
The extent of severe disease or death in Covid-19 outbreaks typically takes time to become clear, but there are signs already of an impact on the health care system, with authorities in Beijing urging patients who are not seriously ill not to seek the help of emergency services.
The US has at least 25 critical care beds per 100,000 people, according to the Organization for Economic Co-operation and Development. By contrast, China has fewer than four for the same number, health authorities there said in November. Given these constraints, even a small number of serious cases could have a devastating impact on the health system in a country of 1.4 billion.
Alongside these health concerns, the retreat from zero-Covid has also brought political disquiet. The government and state media had long emphasized the dangers of the virus and its potential long-term effects. Now, a flood of articles have been released highlighting the milder nature of Omicron and downplaying its risks. Many citizens are experiencing a feeling of whiplash.
"How can it change so fast?" asked Echo Ding, 30, a manager of a tech company in Beijing. "It gives me the feeling that we are like fools. It's all up to them. They said it's good, so then it's good… that's what I feel right now. It is so unreal, but I have no choice. All I can do is follow the arrangement."
IN OTHER NEWS

Florida Governor Ron DeSantis on Tuesday asked his state's Supreme Court to green-light an investigation of "any and all wrongdoing in Florida with respect to Covid-19 vaccines," in his latest move to cast doubt on the vaccines' effectiveness and amplify fears about side effects. DeSantis requested the empaneling of a grand jury to investigate a broad range of groups involved in the development, distribution and promotion of the vaccines, as well as taking aim at the US Centers for Disease Control and Prevention, which he said "is not serving a useful function." DeSantis has made Covid-19 vaccine skepticism his rallying cry ahead of a potential run for the 2024 presidential nomination – despite the mounting evidence that vaccines have saved millions of lives in the US.


The House of Representatives voted on Thursday to rescind the US military's Covid vaccine mandate. The measure passed with wide bipartisan support with a tally of 350 to 80, in what House GOP leader Kevin McCarthy called "a victory for our military and for common sense." Following passage in the House, it will next go to the Senate for approval before it can be sent to President Joe Biden to be signed into law. However, the White House last week declined to say whether Biden will sign the annual defense bill – which contains a range of other funding provisions – if it includes the stipulation to rescind the vaccine mandate. "We continue to believe that repealing the vaccine mandate is a mistake," said John Kirby, National Security Council coordinator for strategic communications.
Global Cases

650,661,300

 

Global Deaths

6,656,918

 

US Cases

99,529,992

 

US Deaths

1,085,251
Source: Johns Hopkins University
Q
Why are US hospitals so full?
A
Hospitals in the US are more full than they've been throughout the pandemic, according to a CNN analysis of data from the US Department of Health and Human Services. More than 80% of hospital beds are in use nationwide, jumping 8 percentage points in the past two weeks.
But it's not just Covid-19 that's causing this strain. The US is facing a "triple threat" of influenza, Covid and respiratory syncytial virus (RSV). Many children's hospitals are overwhelmed after surges of RSV, while the level of influenza is the highest it has been at this point in the year for more than a decade. And after a lull in cases, new coronavirus infections are on the rise across the country as well – all while the holiday season is entering full swing.
"The rates are higher because we are seeing patients with the flu in many parts of the country and that has brought a lot of older adults and some young children into the hospitals. Additionally, RSV is filling pediatric beds and cribs along with patients who are sicker now due to putting off care during Covid-19, which has required more intensive and complex care," said Nancy Foster, vice president for quality and patient safety with the American Hospital Association, in a statement to CNN on Friday.
Send your questions here. Are you a health care worker fighting Covid-19? Message us on WhatsApp about the challenges you're facing: +1 347-322-0415.

Months after most mask requirements have come to an end and many people have stopped wearing them, some of the nation's leading health experts are encouraging people to put their face masks back on – and not just to offer protection against Covid-19.
Covid alerted us to the threat of airborne respiratory diseases – and the US is currently being rocked by three of them simultaneously. As well as staying up to date on the latest Covid and flu vaccines, digging out the face masks we thought we'd seen the last of might mean we spend the holiday season free of disease.
Dr. William Schaffner, a professor in the Division of Infectious Diseases at Vanderbilt University Medical Center and medical director of the National Foundation for Infectious Diseases, had one simple instruction to help us through the tridemic: "Dust off your mask. Put your mask back on."
CORONAVIRUS: FACT vs FICTION