"Xi Jinping, step down! Communist Party, step down!"
Just weeks ago, President Xi Jinping secured a norm-breaking third term in power. Now, he is facing the sort of dissent scarcely imaginable in China.
As thousands took to the streets across the country to protest against China's zero-Covid policy, some were calling not just for the end of lockdowns, but also for the removal of Xi himself.
The protests began as vigils for at least 10 people who died in a fire in Urumqi, the capital city of the western Xinjiang region. Public anger over the tragedy grew after footage emerged which appeared to show lockdown measures delaying firefighters from accessing the scene and reaching victims. The video was censored -- but not before it went viral. For many, this tragedy was seen as another example of zero-Covid policies costing more lives than the virus.
The vigils swelled into the sort of demonstrations not seen in China in decades. Thousands of people defied Chinese authorities to protest at universities and on the streets of major cities, demanding the end of three years of brutal lockdown restrictions -- and, in some cases, the end of the regime which imposed them.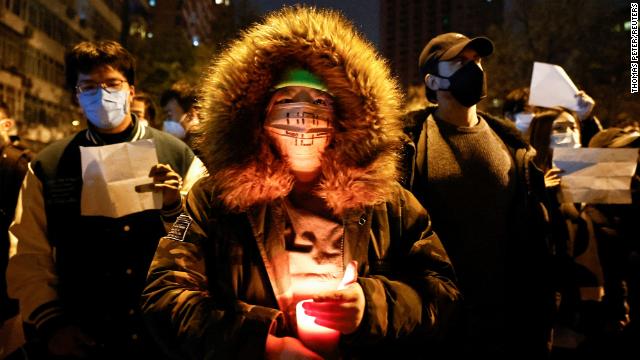 Crowds carried candles to mourn those killed in Urumqi -- and blank paper to protest against zero-Covid.
The fire in Urumqi may have sparked the protests, but events in recent months laid the kindling. In September, a bus transporting residents to a distant coronavirus quarantine facility crashed, killing 27 people. Later in October, workers at an iPhone factory in Zhengzhou began to flee by foot after the site was put under lockdown, leading to violent clashes with local authorities.
There have been protests against the zero-Covid policy in the past, but never this bold. In the build-up to the Communist Party Congress in October, banners calling for lockdowns to end were put up across a bridge in Beijing. The protester who put them there has not been seen since being taken away by authorities.
But at the demonstrations over the weekend, the demands were more political than material, CNN's Nectar Gan writes. "Give me liberty or give me death!" hundreds were heard to chant in cities across the country. Many of the protests were concentrated in university campuses -- which are particularly politically sensitive to the Communist Party, given the history of the student-led Tiananmen Square pro-democracy protests in 1989. In one video, a university official could be heard warning the students: "You will pay for what you did today." A student shouted in reply: "You too, and so will the country."
The protests may have been fueled by the sight of unmasked fans at the World Cup in Qatar. As tens of thousands pour into stadiums to cheer on their teams, Chinese citizens can only watch from their apartment blocks. One WeChat article asked, "Are they not living on the same planet as us?"
So far, China's vast security apparatus has moved swiftly to smother the protests, with police patrolling streets and checking cell phones.
Beyond reasserting control of the streets, it is unclear where Xi goes from here. The central government has tried to shift the blame onto local officials, but the problems remain.
While the protests appear to have peaked for the time being, Covid cases are rising -- and have reached record levels last week. Restrictions will likely have to be ramped up to contain this latest wave, which may lead to further discontent.
Boosting the country's low vaccination rates -- especially among the elderly -- may offer a way out, but China has so far refused to import mRNA vaccines, and there are questions about the efficacy of its own shots.
Xi is stuck. He has invested huge amounts of capital -- both political and economic -- in this strategy. Turning back now would be something of an embarrassment. What's more, zero-Covid has come to be suffused with a sense of national pride.
Earlier in the pandemic, it was easy to paint Western governments as cruelly allowing millions to die for the sake of their economies, while China benevolently shielded its population from the disease. But as China braces for its fourth winter of restrictions, many in the country are now questioning how benevolent this approach really is.
IN OTHER NEWS

Many of the protests in China were filmed and the videos then posted to Twitter. But, for many, finding this footage was not easy. Twitter searches for the protests returned a flood of spam, pornography and gibberish that some disinformation researchers say appear to be a deliberate attempt by the Chinese government or its allies to drown out images of the demonstrations. Many of the tweets reviewed by CNN came from accounts that had been created months ago, follow virtually no other accounts and have no followers of their own -- suggesting they were spam accounts.


Finding reliable information about Covid on Twitter has become more difficult after the company revealed last week it would no longer enforce its longstanding Covid misinformation policy. In 2020, Twitter developed an extensive set of rules aiming to ban "harmful misinformation" about the virus and vaccines. Some 11,000 accounts were suspended for breaking these rules. But these may now be set to be reinstated. Curiously, Twitter did not appear to formally announce the rule change -- but simply posted a note on its website.
Global Cases

642,918,641

 

Global Deaths

6,633,880

 

US Cases

98,676,688

 

US Deaths

1,079,888
Source: Johns Hopkins University
Q
What key lesson for public health officials did Dr. Anthony Fauci learn from the pandemic?
A
Fauci is stepping down next month after 38 years as director of the National Institute of Allergy and Infectious Disease, during which he served as medical adviser to seven United States presidents and helped to guide the US -- and the world -- through the Covid-19 pandemic.
Fauci sat down Monday with CNN's Jake Tapper to reflect on his career – and to share lessons he learned from the pandemic.
His key bit of advice to public health officials? When talking to Americans, be clear that science is often a moving target.
"What we knew [about Covid-19] in January was very different from what we knew at the end of January, the beginning of February, and then very different from March," said Fauci.
To make sure scientists aren't seen to be "flip-flopping," Fauci said it's important to be able to explain that "it's that the data are evolving in a very dynamic way."
Send your questions here. Are you a health care worker fighting Covid-19? Message us on WhatsApp about the challenges you're facing: +1 347-322-0415.

Our top tip this week is for our European readers -- as cases climb in the continent.
French Prime Minister Elizabeth Borne said Tuesday that the Covid epidemic has returned in France, with more than 40,000 cases being detected per day. Last week, 400 people died from Covid in the country -- a reminder that the Europe is living with a virus which Borne said "still kills."
After the booster campaign in many European countries got off to a stuttering start last month, many are now ramping up their efforts to prevent a winter surge.
If you are eligible for your booster shot, get it now to stay protected as we approach the holiday season.
CORONAVIRUS: FACT vs FICTION