The last time the United States went to the polls, for the 2020 presidential race, all eyes were on the pandemic. The country was bracing for its second wave of Covid-19, which would prove to be its deadliest. Several states had resumed lockdowns, reversing on reopening plans. Candidates were sporting masks and holding socially distanced events, campaigning on platforms of vaccine development and turning the tide on the virus.
Two years later, things are very different. When voters went to the polls on Wednesday to cast their ballots in the midterm elections, it was the economy that weighed heavily on their minds – and the virus far less. According to a Pew Research Center survey of US voter priorities conducted in mid-October, about a quarter (23%) of respondents described the coronavirus outbreak as "very important" to their vote – with Democratic voters more likely than Republicans to see Covid-19 as a voting issue (32% vs. 12%). Only 1% of voters polled by Gallup in October thought the virus was the most important problem facing the country. Finding a lasting solution to what is the defining global health crisis of our time, a platform that helped propel Joe Biden to the presidency in 2020 has, in many ways, lost its sway.
But, conversely, the management of the coronavirus – and the raw emotions attached to measures like social distancing, school closings, and shuttering businesses – have loomed large over this election. Many Republican candidates have leaned heavily on pandemic backlash politics in their campaigns, moving the conversation from the threat the virus poses to health, to the impact of public health restrictions on lives and livelihoods.
With the polls now closed and the final votes being counted, here's a look at how the Republicans campaigned on Covid.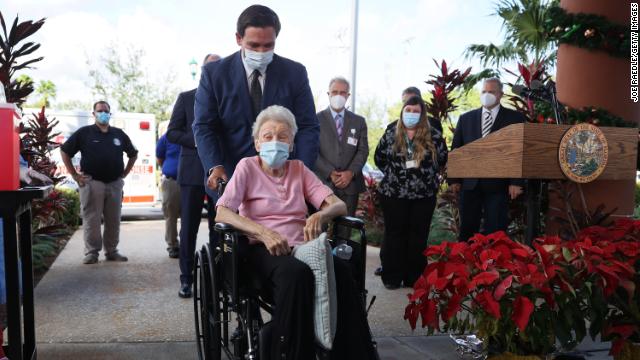 Covid politics have changed since Governor Ron DeSantis helped Floridians get vaccinated in 2020.
Florida Governor Ron DeSantis, who CNN projects will win reelection, established the Republican template for running on Covid-19 early on in the pandemic. Referring to it as the "Free State of Florida," he led the charge against the Biden administration's Covid-19 policies and reopened his state early, sending students back to public schools, banning mask mandates and Covid-19 passports. As White House officials have scrambled to launch a booster campaign ahead of a potential winter wave, DeSantis has whipped up anger against plans to vaccinate young children. "As long as I'm kicking and screaming, there will be no Covid shot mandates for your kids," he told reporters in October. 
He has cut a path that has since been followed by a number of other Republican lawmakers, who have railed against vaccines and government overreach while promoting conspiracy theories and treatments that don't work. Last month, when the US Centers for Disease Control and Prevention (CDC) recommended Covid-19 vaccines for children, Republican lawmakers tried to use it as a rallying cry for parents' rights. A Trump-endorsed Republican Senate candidate from Arizona, Blake Masters, claimed in a video posted to Twitter on October 12 that "the 'experts' are coming for our kids" and lashed out against government "misinformation."
Congressional Republican candidates have also attacked the Biden administration's Covid-19 spending, blaming the $1.9 trillion American Rescue Plan as one of the major drivers of inflation. Representative Thomas Massie of Kentucky and Nevada Senate candidate Adam Laxalt have both called for vaccine mandates for members of the military to be prohibited. Massie, who has proposed a bill to that effect, pledged to "refuse to fund every one of Biden's Covid vax mandates," if the Republicans won a majority in the House of Representatives. 
Republican candidates have worn the speed with which they reopened their districts as a badge of honor. Georgia Governor Brian Kemp stressed repeatedly that he "kept Georgia open," claiming in a debate that his Democratic opponent, Stacey Abrams, would have "kept Georgia closed, destroyed Georgia's economy, and spent YOUR money."
Republicans ran on economic reopening and freedom, and rarely addressed the other side of this coin. More than 1 million Americans have died from Covid-19, and hundreds are still dying each week. Florida gubernatorial candidate Charlie Crist, a Democrat, tried to remind his opponent DeSantis of this fact in a debate in October.
"Ron, I wouldn't pat yourself on the back too much about your response to Covid. We've lost 82,000 of our fellow Floridians. When you look at the Thanksgiving table, one of those empty seats is probably one of those people for many families watching tonight," Crist said.
IN OTHER NEWS

Manufacturing company Foxconn, one of Apple's largest suppliers, is struggling to operate under China's stringent zero-Covid policy. A Covid-19 outbreak at its biggest iPhone assembly factory in the central Chinese city of Zhengzhou has caused major disruptions, with many migrant workers panicking and attempting to flee the factory on foot after authorities imposed a seven-day lockdown on the area last week. Foxconn is so desperate for workers to return they are offering bonuses for staff who recently left the factory, but Apple warned on Sunday that shipments of its latest model will be "temporarily impacted" as it prepares for the winter shopping spree.


The death of a 3-year-old boy following a suspected gas leak at a locked down residential compound in China has fueled public anger against the country's ongoing restrictions. The boy's father claimed in a social media post on Wednesday that Covid workers tried to prevent him from leaving their compound in Lanzhou, the capital of the Gansu province in the northwest of the country, to seek treatment for his child – causing a delay he believes was fatal. The news triggered a wave of outrage on social media. "Three years of pandemic was his entire life," read a popular comment.


Deaths caused by alcohol use in the US spiked during the pandemic, according to data published Friday by the CDC. More than 49,000 in 2020 suffered an alcohol-induced death, the study found – a 26% jump from the year before. Americans drank more during the pandemic, which experts say created an environment rife for alcohol abuse. Marvin Ventrell, CEO of the National Association of Addiction Treatment Providers, said alcohol abuse was "already a crisis," but "exploded" during the pandemic.
Global Cases

633,526,919

 

Global Deaths

6,603,487

 

US Cases

97,799,656

 

US Deaths

1,072,956
Source: Johns Hopkins University
Q
Does Paxlovid reduce the risk of long Covid?
A
Last week, we reported on the growing use of Paxlovid, the antiviral pill that reduces the risk of hospitalization and death from Covid-19 – especially for older people. The drug combats illness caused by infection and should be administered as soon as possible once symptoms appear.
This week, Paxlovid was also found to reduce the risk of long Covid. A study by researchers at the US Department of Veterans Affairs analyzed electronic records of more than 56,000 veterans with Covid-19, including more than 9,000 who were treated with Paxlovid within the first five days of infection.
The analysis showed people treated with Paxlovid had a 26% reduced risk of developing several long Covid conditions, including heart disease, blood disorders, fatigue, and more.
Send your questions here. Are you a health care worker fighting Covid-19? Message us on WhatsApp about the challenges you're facing: +1 347-322-0415.

More evidence emerged this week of the effectiveness of updated boosters. Pfizer and BioNTech said Friday that the immune responses against Omicron BA.4/BA.5 subvariants were "substantially higher" in people who got its new bivalent booster compared with people who received the drugmakers' original vaccine.
The bivalent booster became available in September in the US and targets both the original Covid strain and the new subvariants. Pfizer and BioNTech said in a news release that the new booster generated about four times higher levels of antibodies in people older than 55, compared with the original vaccine.
Our top tip this week is to get the effective new boosters before the holiday season – and while it is still free. Vaccines are currently free to consumers in America – but this might not be the case for much longer. Pfizer warned in October that, as US government contracts come to an end, possibly by early next year, its Covid vaccine will be sold for $110 to $130 per dose.
CORONAVIRUS: FACT vs FICTION