Tonight: It's a rare day when a bankruptcy court filing elicits audible gasps in the newsroom, but today ... today was one of them. Let's get into it.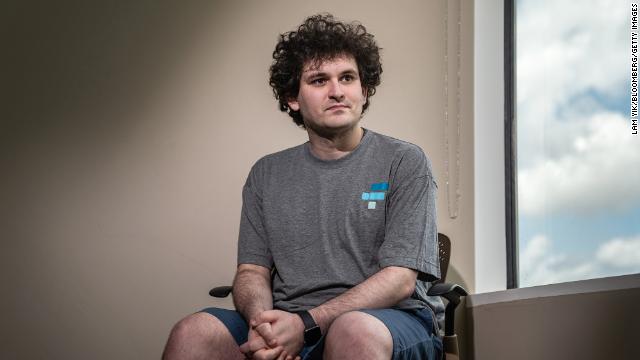 A new court filing about Sam Bankman-Fried's bankrupt companies reveals a crypto empire that was colossally mismanaged and potentially fraudulent.
"Never in my career have I seen such a complete failure of corporate controls and such a complete absence of trustworthy financial information as occurred here," FTX's new CEO, John J. Ray III, wrote in a court filing Thursday.
That's coming from the guy who oversaw the liquidation of Enron. (Enron!)
Now, Ray is overseeing an "unprecedented" mess, by his own account, in the collapse of the crypto exchange, its sister hedge fund Alameda and dozens of affiliated entities. 
Ray's assessment offers one of the first definitive accounts of what went wrong at FTX and Alameda.
Among the many problems the new management has uncovered are unreliable financial statements, the mishandling of confidential data (including using an unsecured email account to manage private crypto keys), and the diverting of corporate funds to purchase homes for employees in the Bahamas.
FTX also lacked centralized control of its cash, according to the filing. The mismanagement of funds was so poor under Bankman-Fried that the new management does not yet know how much cash FTX Group holds. Ray and his team have only been able to approximate the amount of cash available — about $564 million.
That compares with a roughly $8 billion shortfall that Bankman-Fried reportedly told investors last week that FTX would need.
"There are, at best, signs of just absolute non-control and power in the hands of just a couple of people," said Eric Snyder, head of the bankruptcy department at Wilk Auslander, which is not involved with the FTX case. "At worst, there's a systemic fraud of billions of dollars."
Bankman-Fried has not been charged with any crimes. His lawyer Martin Flumenbaum didn't respond to CNN Business' request for comment.
'Unacceptable management practices'
One of the most compelling elements of Ray's assessment points to the "the use of software to conceal the misuse of customer funds," and a "secret exemption" of Alameda from aspects of FTX's auto-liquidation protocol.
Although Ray doesn't explicitly accuse the company of fraud, Snyder says, the document contains what lawyers refer to as "badges," or indications, of it.
"When you say you're using backdoor software to misuse customer funds and exempt one of your major affiliates from an auto-liquidation protocol, those are badges of fraud."
Auto-liquidation refers to when an exchange like FTX automatically sells traders' collateral when they fall into the red. An exemption for Alameda would suggest the hedge fund had an extra measure of protection against high-risk bets. 
One of the most pervasive failures, Ray said, was the absence of record-keeping. Bankman-Fried often communicated on applications set to auto-delete after a short period of time, and encouraged staff to do the same. Ray also noted the companies lacked sufficient "disbursement controls," noting that some employees at FTX were given corporate funds to purchase homes and other personal items in the Bahamas.
Few of the companies' financial statements appear to have been audited, and Ray said he doesn't have confidence in their accuracy. In one example in which an affiliate did receive audit opinions, the assesment came from "a firm with which I am not familiar and whose website indicates that they are the 'first-ever CPA firm to officially open its Metaverse headquarters in the metaverse platform Decentraland.' "
Plus, this week's Nightcap show has more from the sick sad world of crypto failures, the train wreck that is Elon Musk's Twitter, and more.
Mortgage rates dropped sharply last week after a series of economic reports that indicated inflation may finally be easing. The 30-year fixed-rate mortgage averaged 6.61%, down from 7.08% the week before, according to Freddie Mac — the steepest weekly drop since 1981.
Rates are still roughly double where they were a year ago, when you could snag mortgage at just over 3%. 
We... are never, ever, ever... seeing Tay together...
That's right: Tay-gate continues into Day 3 as Ticketmaster pulled the plug on Friday's planned general-public sale of tickets for Taylor Swift's "Eras Tour."
What a mess.
ICYMI: This all started Tuesday, when Ticketmaster opened presales for a handful of shows. Fans flooded the site, which soon began crashing, freezing and/or funneling fans into a virtual queue that appeared to never move forward. 
All hell broke loose. (You don't mess with Swifties who've been deprived of a live Taylor show for the past for years.) People on Twitter, including lawmakers, began calling for the breakup of Ticketmaster, which is effectively a monopoly.
Amid all the frustration, people still managed to buy more than 2 million tickets on Tuesday, more than any other artists in single day, according to Ticketmaster.
Now, Ticketmaster is canceling the general-public sale "due to extraordinarily high demands on ticketing systems and insufficient remaining ticket inventory to meet that demand."
So, what happened?
Basically, according to Ticketmaster,  the site's "Verified Fans" system, a mechanism aimed at eliminating bots that gives presale codes to individuals, couldn't keep up with the demand, my colleagues reported. Roughly 3.5 million people signed up for the program to buy Swift tickets, its "largest registration in history."
That unprecedented demand, combined with a "staggering number of bot attacks" and influx of fans who didn't have presale codes caused a meltdown on the site.
"Never before has a Verified Fan on sale sparked so much attention – or uninvited volume," Ticketmaster said in the blog post. "This disrupted the predictability and reliability that is the hallmark of our Verified Fan platform."
So what can you do if you want to see Taylor but missed the very faulty, very short window? Well, there's always the secondary market, but I can't recommend that as a sound financial decision. Tickets were already going for thousands of dollars on StubHub, and that was before Ticketmaster canceled the Friday sale. 
🐦 As the deadline approached for Twitter staff to respond to Elon Musk's ultimatum — commit to working in an "extremely hardcore" fashion, or pack your bags — some appeared to be going for the latter. 
🚂 The trade group representing the nation's freight railroads is confident that a strike by more than 100,000 union members can be avoided, even after rank-and-file members rejected the tentative labor deals reached earlier this fall.
☕ Employees at more than 100 Starbucks locations staged a one-day strike Thursday, protesting what the union sees as retaliation against union supporters.