China gave an inch on its zero-Covid policy. The virus took a mile.
Shortly after Beijing announced it would take its first tentative steps towards reopening, case numbers spiked to near-record levels, leading to the country's first Covid deaths in nearly six months.
China had shown fledgling signs that it was looking for a way out of its zero-Covid policy, which has lasted nearly three years. The central government announced on November 11 it would ease some of its strict regulations – aiming for a more targeted, less disruptive approach to the virus.
Lockdowns would be confined to specific regions – and even individual apartment blocks – rather than whole cities. Inbound travelers would have to spend less time in quarantine. Mass testing would wind down.
The steps announced by Beijing were modest, but seemed to indicate a new approach. Citizens – and markets – began to believe that things were changing. Hong Kong's Hang Seng Index rallied after the announcement, entering a technical bull market last Tuesday. The worst of the restrictions, it seemed, were on the way out.
That optimism was premature. China's attempt to unwind its most stringent restrictions was met with a surge in cases across multiple cities. Some 26,824 new infections were reported Sunday, according to China's National Health Commission – the highest daily number since mid-April and the sixth consecutive day of more than 20,000 cases.
The organization also reported two deaths of Covid-19 patients in Beijing on Sunday, following the death of an 87-year-old man in the capital on Saturday. Before the weekend, China's most recent Covid-related death was on May 26 in Shanghai, which was had been on lockdown for two months until June following a major outbreak.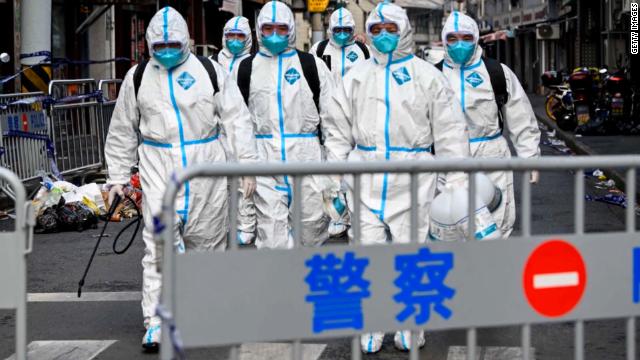 Chinese authorities have moved quickly to stamp out the latest surge in Covid cases.
Under the zero-Covid policy, when cases surge, so do lockdowns. Millions of Chinese citizens across the country have been confined to their apartments – at huge economic cost. Guangzhou, a major transportation hub in the south of the country and home to 19 million people, has locked down a number of its most populous districts.
For citizens, this means the prolonging of conditions that have made their lives miserable. Lockdowns have gone on for so long that many have struggled to source basic essentials.
In Hebei province, which surrounds Beijing, a video on social media showed a father getting out of his car wielding a butcher's cleaver, claiming he had been unable to find baby formula for his son. The man was so desperate he drove through the city's Covid barriers – only to be arrested, handcuffed, sprayed with disinfectant, and returned to his residential compound.
These acts of defiance are becoming more common as restrictions persist – but citizens risk a violent rebuke from local officials.
China continues to pursue these measures despite a severe economic blowback. Foxconn, one of Apple's major suppliers, was forced to lock down its largest factory in China after an outbreak in October.
After social media videos showed a number of workers fleeing the factory in Zhengzhou by foot, Foxconn embarked on a massive recruitment drive to source more than 100,000 new workers, as Apple prepares for the holiday spending spree.
Foxconn executive Yang Han confirmed to local news outlet Yicai on Thursday that "the quota is finally met" – but only after Chinese officials called on military veterans to get "back to work" to help fill the vacancies. Despite this, Apple has already warned that customers will be unlikely to get their latest model in time for Christmas.
With cases surging, China clearly feels that emergency measures are still required. In a press briefing Monday, Beijing officials told the city to brace for "its most complicated and severe phase since the start of the pandemic."  But three years of draconian restrictions have weighed heavily on citizens and the economy – and calls for a change in course are likely to grow louder.
IN OTHER NEWS

Dr. Anthony Fauci, in his final White House briefing before departing his official positions, said he hopes that he is remembered for giving the job "everything I have." The director of the National Institute of Allergy and Infectious Diseases and the chief medical adviser to the president called Covid-19 a "really, really very important" part of his career, at the White House briefing Tuesday. Fauci spoke about the dubious advice coming from those in the Trump administration at the beginning of the pandemic. "The way you counter misinformation and disinformation is that you do whatever you can as often as you can, to provide correct information. The people who have correct information, who take science seriously, who… base what they say on evidence and data, need to speak out more," Fauci said. He also confirmed he "absolutely will cooperate fully" with any oversight hearings in the House once Republicans take over control in January. "I have nothing to hide."


The number of foreign visitors to Japan rose to nearly 500,000 in October, the first month it fully reopened to overseas visitors after more than two years of Covid restrictions. Prime Minister Fumio Kishida is counting on tourism to kick-start the economy – especially with the yen hovering near a 32-year low against the dollar. But Kishida is hopeful. "We are seeing the weak yen in a positive way," he said, since those arriving with foreign currencies will see their money go further in Japan. However, major gains for the economy will likely be difficult until Chinese tourists return.
Global Cases

639,200,946

 

Global Deaths

6,624,023

 

US Cases

98,388,527

 

US Deaths

1,077,800
Source: Johns Hopkins University
Q
Can Paxlovid cause Covid-19 "rebound?"
A
In recent weeks we've reported on the growing use of Paxlovid, the antiviral pill that reduces the risk of hospitalization and death from Covid-19 – especially for older people.
Now a study has suggested that Paxlovid may make instances of Covid "rebound" – when infection flares up again after people complete their five-day course of the drug – at least twice as common as initially thought.
In the past few months, instances of Covid-19 "rebound" have peppered headlines. US President Joe Biden, first lady Jill Biden, as well as Fauci and Dr. Rochelle Walensky, director of the US Centers for Disease Control and Prevention, have all revealed that their Covid-19 infections returned after they finished taking Paxlovid.
This study suggests these anecdotes are part of a larger trend. Click here to read the full story.
Send your questions here. Are you a health care worker fighting Covid-19? Message us on WhatsApp about the challenges you're facing: +1 347-322-0415.

The Biden administration is launching a critical, six-week push aimed at stepping up Americans' Covid-19 booster vaccinations heading into the holiday season.
"With winter and holiday gatherings right around the corner, more Americans getting their updated vaccine will help avoid thousands of preventable Covid-19 deaths," read a fact sheet shared first with CNN.
More than 35 million Americans have already received the updated, bivalent booster shot, White House press secretary Karine Jean-Pierre told reporters aboard Air Force One. But that's a fraction of the Americans eligible.
Christmas is just over a month away. Given that the booster vaccine takes a few weeks to build up an immune response in the body, our top tip is to get your shot as soon as possible, to make sure you're well protected against infection this holiday season.
CORONAVIRUS: FACT vs FICTION