An exclusive inside look with your free CNN account
📼 a peek inside CNN's video archive    
Stacks of videotapes, some featuring historic moments captured since CNN's launch in 1980, surround Lisa Webster's desk, waiting to be "digitized" or saved onto networked servers for future access.
Webster and her colleagues at CNN's Content Management and Information Services are tasked with making sure that the network's vast videotape archive — as well as current "born digital" news content — is preserved and accessible in the future.
"We have archivists prepping and digitizing historical CNN videos that exist only on tape," Webster said. "Hundreds of videos from the '80s, '90s and early 2000s are being digitized and uploaded into the archive every week."
As a content information specialist, Webster gets a rare look at moments that define history — but that can come at an emotional price.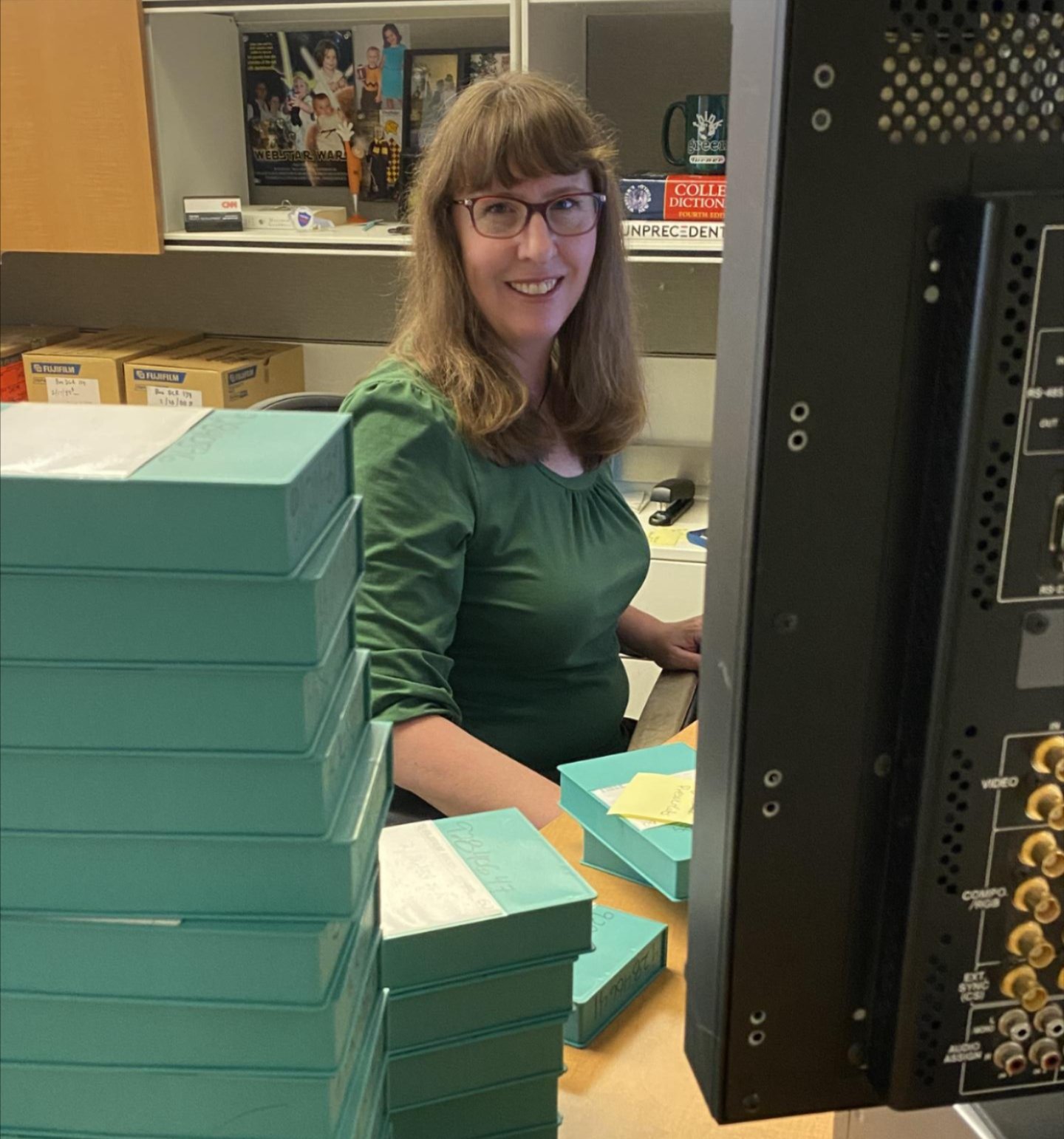 Webster said one of her most difficult weeks was archiving hours of raw video from the 2017 "Unite the Right" rally that erupted into violence.
"I knew it was important that footage from this event be kept and catalogued as evidence of its occurring, but it was very hard," Webster said. "Both my grandfathers are World War II veterans and my heart broke … watching the Nazi flag marching openly on American soil."
She also gets a peek into lighter moments that are captured on video but don't make it onto CNN air, including the moments when a celebrity guest is in front of the camera before they go on live television.
"Archivist and show teams are the only ones who ever get to see their pre-air preparations," she said. "While celebrities will certainly come to CNN to promote their creative endeavors, they also visit us to talk about issues, causes, or charities they support.
"I see them study, practice, and do everything they can to make sure they're ready to appear on CNN. I can tell how much it means to them to talk about issues they care about."
Because CNN was the only 24-hour news network from 1980 until 1996, its video library plays a key role in documenting many historic moments.
"One of the biggest misconceptions is that CNN archives all video that gets uploaded onto our servers. That is not true," Webster explained. "There is simply too much video for us to archive everything. Decisions about what gets archived are complex and can change with the needs and priorities of the daily/weekly news cycles."
A CNN archive team is currently digitizing video shot during the 1980s Ronald Reagan era, which Webster said is one of several projects that has been prioritized by the archive's leadership.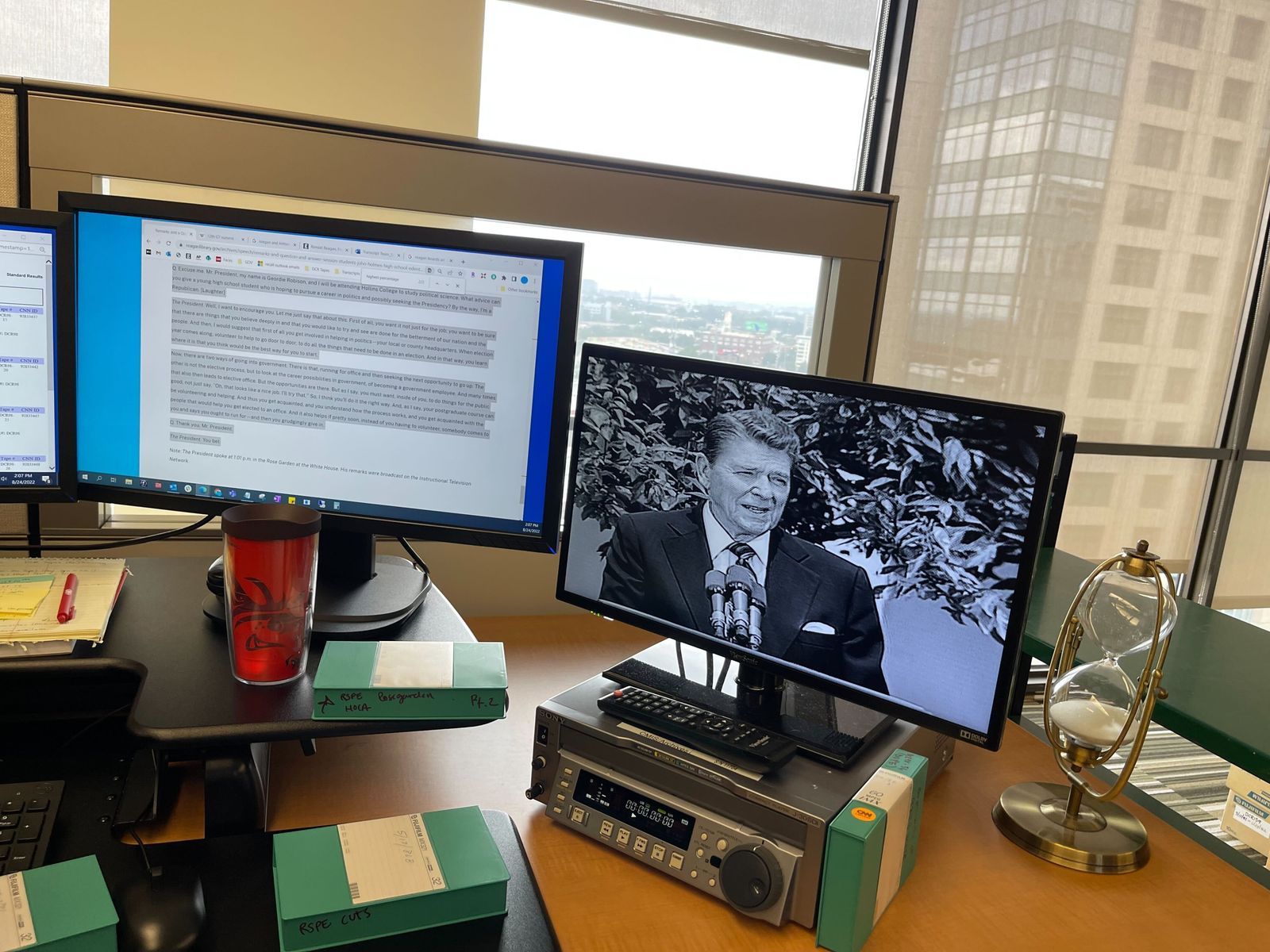 "We have tape collections that have come in from CNN bureaus all over the world. This Reagan tape collection … came in from the DC bureau," she said. "Our leadership team gets together and looks at all the tape collections to decide which should receive highest priority … and then our staff will get divided and work on different tape collections, according to what the priorities are." 
Webster explained that CNN's archived video is used in many different ways, including in the network's documentaries, films and original series. The filmmakers behind the documentary "No Ordinary Life" — which profiled five CNN camerawomen and their work from the frontlines of war — requested archival footage that Webster and her colleagues are responsible for cataloguing and maintaining.
Webster began her career in the film industry, working for Disney after college, where she majored in English with a minor in film. 
"Making films is great. You never have more fun than when you're making movies and in that creative environment," she recalled. But after a while, she wanted a more consistent work schedule.
While working in the news industry is very different than the entertainment field, Webster is aware of the importance of her team's work in preserving history.
"No other news organization covers the world like CNN, and CNN archivists are the keepers of that coverage," Webster explained. "We are stewards of the living history CNN records in real-time, as it happens, with sound and color and context.
"Ted Turner supported setting up the CNN Archive in 1980 because he understood the impact those stories have, whether past, present or pointing towards the future. Because he gave CNN an archive from year one, all of us can literally look back on much of the late 20th and early 21st centuries."
📹 Check out these videos from the CNN archive:
💳   CNN insider rec of the week
Brought to you by CNN Underscored
The latest Surface notebooks bring more power to the table, as well as fresh color options that should help them stand out in a sea of silver. But who should actually upgrade? Here's a closer look at the Surface Pro 8 and Laptop 5, as well as Microsoft's revamped Surface Studio 2+ all-in-one desktop.
- Written and edited by Kyle Almond, Tricia Escobedo and Jessica Sooknanan
INSIDE CNN
An exclusive inside look with your free CNN account