An exclusive inside look with your free CNN account
🎥  Wolf Blitzer on his most memorable interview
CNN's Wolf Blitzer works at the site of a presidential debate in Westerville, Ohio, in 2019.
Since joining CNN in 1990 as a former newspaper reporter, Wolf Blitzer has become an icon in broadcast. Just weeks after Blitzer joined the network, Saddam Hussein invaded Kuwait, marking the start of the Gulf War. Blitzer's coverage of the conflict helped set CNN apart from other broadcasters, solidifying the then-10-year-old network as a leading news source. 
"All the other news organizations pulled out because they were afraid the war was going to start. And these courageous CNN journalists, they stayed there," Blitzer said in a 2016 reflection on the war. 
Blitzer has hosted CNN's "The Situation Room" since 2005, bringing viewers a daily look at breaking news, politics and extraordinary stories.
Below, Blitzer shares some thoughts about his early days at CNN and what he's looking forward to ahead of the 2022 midterm elections. 
You're one of a handful of people who have had the chance to sit down with some of history's most notable people, including several US presidents as well as foreign leaders. Is there any particular interview that stands out in your memory? Why? 
In 1998 I went to Cape Town, South Africa, as CNN's White House correspondent covering President Bill Clinton, and I had the opportunity to interview Nelson Mandela. The day before our interview, President Mandela had taken President Clinton on a tour of the prison cell where he had been held for decades as a political prisoner during apartheid. Here he was, the President of South Africa, and he showed no desire for revenge. Instead, he saw the possibility of a new South Africa emerging and he wanted to lead that new post-apartheid South Africa. I was so impressed by his attitude. He came across during our interview as decent, honorable, and committed to a real democratic country. He said to me during our interview: "It is futile to be thinking about what happened in the past. We are thinking about what is happening now and what should happen at tomorrow." And those words and his decency have stuck with me. That was one of the most meaningful interviews I've ever done.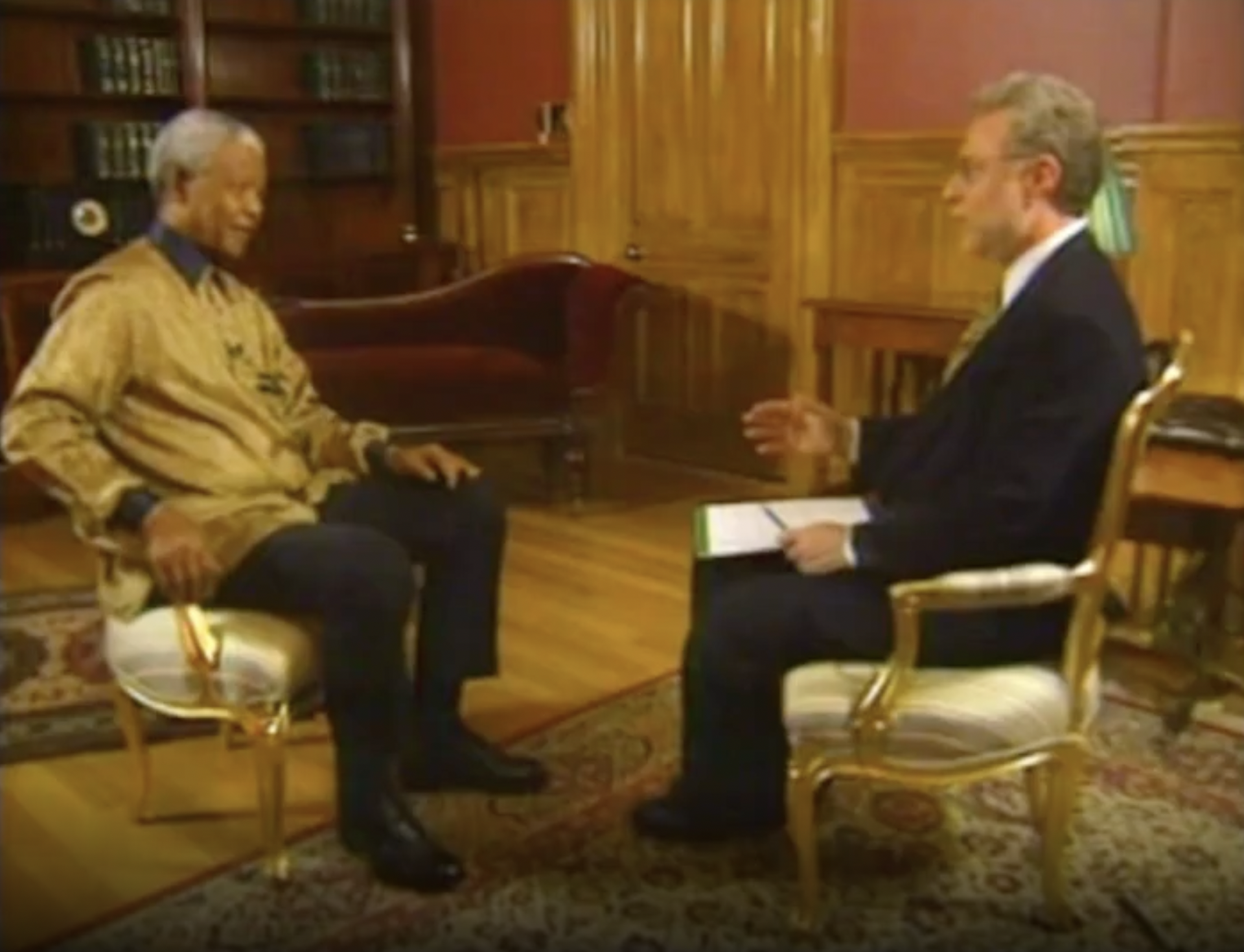 Blitzer interviewing Nelson Mandela in 1998.
What drew you to a career in journalism? 
As a kid growing up in Buffalo, New York, my mom and dad were both news junkies and I followed in their footsteps. We always watched the evening newscasts together, had daily newspapers delivered to our house and talked as a family about what was going on around the world. As they say, the apple doesn't fall far from the tree. So, when I had an opportunity after graduate school to potentially become a journalist, it was a dream come true for me. Even if I had gone on to a different career, I still would have been a news junkie, so I jumped at the chance to combine my passion and my career. 
Blitzer, left, and John King on "The Situation Room" in 2008. 
One of the first big stories you covered for CNN was the start of the Gulf War in 1990. What was it like covering the war? 
It was intense and so exciting. I had just started working a few months before at CNN as a Pentagon correspondent, and then all of a sudden I was on the air for hours every day reporting on Saddam Hussein's invasion of Kuwait, the US military's buildup and eventually their role in helping to liberate Kuwait. At that time, CNN was the only 24/7 cable news network and then all of a sudden, people were watching CNN all of the time all over the world. It was a major moment in my journalistic career, but also in establishing CNN's credibility and relevance. 
What's a key race you'll be paying close attention to in the 2022 election cycle? 
There are so many, and as someone who loves politics, I'll be paying attention to all of them. One key race will be the Florida governor's race between Gov. Ron DeSantis and Charlie Crist, himself a former Republican governor of Florida, who is now running against DeSantis as a Democrat. With DeSantis seen as a possible (presidential) contender in 2024, it will be a fascinating race to watch.
What's something viewers might be surprised to learn about you? 
The most frequently asked question I get is, is your real name Wolf? It is. Just Wolf, not Wolfgang, and it's not a nickname. I'm also a devoted sports fan. Having grown up in Buffalo, I still have a lot of affection for that community and my beloved Buffalo Bills. Also, as a college student at the State University of New York at Buffalo, I worked as a cab driver for a while. I earned a bit of money and enjoyed getting to know the people I drove.
In addition to being an anchor and journalist, you're also a husband, dad and grandfather. What's it like balancing such a demanding career with also having a family? 
You certainly have to work hard to make sure your family gets the attention, love and time from you that they deserve. It's not always easy but it is always worth it. I truly have the best of all worlds to have a wonderful career and a loving and supportive family.  
💳   CNN insider rec of the week
Brought to you by CNN Underscored
If you want to catch Wolf in action on CNN, Roku just unveiled two new devices that'll give your home TV setup a big boost. For only $29, the new Roku Express is one of our favorite affordable streaming devices.
We all have memories of watching Wolf as big stories unfolded. What's your most memorable Wolf Blitzer moment? Email us, and your response may be featured in a future edition of Inside CNN.
- Written and edited by Kyle Almond, Tricia Escobedo and Jessica Sooknanan
INSIDE CNN
An exclusive inside look with your free CNN account